Album Review: Wardomized – …A Heated Exchange (Sudden Strike Records)
Hailing from Northern Ireland, Wardomized have been going steady since 2014 founded by guitarist Eddie Cross and vocalist Stephen Mckeown, originally starting life as a Crossover Thrash outfit then having somewhat of a rebirth in 2017 as a Grindcore/Hardcore outfit with a new direction and their acclaimed EP 'Forced To Eat From The Apple Tree'. You can read our review of that excellent EP here.
Now Wardomized are poised to release their new album '…A Heated Exchange' on the 26th August 2019.
The rebirth of Wardomized and substantial growth is impressive and on …A Heated Exchange they cement their futures within the grind/hardcore crossover sound. Eight tracks of eye-watering, gut-rumbling and heavy as balls noise. It's fast and scarring but not without some moments that will get a nod or two of approval.
Moments such as the low and slow breakdown in Organ Exploit. This is utter filth and very exciting. Moments such as the wild fury that erupts from the sores of World War What. Ear splitting noise that appeals. Moments such the dirty guitar groove of Rebirth. A track that demands you head-bang as hard as possible. Moments such as heft of Give Me Hope, Give Me Water which also features Michael Mckeegan.
In case you haven't worked it out, …A Heated Exchange is an excellent release that takes what Wardomized did on their previous EP and turns it up an extra notch.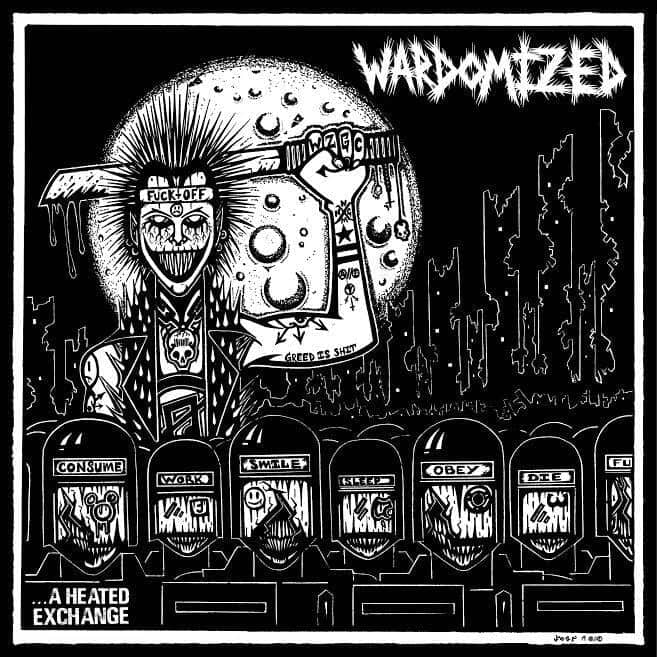 Wardomized – …A Heated Exchange Full Track Listing:
1. Organ Exploit
2. Learn to Sneak
3. World War What
4. Transitional Breakdown
5. Rebirthed
6. What is Your Life Worth?
7. Give Me Hope, Give Me Water (feat. Michael Mckeegan)
8. Benjies Surprise
Links
Bandcamp | Spotify | Facebook | Instagram
Wardomized - ...A Heated Exchange (Sudden Strike Records)
The Final Score -

8/10