Album Review: Various Artists – Midnight Clear (Solid State Records)
In 2014 Solid State Records released their very first Christmas compilation titled Midnight Clear. Comprised of songs by metal greats August Burns Red, Memphis May Fire, For Today, Fit For A King, and others. Midnight Clear features new original arrangements of both new and old Christmas songs alike.
Opening with something of a rarity, we get an August Burns Red Christmas track with vocals. Although, you can see why they never really bothered with them on the remainder of their Christmas releases as they're mostly unimportant on this version of Joy to the World. It's all about the heft of the guitars turning a sub-standard Christmas classic into a pit-rager.
After that opening frenzy, it's certainly a surprise to get such a mellow effort from Fit For A King with their version of God Rest Ye Merry Gentlemen. It's very unique though and there's some passion behind the vocals. The increase in volume for the final minute nailing that aspect.
For Today then ensure they won't be outdone with a stompy metalcore version of O Come O Come Emmanuel. Before the first of two Wolves At the Gate tracks arrives in the form of Come Thou Long Expected Jesus. A wicked number that has the band throwing their all into delivering a unique sounding effort. The other, The King, coming much further on the album but also delivering a classy Christmas tune wrapped up in their metalcore heavyweight style. The clean vocals on both tracks kick all kinds of ass.
Elsewhere Memphis Fire throws out a super-feel good and catchy He Came With Love, The Ongoing Concept have some fun with a short rocking take on Jingle Bell Rock and Forevermore provide an extravagant version of Silent Night. All as unique sounding as the last, a constant pleasing thing about the album.
Talking about pleasing though… Becoming the Archetype bring us a very cool version of Oh Holy Night. Layered with gothic piano, howling cold winds and a choir of voices. Then the drums and guitars hit and it sounds immense. Love it, even when it turns into a chaotic ball of metal energy.
Which brings us to the end and the second August Burns Red track, one many will be familiar with, Flurries. Appearing on their Sleddin' Hill album, it's tracks like this that have made August Burns Red, the kings of Christmas metal. It's meaty and heavy but has a wonderful wintertime edge and is disgustingly catchy.
This is one hell of a collection.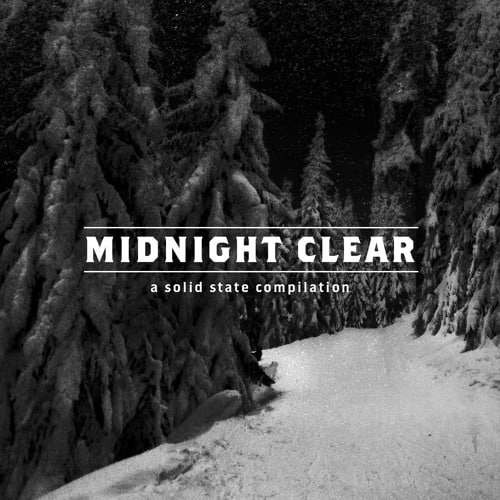 Various Artists – Midnight Clear Full Track Listing:
1. Joy to the World (August Burns Red)
2. God Rest Ye Merry Gentlemen (Fit For A King)
3. O Come O Come Emmanuel (For Today)
4. Come Thou Long Expected Jesus (Wolves At the Gate)
5. He Came With Love (Memphis Fire)
6. Jingle Bell Rock (The Ongoing Concept)
7. Silent Night (Forevermore)
8. The King (Wolves At the Gate)
9. O Holy Night (Becoming the Archetype)
10. Flurries (August Burns Red)
Various Artists - Midnight Clear (Solid State Records)
The Final Score -

9/10