Album Review: Tales of Blood – Stuffing the Graveyard (Pathologically Explicit Recordings/Careless Records)
Born in 1998 in the Paris area under the name Bloodbath, the band changed its name to Tales of Blood in 2000. However, the style will never change, only old school Death Metal made for head-banging!
After a few concerts, a self produced mini album, 'Range of Gore' saw the light in 2002 followed by the second CD, 'Horrors of the flesh' 4 years later on the Belgian label Painkiller Records.
The rest of the discographic projects suffered from serious line up problems. Nevertheless, the new CD 'Stuffing the Graveyard' is finally released in 2019 by Pathologically Explicit Recordings (Spain), with a digipack version by Careless Records (Russia).
Tales of Blood aren't pretending to be anything but old school death metal personified so if that has never been to your taste, Stuffing the Graveyard probably isn't going to be for you. However, it's worthy of a look simply by being top of the class with a showcase of furious heaviness.
From the moment Dissect and Murder approaches with malevolent intentions and You Die Next puts those intentions into action, Tales of Blood leave everything and everyone laying.
Vacant Slaughter Job is no less impactful as it rips and tears, the title track bludgeons with weighty riffs, Post Mortem Barbarity is sickening and Sadistic Force Feeding pushes the nails Tales of Blood have already hammered in even further.
Its track after track of crushing savagery that appeals to the primordial sludge in all of us. Any hope that relief might come in the latter part of the album is well and truly lost as the barbaric sounds of Severe Bent to Kill, Getting Dead and Pregnant and Cut to Pieces ring out.
The destruction wraps up with the slow crawl of Mortuary Breath before a short outro of French conversation and the sound of toilet flushing end things.
Old school death metal done right.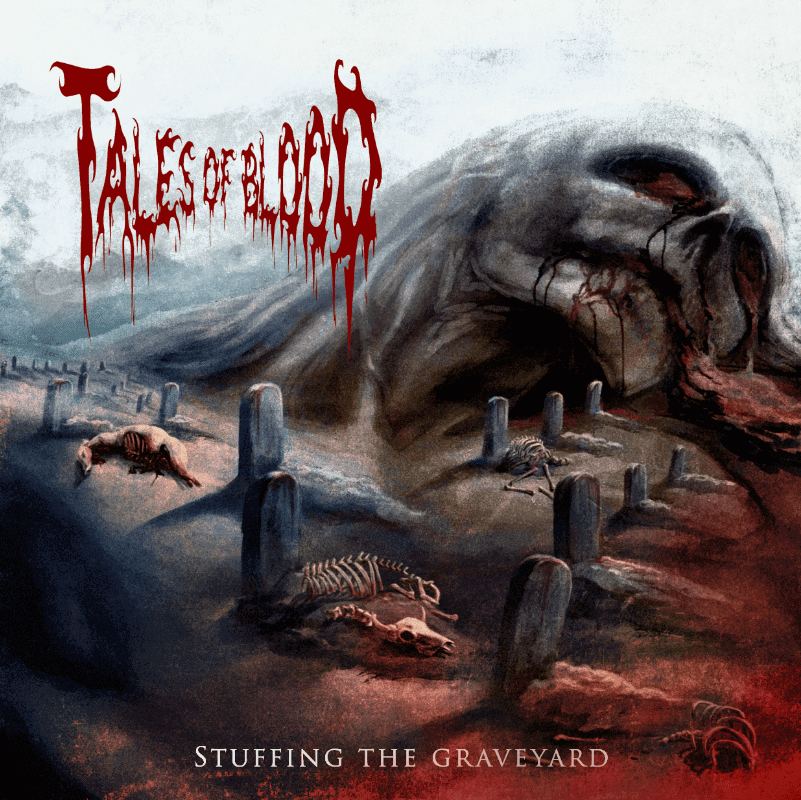 Tales of Blood – Stuffing the Graveyard Full Track Listing:
1. Dissect and Murder
2. You Die Next
3. Vacant Slaughter Job
4. Stuffing the Graveyard
5. Post Mortem Barbarity
6. Sadistic Force Feeding
7. Severe Bent to Kill
8. Getting Dead
9. Pregnant and Cut to Pieces
10. Mortuary Breath
11. Aux Chiottes
Links
Pathology Explicit Recordings | Tales of Blood Website | Tales of Blood Facebook
Tales of Blood - Stuffing the Graveyard (Pathologically Explicit Recordings/Careless Records)
The Final Score -

7.5/10