Album Review: Summoning The Lich – United In Chaos (Prosthetic Records)
Having inked a deal with Prosthetic Records, Summoning the Lich will release their debut full length, United In Chaos on February 26th 2021. The St Louis, Missouri four piece has created a world where death metal reigns supreme and the realm of fantasy is thoroughly embraced.
Taking inspiration from the best elements of Lord of the Rings, Magic The Gathering, Dungeons & Dragons, and Adventure Time, and wrapping it up in a fantastical death metal parcel. United In Chaos tells the tale of the rise of the Lich and fall of the Kingdom Rodor – and the spread of his wicked influence across the land as his power grows.
How do you express such a wealth of ideas? One based so heavily in fantasy? Why, by making as much death metal noise as possible. Yep, with frenzied blackened riffing, drums and bass that sound like the planet cracking apart and vocals that are the frenetic rush of wind that comes howling out of the darkness to push humanity into the void.
Hyperbole? No, this album is nothing but death metal chaos. Ordered chaos as Summoning the Lich are comfortably in control but chaotic to listen too. Their control allowing them to direct an inordinate amount of furious savagery towards the listener. All while telling fantastical tales steeped in magical mystery and horror.
Does that come across strongly? Depends on how good you are at making sense of the scathing vocals. Aside from that, it's just a highly hyperactive assault of death metal with all the power of a band more than capable of taking charge and blasting all or nothing heaviness out.
There's nothing to complain about with that though as United in Chaos is damn good. Twelve tracks of quality fantasy-infused death metal.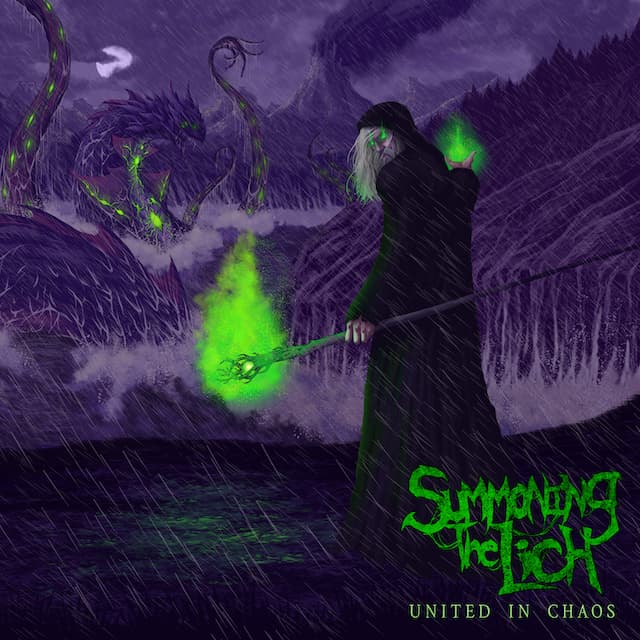 Summoning the Lich – United in Chaos Full Track Listing:
1. The Nightmare Begins
2. Cult of the Ophidian
3. The Gatekeeper
4. Demon of the Snow
5. Predatory Reflection
6. Acid Reign
7. United in Chaos
8. Descend
9. Hymns (of the Witches of the West)
10. Death Crystal
11. Temple of the Bone
12. The Lure of the Necromancer
Links
Website | Bandcamp | Facebook | Twitter | Instagram | Prosthetic Records
Summoning The Lich - United In Chaos (Prosthetic Records)
The Final Score -

8/10