Album Review: Soulfly – Ritual (Nuclear Blast)
One of the busiest men in metal, the legend that is Max Cavalera returns with the 11th album from his main band, Soulfly. Ritual it is out now via Nuclear Blast.
You can read our reviews of the previously released singles here: Evil Empowered, Dead Behind the Eyes and the title track, Ritual. You can also read our review of the last Soulfly album, Archangel released in 2015.
Ten tracks long, it is the title track that kicks things off in very familiar style. It's all about tribal here with a nice chant at the start overpowered by the squeal of guitars before the heavy groove of the remaining instruments come along to up the game. It's a killer start, familiar but what do you expect? This is Soulfly!
Dead Behind the Eyes leans towards death metal with an absolute wall of heavy riffing, drum beats and Max's trademark growl. The Summoning throws out a disgracefully chunky riff that is heavy enough to crush bones. Evil Empowered is unsurprisingly as heavy as everything that came before although it does bear more resemblance towards Max's other band, Cavalera Conspiracy then traditional Soulfly.
At the halfway point, it's good to see that Soulfly haven't lost any of the fire or aggression that has made them such a force to be reckoned with in metal. If anything they're getting heavier and more aggressive as the years go by!
There are few surprises here (but there are some), Ritual is just another great Soulfly album. A solid slab of heavy metal with plenty of leanings towards death, thrash and groove. The latter half of the album continues this trend with the brutality of Demonized. The guitar solo is enough to bring you to tears. While both Blood on the Street and Bite the Bullet mix head-banging groove metal with intense flashes of death-infused speed. The latter has some of the fastest guitar playing heard this year.
It's always nice to see Soulfly not overstay their welcome and ten tracks is about right here, stopping before it gets too samey. Mind you with the Motorhead-inspired hard rock riffing of Feedback! there is little justification to say Ritual ever gets boring.
The album closes in traditional Soulfly style with Soulfly IX, a series of titles that has become a staple of their albums. What is less traditional is the fact it's all about moody melody with a bit of jazz saxophone! It's a really odd finish, kind of cool but really odd. It's going to be a divisive track with as many hating it as love it.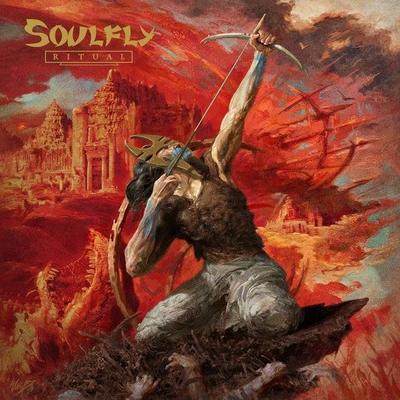 Soulfly – Ritual Full Track Listing:
1. Ritual
2. Dead Behind the Eyes
3. The Summoning
4. Evil Empowered
5. Under Rapture
6. Demonized
7. Blood on the Street
8. Bite the Bullet
9. Feedback!
10. Soulfly IX
[amazon_link asins='B07GW4GYDL,B07GB7Y6XD,B07G2RMQMJ,B07G1ZSS8B' template='UseThisOne' store='g0e5b-21′ marketplace='UK' link_id='e763d121-d3e5-11e8-9deb-1ff08543625a']
You can pick up/stream Ritual via all major services now.
Soulfly - Ritual (Nuclear Blast)
The Final Score -

7.5/10