Album Review: Second Sun – Eländes Elände (Gaphals)
Eländes Elände is the second album from Second Sun. The Swedish band fronted by Jakob Ljungberg (ex Tribulation) combines influences of Space Rock, Progressive Rock and Hard Rock from the late 70's to the early 80's to their own unique blend of hypnotising music. The album will be released on August 21st 2018.
Riffs. Riffs are a major factor of Second Sun's 10 track album. From the moment Vems Fel begins to the moment the title track ends things, it's riffs. It's not like that's a negative though as Second Sun deal in high quality guitar medleys and hooks. The album has an unusual vibe to it. It's rooted in the rock scene of yester-year both in style and production but the progressive spacey edge makes it all seem that bit more natural rather then a gimmick.
Remaining simple but with complex passages dotted throughout, it does take a few songs to really get going. The first time they really step up and grab the attention is with Noll Respekt. The faster tempo, vocals fired off at a rapid pace and heavy synth use go some distance to making a difference. Very energetic and a big improvement.
Capturing that same spirit, Enda Sunda Människan i Världen is a fascinating listen that could be called wacky if it wasn't for its gorgeous sci-fi sound effects. Then we have the continued weirdness of Du Ska Se Att Det Blir Sämre and the moody, more melodic Det Betyder Allt particularly with its acoustic guitar tones.
What begun in flattish fashion certainly doesn't end that way. Panikångestattack punky pace is an interesting change before the title track wraps things up nicely with more wickedly fun sci-fi elements.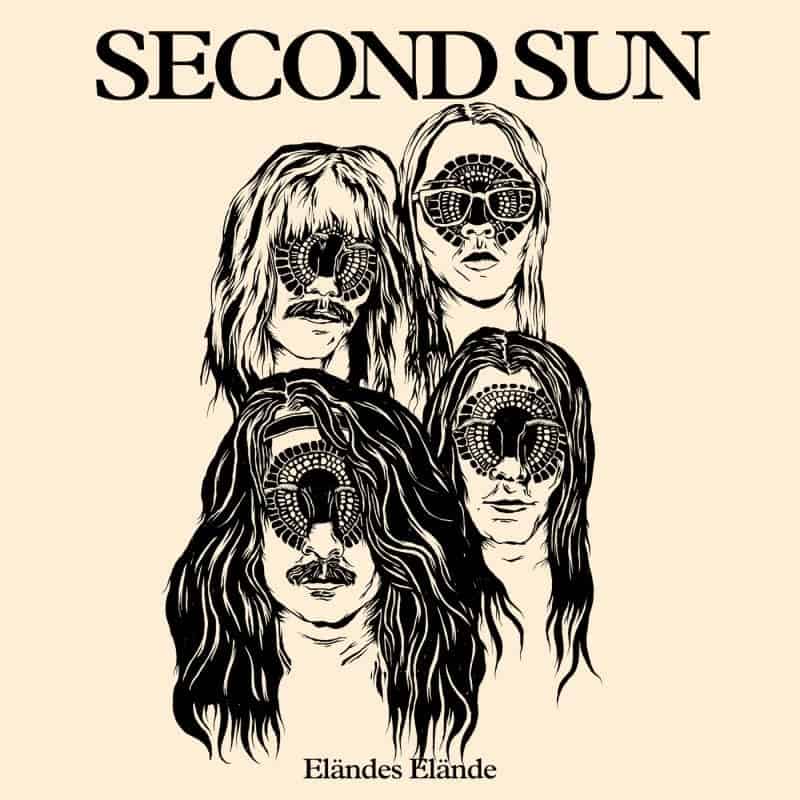 Second Sun – Eländes Elände Full Track Listing:
1. Vems Fel
2. Förneka Allt
3. Noll Respekt
4. Sång Till En Slagen Kämpe
5. Enda Sunda Människan i Världen
6. Ingen Tid För Allting
7. Du Ska Se Att Det Blir Sämre
8. Det Betyder Allt
9. Panikångestattack
10. Eländes Elände
You can order the album here and find out more by liking Second Sun's Facebook Page.
Second Sun - Eländes Elände (Gaphals)
The Final Score -

7/10