Album Review: Ravensire – A Stone Engraved In Red (Cruz Del Sur Music)
Ravensire's quest for global metal prominence continues on their third full-length effort, "A Stone Engraved in Red", an album of might, spirit and will – dedicated to Mark "The Shark" Shelton and Hartmuth "Barbarian Wrath" Schindler.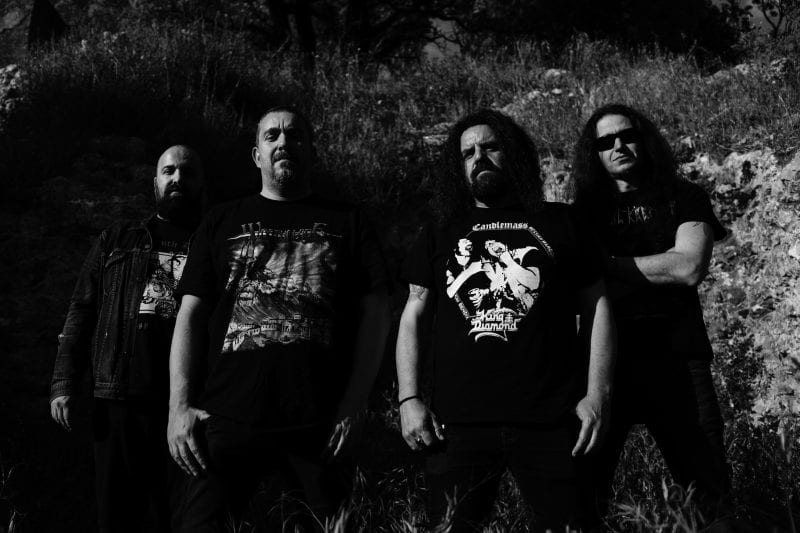 Since their 2011 formation, the band has steadily been putting a dent into continental Europe, including spots at the Riddle of Steel and Up the Hammers festivals. The proof is in the response: Ravensire is regularly hounded by concertgoers to return – a sign that their brand of epic traditional metal is connecting with audiences.
Now with two full-lengths, two EPs and two splits under their belts, Ravensire takes the next logical step forward with their third album, "A Stone Engraved in Red". Out on June 14th 2019 via Cruz Del Sur Music.
Rolling and rocking, Carnage at Karnag brings pace and energy as Ravensire push an old-school style of fist pumping heavy metal to the forefront. Riff heavy, pounding drums, deep echoing bass and vocals that are weathered but clean, we have a quality start here. Emphasised by a powerful guitar solo that screams out.
Thieves of Pleasure's faster and groovier beat hooks in deep, Gabriel Lies Sleeping's galloping rhythm led by a great drumming performance and Dawning in Darkness' vocals push the more 'epic' sound of Ravensire to higher levels. Each track offers hearty metal listens.
Not that what comes next changes that in any way. As following a short and mellow intermission (Bloodsoaked Fields) we get the rollicking After the Battle. A punchy call to arms, Ravensire nail what it means for a metal song to get the adrenaline pumping and set the mind alight.
Finally, to close out an album stewed in old-school heavy metal juices, The Smiting Gods and The Games of Titus finish things up. The former energetic and bouncy, the drops in tempo and way in which the guitars seem to just go off on a tangent really impressing. The latter, a very lengthy epic that opens with acoustic strumming and building in volume and power. The lengthier run time gives Ravensire a chance to really stretch themselves here and it pays off.
A gloriously old-school metal record.
Ravensire – A Stone Engraved in Red Full Track Listing:
1. Carnage at Karnag
2. Thieves of Pleasure
3. Gabriel Lies Sleeping
4. Dawning in Darkness
5. Bloodsoaked Fields
6. After the Battle
7. The Smiting God
8. The Games of Titus
Links
Ravensire - A Stone Engraved In Red (Cruz Del Sur Music)
The Final Score -

7.5/10