Album Review: Planepacked – Transactinides (Self Released)
Transactinides is the new album from the powerful project Planepacked. Driven by a desire to push further personal musical boundaries, Transactinides is the first full-length release from the band since frontwoman Jessica Kagan's gender transition and explores the experience of recreating oneself. Having quickly grown into something bigger than had been originally planned, the new album fuses allusions to physics, science, and technology with her evolving views on gender and sexuality.
Transactinides will be released on April 8th, 2022.
A multi-faceted album, Transactinides can be best summarised as the bastard child of a wild one-night stand between EDM and metal. However, that simplistic summery can in no way do such an eclectic, creative and weird album justice. Yes, this is a challenging listen but it's a challenge that everyone needs to try at least once.
Hell, just give the first three tracks a go and you'll likely find yourself sold. Azure (Her Clarion Call) showcasing a blistering mix of harsh heaviness, soaring vocals that growl as hard as anything found in black and death metal, and wild electronica. It's downright insanity to listen too, but downright memorable. Behind the Bitmask combines the ubiquitous EDM with rockier guitar tones for an exciting blast of energy that has no vocals. Before Dark Pact has the varied style of vocals return for an impactful blast of bizarre electronica.
Bizarre is a word that keeps coming to mind throughout as Planepacked make sure that Transactinides keeps you guessing. Who knows what the hell will come next?
How about something with the hyperactivity of a toddler full of sugar but with progressive detail and brash power metal style intensity? The title track has you covered. How about something with a distinctive darkness warped by chaotic metal? The Demon Core is where you're going to end up. How about something with gloomy and cold atmosphere crafted by peculiar effects? Red Star Succubus is your jam.
Every track is something a bit different and that variety keeps the album so very motivating.
The latter part of the album sees Planepacked delivering highlights in the form of Dual Shock Agent and Morphological Freedom. Where the technical ingenuity of the guitars meets a thrilling wall of electronica head on. Before Planepacked go big with the 9+ minute epic that is Heliotaxis. A track that feels other-worldly, sounds grand, delivers another robust bout of enchanting effects and dangerously infectious metal instrumentation.
Planepacked then bring forth one last energised and battle-ready blast of individuality with the final track, Ascendancy. One last thrill ride on an album packed with them.
Albums that mix electronica and metal so heavily don't always work but there's no denying that Transactinides' quality shines through.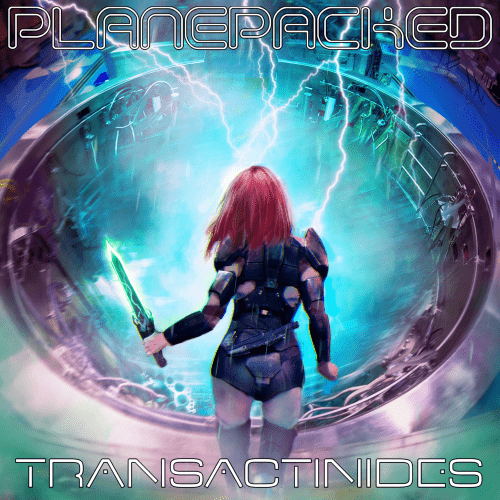 Planepacked – Transactinides Full Track Listing:
1. Azure (Her Clarion Call)
2. Behind the Bitmask
3. Dark Pact
4. Transactinides
5. The Demon Core
6. Red Star Succubus
7. Dual Shock Agent
8. Morphological Freedom
9. Heliotaxis
10. Ascendancy
Links
Bandcamp | Merch | Facebook | Instagram | Twitter
Planepacked - Transactinides (Self Released)
The Final Score -

8/10