Album Review: Phoxjaw – Royal Swan (Hassle Records)
The endlessly mercurial, maverick Bristolian quartet Phoxjaw are here with their debut full-length record, Royal Swan, set for release on 3rd July 2020 via Hassle Records.
Born from a cabin-fevered recording experience at Devil's Bridge in Wales, Royal Swan harks back to a fantastical medieval England. Without being overtly political, Royal Swan also details the tension inherent in modern day Great Britain – the sense of isolation and resentment the United Kingdom has fostered versus trying to retain a sense of pride in one's own country.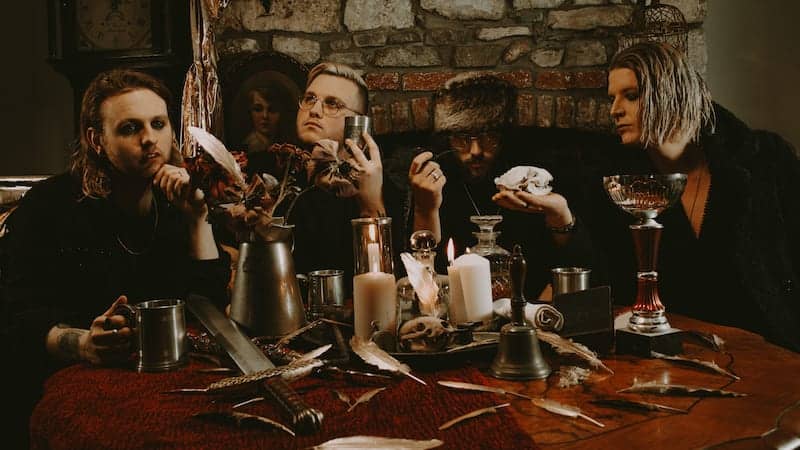 An unusual listen, this debut from Phoxjaw has all the melodic indie rock vibes to see them get mainstream appeal. However, the eclectic, progressive and heavy rockiness of the overall product will also appeal to those looking for their new favourite fix of weird.
Through a combination of dream-like melodies, gut-wrenching and wilder flurries the quartet bring something new and interesting to the modern musical landscape. An album where dancing one moment then head-banging the next doesn't seem so strange.
Royal Swan is just filled with exceedingly clever pieces of music. Where every new moment brings with its palatable excitement for what comes next. Such as the wild catchiness of Triple AAA, the crunch of heavy percussion that staggers on You Don't Drink A Unicorn's Blood or the intensity of the organ solo in Bats for Bleeding. Just a handful of mad moments that startle and amaze.
Perhaps the most amazing thing about this album is how convincing it is. Phoxjaw aren't pretending and it shows, this album is undeniably their heart and soul in musical form.
Phoxjaw – Royal Swan Full Track Listing:
1. Charging Pale Horses
2. Trophies In The Attic
3. Triple AAA
4. You Don't Drink A Unicorn's Blood
5. Half House
6. Infinite Badness
7. Teething
8. An Owl Is A Cat With Wings
9. Bats For Bleeding
10. The Monk
11. Royal Swan
Links
Facebook | Website | Twitter | Instagram | Bandcamp
Phoxjaw - Royal Swan (Hassle Records)
The Final Score -

10/10