Album Review: Nordjevel – Gnavhòl (Indie Recordings)
On September 23rd an album of full-blown darkness is set to be unleashed: Nordjevel presents, Gnavhòl. An album driven by war, destruction and hellish esoteric beliefs, it will be released via Indie Recordings.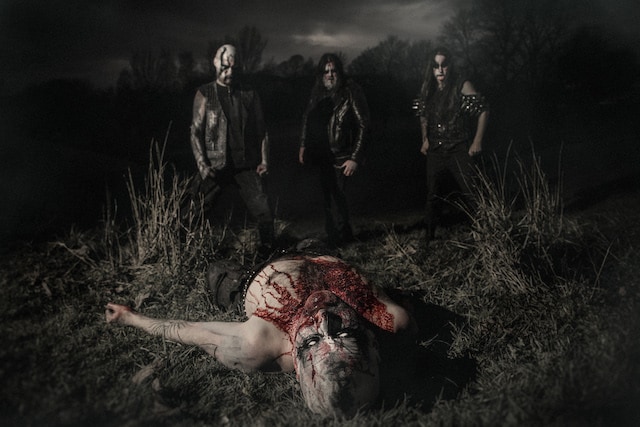 About the album Nordjevel states:
Gnavhòl is darker, more dynamic, and technically on another level than before. This is how we want Nordjevel to sound.
Nine tracks of hellish black metal (ten if you get an edition that includes the bonus track). Nordjevel continue to show that their twisted sound can only get more intense, bleaker and more savage with each new release. Gnavhòl is the hellspawn at their most devilish and delightful.
For all their unmitigated and remorseless heaviness, this is Nordjevel at their most refined. The clarity in their sound is immense. Riffs as sharp as a butcher's hatchet, drums as blunt as a captive bolt pistol and vocals as serrated as a bone saw. It's bloody and brutal devastation that is experienced to the fullest.
That they are also progressing as musicians, resulting in a much more technically adapt album, makes it all the better. Horrifyingly heavy and deliciously deviant, the whole album is a monstrous miasma of blackened fury. Nordjevel at their best.
Such uncompromising savagery runs the risk of making the listener numb to its effects as it goes on. Yet, Nordjevel manage to avoid this by adapting their black metal sound to feature a variety of elements. From more technical moments to moments of horror-focus, to slower tempos, guitar solos and in-frequent, but notable, infusions of melody and rhythm. It's black metal, undoubtably, but it's Nordjevel's style and it is far more enthralling than most.
Nordjevel have outdone themselves here. Creating and releasing their best work. If this is them finding their sound, we can all be very excited about the future of these black metal heathens.
Nordjevel – Gnavhòl Full Track Listing:
1. I Djevelens Skygge
2. Of Rats and Men
3. Satans Manifest
4. Within the Eyes
5. Gnavhòl
6. Antichrist Flesh
7. Spores of Gnosis
8. Gnawing the Bones
9. Endritual
10. Twisted Psychosis (Bonus Track for Trifold Vinyl/CD)
Links
Website | Spotify | Apple Podcasts | Facebook | Instagram
Nordjevel - Gnavhòl (Indie Recordings)
The Final Score -

9/10