Album Review: Night – High Tides-Distant Skies (The Sign Records)
Night should be spelled 'R.O.C.K.', The Swedish band that started out as a Judas Priest and Saxon worshiping band with their first release in 2012 has now transformed into a timeless and classic rock act with loads of proto-metal influences. Hailed for their wide influences and direct approach the band finds themselves taking new paths in a musical landscape that is well known for all fans of guitar-based music.
Night keeps moving and during the spring of 2020 the band released a two-track 7" called 'Feeling it Everywhere'. The directions of the new tracks take the band even more into the rhythm and style where the '70s collided with the '80s. Where Rock music meets up with Disco. Their new album 'High Tides – Distant Skies' is now released on September 11th 2020.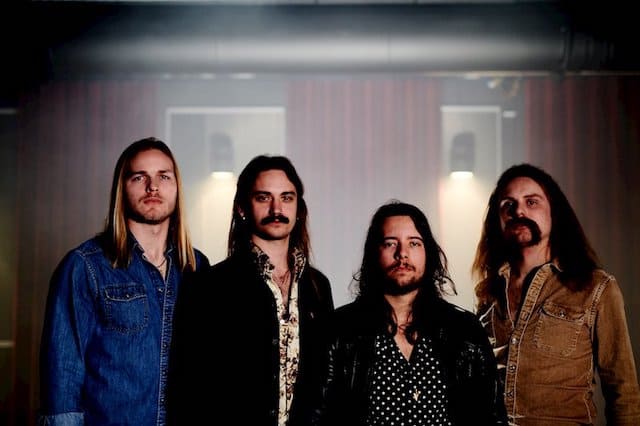 Bringing the groove from the off, Night gets the body shaking and moving with a kick-ass rock and roll opener in the form of Shadow Gold. The short guitar flurries (aside from an extensive solo) and bassy hum really perking the ears up.
From that, the pace is stepped up a notch with Burning Sky, the rhythm an absolute foot-tapper. Crimson Past is a superbly chilled and catchy effort, Falling in the Black builds from nothing to an energetic and passionate performance and Running Away is pure unadulterated rock and roll groove. Every track sees Night with one eye on the past, classic rock tunes fused with dance club bangers.
It's very hard to not have fun and the galloping riffs of Here On My Own won't change that. In particular when they get more pointed and sharp at the end. Lost in a Dream though has to be put up there as one of the best tracks of the album. So damn sexy, the guitars push and pull while the vocals and melodies look to loosen your grip on reality. Very light and very airy and dare we say, a little Ghost like.
It's coming to an end though as we get one last hyperactive and spitfire effort with Give Me to the Night. Before Under the Moonlight Sky comes roaring out like a cinematic closer with just a touch of the grandeur and showmanship to it.
A damn fun listen.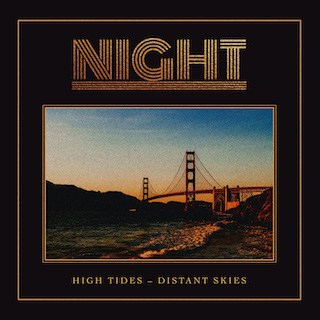 Night – Hide Tides – Distant Skies Full Track Listing:
1. Shadow Gold
2. Burning Sky
3. Crimson Past
4. Falling in the Black
5. Running Away
6. Here On My Own
7. Lost in a Dream
8. Give Me to the Night
9. Under the Moonlight Sky
Links
Bandcamp | Facebook | Instagram
Night - High Tides-Distant Skies (The Sign Records)
The Final Score -

8/10