Album Review: Necrophobic – Dawn of the Damned (Century Media Records)
With thirty years of active, nefarious service under their bullet belts, Necrophobic are undisputed legends of the death and black metal underground. Despite numerous line-up changes and moments of turmoil, Necrophobic's dark light has never dimmed.
Now in 2020, Necrophobic has summoned another breath-taking eruption of otherworldly malice, this time bearing the title Dawn of the Damned. Out on October 9th 2020.
Making a fan out of me with 2018's Mark of the Necrogram, it's hard to see just how Necrophobic could ever top that phenomenal release. Does Dawn of the Damned even stand a chance?
The guitar scream of a solo is what greets on the short opener/intro of Aphelion, initially far brighter then expected. However, with a distant scream of horror, the march into blackened death brutality begins. Darkness Be My Guide the confident stride of band unafraid of what lies in the demonic darkness. The frantic and furious riffing, the hammering of percussion and scarring cuts of vocal hatred, utterly devastating.
Mirror Black then arrives in a flurry of howling guitars before planting its feet firmly into the black side of metal. One of the more destructive efforts. Whereas Tartarian Winds sees Necrophobic then throwing even more fuel on to the fire that is this album for something that is a bit more daring with its captivating rhythm.
Talking of being daring though…The Infernal Depths of Eternity is one of those classic Necrophobic epics. Where, the heavyweights blister with unbridled intensity for over 7 minutes, throwing in a brief but grandiose guitar solo. Before dropping into eerie melody right near the end for a momentary chance to take a breath. Leading to a extravagant and impactful finale.
Top that!
Well, with a ton of evil intent and willingness to show off the horror that is deeply ingrained inside of them, Necrophobic go for it. The title track, The Shadows and As the Fire Burns leaving little room in the brain for anything but dark thoughts. Few will mind though as there's something deeply comforting about Necrophobic's twisted efforts.
The penultimate offering, The Return of a Long Lost Soul, is the second extensive showing and while it doesn't reach the heights of the previous one, it's still a overwhelming heavyweight listen. A glorious offering of wide-ranging riffs, melodies and mugging heaviness.
Leading to the outright manic finale of Devil's Spawn Attack, a throwback to a simpler discharge of metal. One with some Mercyful Fate style highs and NWOBHM clean vitriol. It's an unexpected but grin-inducing way for Necrophobic to end yet another excellent release.
They might have an iconic past but their future is proving to be just as strong.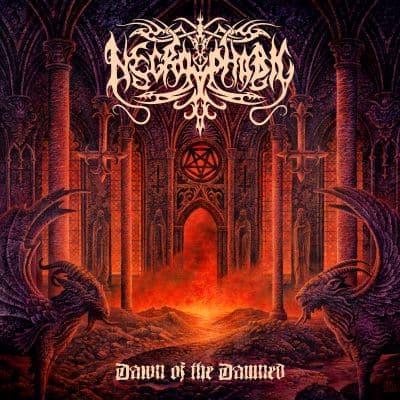 Necrophobic – Dawn of the Damned Full Track Listing:
1. Aphelion
2. Darkness Be My Guide
3. Mirror Black
4. Tartarian Winds
5. The Infernal Depths of Eternity
6. Dawn Of The Damned
7. The Shadows
8. As the Fire Burns
9. The Return of a Long Lost Soul
10. Devil's Spawn Attack
Links
Website | Facebook | Instagram
Necrophobic – Dawn of the Damned (Century Media Records)
The Final Score -

9/10