Album Review: Lenin – FUCK IT Part 1 – Times Have Been Worse… (Self Released)
Released on September 11th 2020, FUCK IT Part 1 – Times Have Been Worse… comes from punky sludge-metal band, Lenin. In their own words the album is:
Your postscript roadmap to the (first four?) years of the Trump-branded zeitgeist of late-capitalism.
This is an oddity, one that takes a little adjustment especially when the vocals kick in and are so dominating over the punky instruments. The opener of Rolling the Plastic Dice certainly standing out in the weirdest way possible.
9-11 Yhuck Yhuck Time is even stranger as we hear a recording of man's diary regarding the year that has been 2020 and the virus that has ravaged the world. It descends into what can be best described as the ramblings of a madman by the end.
If that hasn't turned you off, there's some meaty metal goodness to come with the fuzzier groove of Diamond is Unbreakable. Whereas Just Say Oxy is damn unforgiving, blending industrial sounds with a darker vibe.
Inferiority pulls no punches with the opening rant of a hardcore Trump supporter (it's quite funny to hear in hindsight). It then kicks into a sleazy groove that has a bit of the Type O Negative's about it. Especially when you have these vocals which are lot more refined here. Easily one of the best tracks on the album even as it gets disrupted for a ton of 'channel hopping' at the end.
No major changes in regard to the bizarre with the energetic industrial pace of Yuppie-Ki-Yay or the chaotic Donny's Big Dogdick Energy. A track that is unashamed in how politically charged it is. Although that statement applies to every track, we have here a 9-minute effort, beginning with a mocking public address by 'Donald Trump' that goes on for almost 7 minutes. When it does change, it gets even crazier as we get a blend of industrial and gospel. Yes, you read that right. Is it too much? Well, yes but it just seems par for the course with Lenin at this stage.
More? Absolutely. The penultimate effort, Donald Trump's America has a grandness to it that builds towards Lenin's trademark sharp punk jabs. Here, though, there is a defiantly rawer feel with the guitar riffs sawing through the mind with ease.
Before the 11+ minutes of Space Race, a sci-fi fusion of industrial, noise, metal and more. Warped even more by Lenin's inexcusable assault of wackiness and dragged out to maddening lengths. Is it the work of geniuses or the work of lunatics? It seems to be a bit of both.
There's no denying that it's a difficult album to really enjoy because of just how all over the place it is. However, after the initial adjustment period, there is something quite addictive about it. It's so politically charged and so uncompromising in its assault on Trump and his America. It's not going to age well, as we can see already with Trump's election loss, but that doesn't mean the past four years should be forgotten. Lenin have crafted a scathing time-capsule of weirdness here.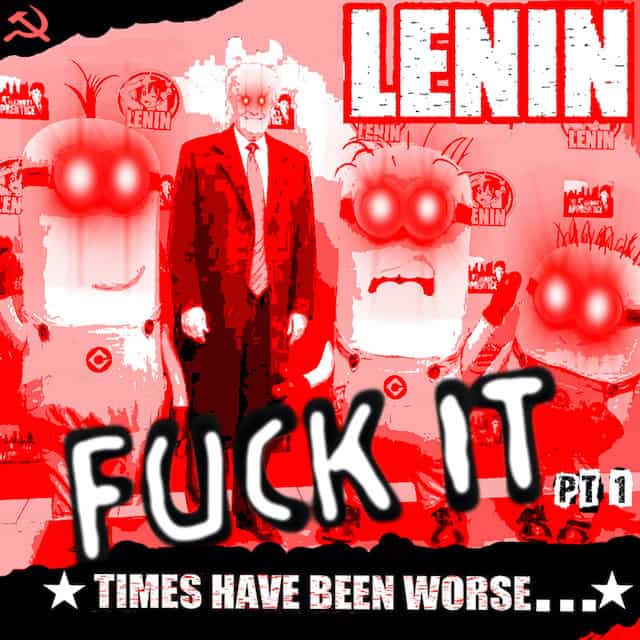 Lenin – FUCK IT Part 1 – Times Have Been Worse… Full Track Listing:
1. Rolling The Plastic Dice
2. 9-11 Yhuck Yhuck Time
3. Diamond Is Unbreakable
4. Just Say Oxy
5. Inferiority
6. Yuppie-Ki-Yay
7. Donny's Big Dogdick Energy
8. Donald Trump's America
9. Space Race
Links
Bandcamp | Facebook | Twitter | Instagram | YouTube
Lenin - FUCK IT Part 1 - Times Have Been Worse... (Self Released)
The Final Score -

6/10