Album Review: Heterochrome – From The Ashes (Self Released)
Iranian prog rock/metal trio Heterochrome are back with their brand-new album 'From the Ashes' due out May 13th, 2022. It is the band's second album and follows their 2017 debut 'Melancholia'.
In their own words:
This album has been an opportunity for us to form our unique sound and experiment with new aspects of songwriting. This is the first time we are trying to introduce Farsi lyrics in a couple of our songs, opening up more space for us to connect with our audience. Trying to add layers of atmospheric and electronic sound design, in addition to the utilization of more acoustic instruments, enabled us to execute a more dramatic performance and listening experience.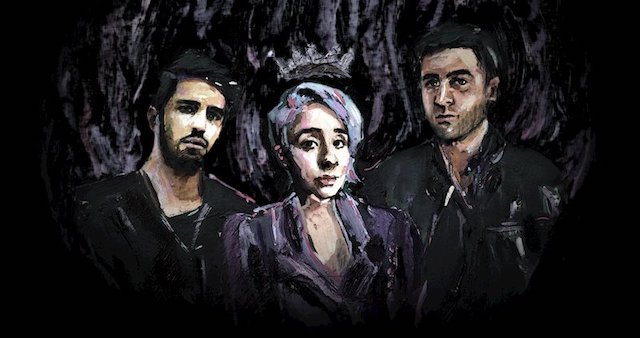 There's a lot of unique and interesting thing to enjoy about From the Ashes. From the progressive meatiness of the instruments to the story-telling depth that Heterochrome showcase and the vocals that come in both Farsi and English throughout. Heterochrome have all the tools to ensure this album makes an impression. Which it will because it's a varied and appealing listen.
They start off strongly too with Baraye Farda, For Tomorrow. A track that has progressive groove and a startling mix of vocals. Where the subject surrounding the sociopolitical environment of Iran can be interpreted differently depending on a person's background.
Badbadak (The Flight) vocals deliver a melancholic slice of pain that cuts heavily through the haze of life's monotony. All while the instruments give it heavy flavour. Which, in turn, leads to the angrier and more intense blast that is Rage Against the People. Before we get a heartfelt and powerful instrumental in the form of WOTB, and the halfway point of the album is reached with The Bearing.
A track that was written by Mida (vocals) while trying to process all that is growing up in Iran as a queer non-binary lesbian. Written years ago, that the subject matter still rings true now, is perhaps the most depressing thing about it. A truly staggering piece of melodic metal music with Heterochrome impressive progressive layering ever present.
A shortish piece of morose melody called Transition leads into arguably the most effecting track on the album as it deals with the difficulties of love. A subject almost everyone can relate to at some point in their lives. Heterochrome tell two stories, both quite on the nose, but both personal and relatable. Split into two parts, it's an emotional and darkly melancholic listen.
Followed by a blast of progressive grandness with the blend of liveliness and mood-altering rhythm featured on Through Evil Within. Then along comes Sargardan, Wanderer to offer up something that plays around with classical Persian themes. One of the more uniquely alternative tracks on the album and also one of the best.
Finally, it's The Outlaw, a track that takes the harsh decisions made by ignorant politicians and reminds you that there is human cost to these, to close out this exceptionally varied album.
You can tell that Heterochrome have put a lot of effort into this and it thoroughly pays off. All the stories, all the heart and feeling, all the passion and believability makes this an album to remember.
Heterochrome – From the Ashes Full Track Listing:
1. برای فردا (Baraye Farda, For Tomorrow)
2. بادبادک (Badbadak, The Flight)
3. Rage Against the People
4. WOTB
5. The Bearing
6. Transition
7. Time's Up
8. Through Evil Within
9. سرگردان (Sargardan, Wanderer)
10. The Outlaw
Links
Website | Bandcamp.com | Instagram | Facebook | YouTube
Heterochrome - From The Ashes Self Released)
The Final Score -

9/10