Album Review: Hats Off Gentlemen It's Adequate – Out of Mind (Glass Castle Recordings)
Hats Off Gentlemen It's Adequate is a proggy, funky, defiant and sometimes poignant London, UK based rock band, recommended by Steve Hackett (Genesis). Their 4th album is called 'Out Of Mind' and was released on the 30th November 2018 digitally with the physical CD version on the 25th January 2019.
The album is inspired by memory, from a variety of perspectives. Inspiration coming from the Philp K Dick novel Time Out Of Joint, dementia, Ann Leckie's 'Imperial Radch' science-fiction novel series, Andreas Vesalius' De Humani Corporis Fabrica', those who rewrite history to promote hatred and Lidice, named after the Czech mining village destroyed by the Nazis, murdering 88 children and 252 adults.


Heavy and compelling subjects, it's very intriguing to see how this imaginatively named band could make music from them.
With a blend of minimalistic influences and blending many different styles, what we end up with is an album that is more of an experience. It's not about head-banging, pit-filling, dance floor moves but rather asking you to sit down and reflect on what you're hearing.
Melancholic, mournful, enlightening, dark and light…the 12 tracks that complete Out of Mind will take you to places you may not want to go but you'll be glad you did by the end. However, don't worry…it's not going to leave you in tears…completely.
Sure, the most mournful of tracks (When I Was A Ship) ooze painful melodies but there are some more upbeat numbers like the proggy/funk fusion of Defiance. It's about contrast and Hats Off Gentlemen It's Adequate do it well.
Elsewhere The Road That Was Red in the Dark reaches the apex of what sun-drenched melody can sound like. The keyboard melody proving to be awe-inspiring. Stand Up has a lot to say and the vocals are fired off with speed while the guitar softly whines to compliment it.
Then we have the really morose but light and airy I Miss the Stars, easily the most miserable but still effectively touching track. It's a long one but it's followed by the groovy electronica beat of If You Think the World is Bad…
It's only right that the final track keeps things in the shadows as the story behind Lidice is very dark.
In the bands words:
Named after the Czech mining village destroyed by the Nazis, murdering 88 children and 252 adults. They wanted the village to be wiped from history. In response to the worst acts of inhumanity, we sometimes find the best of humanity. A group of coal miners in a mining village in Staffordshire, led by their local doctor, Barnett Stross, set up the organisation Lidice Shall Live. The community donated a day's wage each week to fund the rebuilding of the village after the war. Hitler wanted the name Lidice to be forgotten – he failed. This song is dedicated to the memory of all those who have been killed because of their origins, and all those who stood in solidarity.
Wonderful.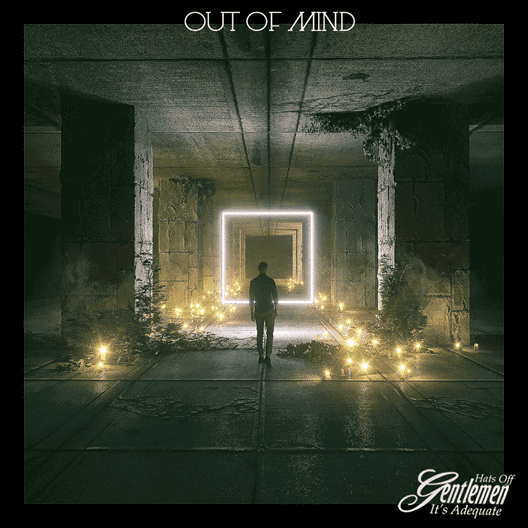 Hats Off Gentlemen It's Adequate – Out of Mind Full Track Listing:
1. Coming Back (Time Out of Joint)
2. When I Was A Ship
3. Defiance
4. De Humani Corporis Fabrica
5. The Rose That Was Red in the Dark
6. Maze
7. Stand Up
8. I Miss the Stars
9. If You Think the World is Bad…
10. Losing Myself
11. The Electric Ant
12. Lidice
Links
Bandcamp | Spotify | Apple Music | Website | Facebook | Twitter | YouTube
Hats Off Gentlemen It's Adequate - Out of Mind (Glass Castle Recordings)
The Final Score -

8/10