Album Review: Guignol Noir – Mantric Malediction (Repose Records)
Basel, Switzerland based duo Guignol Noir's debut full length album Mantric Malediction embodies the classic black metal sound. Mantric Malediction will be released through Sheffield, UK based label Repose Records on CD, Tape and Digital formats on November 6th 2020.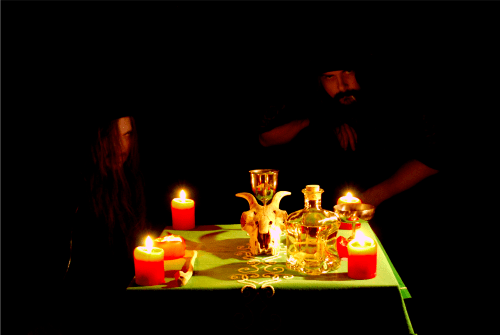 As 'trve' as a cold Norwegian woodland winter night, Mantric Malediction sees Guignol Noir pay tribute to the forbearers of the black metal scene. Eleven tracks of crashing noise that has Satan's stamp of approval on every moment.
This is the slithering darkness. The lurking fear. The hateful horror.
It's far from a visionary take on black metal but it will conjure up visions of perverse and rotten things. Guignol Noir are the nightmare makers and through their musical weapons, ones that they wield with such strength, they will leave many in a fitful state of waking.
Fans of the darker side of metal, sick of the atmospheric laden/post style that has embodied the sound in modern times will lap this release up. Even if its rawness sounds more manufactured, although that actually is a good thing as it makes the album so much more listenable.
Hail father. Hail Satan.
Guignol Noir – Mantric Malediction Full Track Listing:
1. The Birthgiven Right
2. Black Flame Ov Malevolence
3. Rvm & Cigars
4. G.N.
5. In The Birds Beak
6. Pact
7. Ritval Ov Damnation
8. Anti-Sanctvm
9. Graveyard Bogey
10. Following The Starlight
11. Rotten Drvgfest
Links
Bandcamp | Facebook | Instagram | Repose Records
Guignol Noir - Mantric Malediction (Repose Records)
The Final Score -

7/10