Album Review: Gama Bomb – Sea Savage (Prosthetic Records)
Having inked a deal with Los Angeles based Prosthetic Records, Gama Bomb return with a nautical-themed album. Inspired by Victorian horror and maritime adventures such as Moby Dick, Sea Savage is presented as a 19th Century play, with Act One and Act Two playing out on side A and side B of the record respectively.  The pelagic tale follows the crew of the steamer 'S.S. Gama Bomb' as they voyage in search of a real-life Yeti, only to go slowly mad on the high seas. It also features songs about 80s and 90s movies, because Gama Bomb cannot help themselves.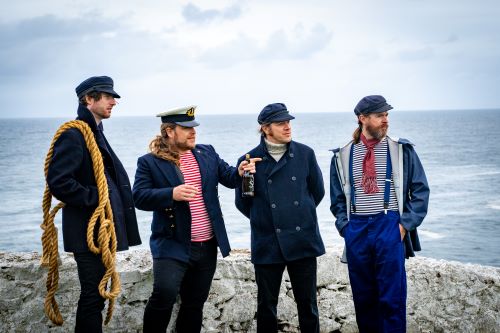 The album is the band's first since the departure of long-time drummer Paul Caffrey seeing James Stewart (Vader, Decapitated) taking up the sticks. Meanwhile former guitarist Luke Graham returns for a cameo, co-writing lyrics to the track Rusty Jaw, a conceptual 'threequel' to back catalogue classics Steel Teeth and Return To Blood Castle.
Sea Savage will be released on December 4th 2020.
Gama Bomb might have outdone even their usual smile-inducing way on their new album. Sea Savage is a blast from beginning to end, but more importantly sees the band step away from their usual thrash metal sound. Instead, we get an album that fits more in the 'classic' metal category. Albeit with Gama Bomb's penchant for speed, heavy head-banging, and tongue in cheek humour.
Racing out of the starting blocks, Judo Killer gets things started in a super-heated way. The riffs frenzied and the vocals spat out at an impressive pace. At least until the chorus that draws from the high-pitched stylings of Priest and others. It's Gama Bomb easing the listener in, so they can go full on heavy metal with the title track. It's such a head-banger, so grab your pint of grog and clear your throat. After all "what do we do with a drunken sailor?"
Always capable of having some fun but still producing kick-ass metal, Miami Supercops and the Terminator 2: Judgement Day inspired; She's Not My Mother, Todd are strong Gama Bomb offerings. The former in particular, is delectably catchy, to the point where you might find yourself singing along! Whereas the punkified edge of the latter is just another example of the variety on this record.
So much to talk about already and the album isn't even half done yet.
Up next is Iron Blood and a more familiar set of thrash-infused riffs but yet again, fused expertly with the falsetto vocals. Whereas Lords of the Hellfire Club is all about speed. Instrumentation spat out in horn-ups fashion but moving at a neck-breaking pace.
Still having fun? How could you not as a true tribute to heavy metal comes with Sheer Kahn. Some might find themselves about to sing a different part by a legendary band in the lead up to the first chorus. No matter though, the groove of the riffs is more than Gama Bomb enough to shake that momentary weirdness off.
Spinning through Rusty Jaw at an improbable speed and with ear-splitting vocal yelps, dealing out forceful slaps of metal with Monsterizer and bringing some of their fattest sounding riffs on the rocking Ready, Steady, Goat! Gama Bomb keep things exciting and interesting as we creep towards the end.
Before we reach the final track though, it's one last blistering offering of hyperactivity with Electric Pentacle. An apt title as you have to wonder if this is how your body might react should hundreds and hundreds of volts be sent through it.
Chances are it would certainly send you a little bit loopy. Some might even say that you'd Gone Loopy which is exactly what is happening to Gama Bomb come this final track. The glorious goal of a thrashy and traditional metal combo perfected long before, allowing the band to go out in a fun thumping way.
Gama Bomb – Sea Savage Full Track Listing:
1. Judo Killer
2. Sea Savage
3. Miami Supercops
4. She's Not My Mother, Todd
5. Iron Blood
6. Lords of the Hellfire Club
7. Sheer Kahn
8. Rusty Jaw
9. Monsterizer
10. Ready, Steady, Goat!
11. Electric Pentacle
12. Gone Haywire
Links
Bandcamp | Website | Facebook | Instagram | Twitter | Spotify
Gama Bomb - Sea Savage (Prosthetic Records)
The Final Score -

9/10