Album Review: Flotsam and Jetsam – Blood In The Water (AFM Records)
Currently enjoying their most successful period, partially thanks to the phenomenal reaction to previous album 'The End of Chaos', Flotsam and Jetsam are back with their fourteenth album, Blood in the Water. The legendary band will release the album via AFM Records on June 4th, 2021.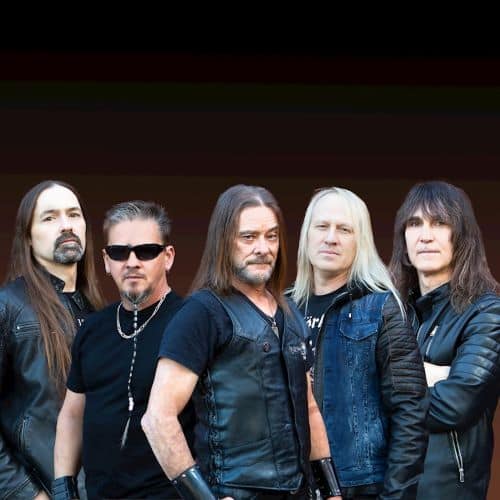 Guitarist Michael Gilbert says:
Following up 'The End of Chaos' was no easy task. We weren't really sure what we had left in the tank, as we put so much work, sweat, and blood into that album. As it turns out, we had plenty left to say. With everything that's happened in the world, the friends we lost this last year, and not being able to perform or tour… you hear all of that in our music. It's angry, it's aggressive, and our emotions pour out all over this album.
On the one hand, you know exactly what you're going to get with Flotsam and Jetsam. After all, they've been grinding this axe for a long time (their debut was in 1986). However, so driven and so 'on fire' are the band at the moment, there are still surprises up their sleeves. What isn't a surprise is that Blood in the Water is a kick-ass slab of thrash and speed metal. Everything great about this long-surviving band and then some.
It starts so strongly with the absolute inferno of head-banging heaviness that is the title track, the blistering speed of Burn the Sky and the meaty scowl and growl of Brace for Impact. Rip-roaring riffs, frantic soloing, punchy hooks and thumping drumming, all backed up by the impressive vocals of AK. Seriously, the band are absolutely killing it here and there's no slowing them down as they hit their stride fully on the thrill ride that is A Place to Die. A modern Flotsam and Jetsam head-banger exuding passion and heavy metal depth.
It's not just fans of Flotsam and Jetsam that will get a kick out of this, all metal fans will. If by some miracle, you've never come across these guys before, there's no excuses now. Walls (a momentous singalong), Cry for the Dead (a dark track that is part metal ballad, part fiery heaviness), Wicked Hour (An absolute ball-buster of speed) and Too Many Lives (so much snarl) keep the middle of the album on the right track. Each one, so very enjoyable.
It's so inspiring to see this band absolutely killing it here. This isn't a resurgence, so to speak but rather the proof that long time fans have known all along. The energy they exude betrays their years and the latter part of the album keeps that strong. Dragon, Reaggression, Undone and 7 Seconds confirming that Flotsam and Jetsam are just getting better and better.
Long may they continue when the output is this damn good.
Flotsam and Jetsam – Blood in the Water Full Track Listing:
1. Blood In The Water
2. Burn The Sky
3. Brace For Impact
4. A Place To Die
5. Walls
6. Cry For The Dead
7. Wicked Hour
8. Too Many Lives
9. Dragon
10. Reaggression
11. Undone
12. 7 Seconds
Links
Flotsam and Jetsam - Blood In The Water (AFM Records)
The Final Score -

9/10