Album Review: Evil In – Age Of Immortal Darkness (Self Released)
It is time to return to the nightmare world of endless death that was first revealed by Evil In's debut EP, An Ethereal Force Beyond, a year ago. Their new album, Age of Immortal Darkness is six tracks (plus an intro and outro) of thrash and death metal. Due to be released on July 29th, 2022.
Bookended by two pieces of atmospheric music, Evil In's new release is dripping in dark vibes. The 'evil' part of their name incredibly apt as once they get going with Merciless Ancient Evil, the thrash-infused death focused heaviness becomes all that matters. Speed and ruthlessness, yet with moments that offer up a surprise or two, such as the blistering guitar solo that exists in the aforementioned track.
Continually ferocious, Demon Grave Robbers has the stench of death over it but once again, the thrashy capabilities of Evil In make it something more. Then there is Holy Innocents Cemetery, which delivers these filthy sounding guitar squeals and Exo Possession, a track that is more measured but incontrovertibly sickening. Evil In living up to their name in every dark and twisted way possible.
No nonsense speed and heaviness are the name of the game with the thrashing madness of Salvage or Die. Before Destination Earth wraps up the album (aside from the atmospheric outro of Condition to Carnage) in chunky head-banging fashion. Meaty and mean, it's a kick-ass closer to a kick-ass release. A release that has enough variations on the classic thrash and death sounds to stand out from the pack.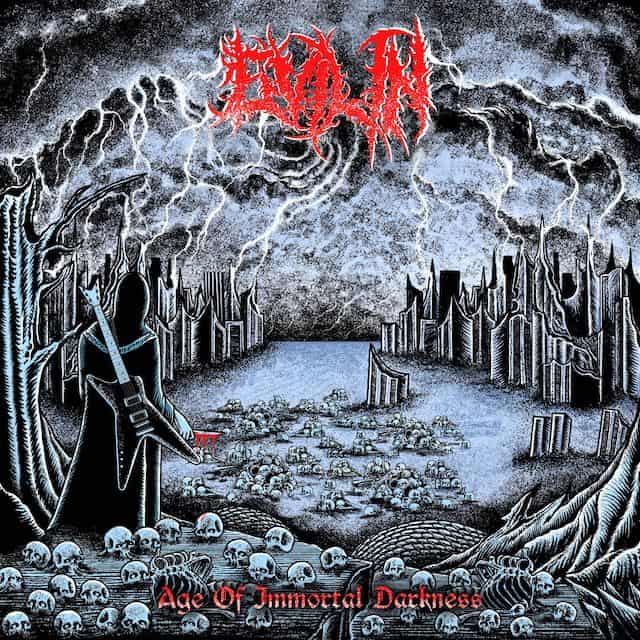 Evil In – Age of Immortal Darkness Full Track Listing:
1. 2347 (Intro)
2. Merciless Ancient Evil
3. Demon Grave Robbers
4. Holy Innocents Cemetery
5. Exo Possession
6. Salvage or Die
7. Destination Earth
8. Condition to Carnage (Outro)
Links
Evil In - Age Of Immortal Darkness (Self Released)
The Final Score -

8.5/10