Album Review: Elevenking – Reader Of The Runes – Divination (AFM Records)
After nine strong albums, the Italian Folk Power Metal band Elevenking takes the next step in their career: Reader Of The Runes – Divination will be released on 30th August 2019 via AFM Records.
Built as a concept, Reader Of The Runes – Divination is an adventurous journey into a mystic world of runes, magic and ancient powers far away from the visible. The band had this to say about their new album:
Expect big melodies, folk tunes, lots of acoustic breaks and heavy stuff in an album that those who already listened to it already consider (one of) our best ever.
A blend of folk and power metal, Elevenking have been doing this so long it's almost too easy for them. Too easy for them to create epic soundscapes, fist-pumping excitement, melodic highs and thoughtful lows.
After a folksy intro, the first couple of tracks (Heathen Divine and Divination) are more about the power side of things. Racing riffs, upbeat rhythm and powerful vocals deliver a set of exciting foot-tappers.
Then we get Silverseal, the guitars really giving it a more folk-metal feel and the darker verses playing off a hell of a catchy chorus. Followed by The Misfortune of Virtue and Eternal Eleanor. The former's dream-like vocals capturing the imagination perfectly while the latter showcases a thumping beat that combines folk melodies with the unimaginable sound of Elevenking's metal groove.
A short intermission in Diamonds in the Night sends us careening into the second half. Beginning with Under the Sign of A Black Star. A radio friendly track that sees the band perfect their lower tempo verse/higher tempo chorus efforts.
Malefica Doctrine is even faster and even more upbeat, the guitars really upping their shred limit. Sic Semper Tyrannis is a powerful offering that could almost serve as an outro particularly with its final few seconds. It's not though as we have two more, one more epic power metal that conjures up images of big battles and magical armies in the form of Warden of the Bane.
All before Reader of the Runes – Book 1 wraps the album up with a 10 minute epic closer. A little hit of folk, a lot of power and plenty of metal, it's a strong finish to an album that shows Elevenking aren't slowing down anytime soon nor changing what has made them so successful so far.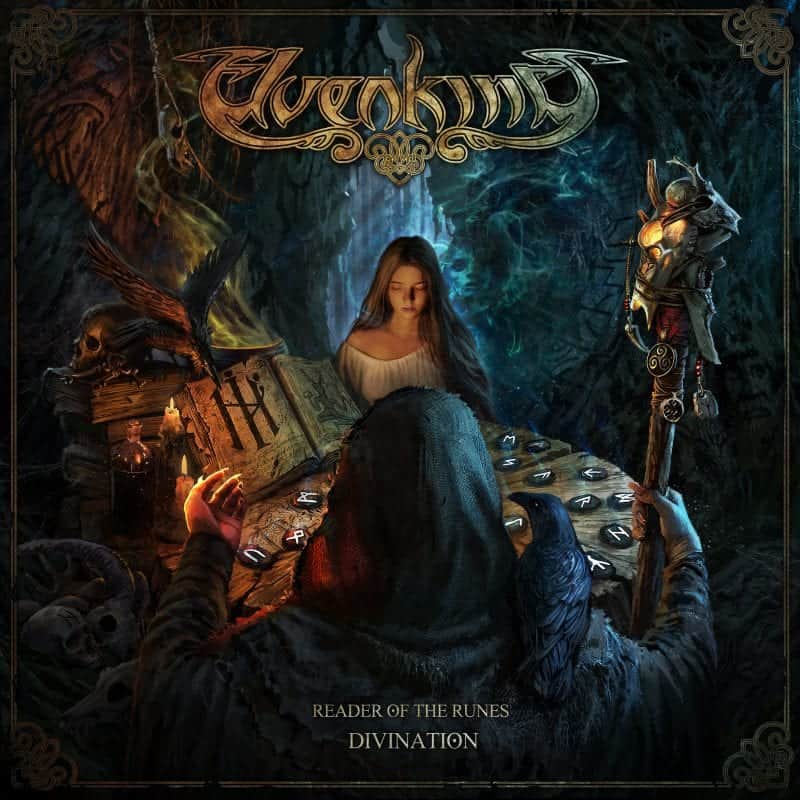 Elevenking – Reader of the Runes – Divination Full Track Listing:
1. Perthro
2. Heathen Divine
3. Divination
4. Silverseal
5. The Misfortune of Virtue
6. Eternal Eleanor
7. Diamonds in the Night
8. Under the Sign of A Black Star
9. Malefica Doctrine
10. Sic Semper Tyrannis
11. Warden of the Bane
12. Reader of the Runes – Book 1
Links
Website | Shop | Big Cartel | Facebook | Twitter
Elevenking - Reader Of The Runes - Divination (AFM Records)
The Final Score -

8.5/10