Album Review: Deivos – Casus Belli (Selfmadegod Records)
Poland-based death metal destroyers Deivos present their annihilating sixth studio full-length 'Casus Belli'. 8 songs of highest calibre brutal and technical death metal for fans of Suffocation, Cryptopsy, Decapitated and Morbid Angel. It will be released on November 29th 2019 via Selfmadegod Records.
Bursting forth at an eye-watering speed, Deivos' smash through the ribcage on their way out with the opening title track. It's intensity personified, short and very sharp. Although it's not as though the following Parallel Gods or Bitter Ends change that. The major difference being the guitar flair that the former has while the latter looks to squeeze the brain matter with maddening squeals.
Victims really sparks into life with a nice bit of tinny drumming and a brief but effective guitar solo before Achiever of Nothing blazes with fiery ferocity that really shouldn't be as appealing as it is.
Truth be told, Deivos aren't bringing anything fresh to the tech death world. However, as we always say that doesn't matter when what you are bringing is top of the pile. Which is exactly what we get with Casus Belli.
Not overstaying its welcome, Deivos keep things hot, fast and heavy as Ataraxy, Nuclear Wind and Prayer of Disavowed keep the album perfectly solid. It's a very satisfying death metal release.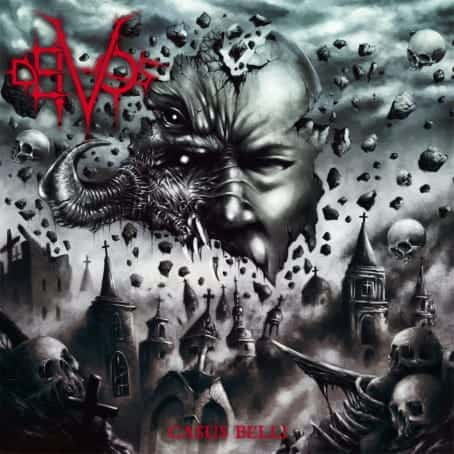 Deivos – Casus Belli Full Track Listing:
1. Casus Belli
2. Parallel Gods
3. Bitter End
4. Victims
5. Achiever of Nothing
6. Ataraxy
7. Nuclear Wind
8. Prayer Of Disavowed
Links
Bandcamp | Facebook | Selfmadegod Records
Deivos - Casus Belli (Selfmadegod Records)
The Final Score -

7.5/10