Album Review: Defences – In The Balance (Self Released)
Hertfordshire based alternative metal band Defences' new album 'In the Balance' is set for release on the 15th October 2021. 'In The Balance' arrives as a snapshot of primary lyricist and vocalist Cherry Duesbury's experiences over the last few years; Glancing over the inevitable difficulties of a global pandemic as well as several pivotal cultural events.
The state of the world over the past few years (maybe even longer) has given artists plenty to draw from when it comes to inspiration and subject matters. It's what has helped frame this new album from Defences. An album that skirts the metalcore line with rockier passages and deeper melodies than you might be used too.
It's got some thought-provoking and impactful messages, while also being capable of creating a circle pit or two.
The heavier bursts are just as memorable as the melodies and enough can't be said about the duelling vocals. One, clean and soaring high through the mind. The other, throaty and desperate sounding. They play off each other; working around the blend of frenzied riffing, smash-mouth percussion and electric use of effects.
11 tracks that fly by in blur of evocative and striking alterative metal, Defences are letting theirs down here and the likes of Voices, False Gods, For What It's Worth and Meant to Be will stick with you long afterwards.
It might sound like it's a bit depressing but that's not actually the case. It's designed to make you feel and think, the way Defences did when they wrote it. At times, it can be uplifting and others, very defiant. Don't let the shit beat you, be honest and continue to battle on. It's not easy and In the Balance deals with a lot of that. Chances are, at least one or two tracks will resonate.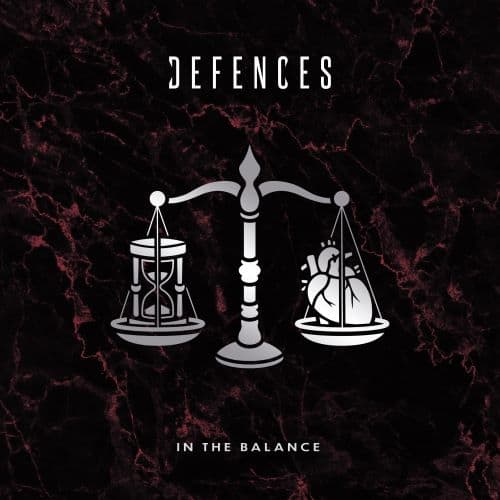 Defences – In the Balance Full Track Listing:
1. Something More
2. Say It
3. Voices
4. In the Black
5. The Heart
6. False Gods
7. Blue Candour
8. For What It's Worth
9. Ocean Floor
10. Little Light
11. Meant to Be
Links
Website | Spotify | Facebook | Instagram | Twitter | YouTube
Defences - In The Balance (Self Released)
The Final Score -

8/10