Album Review: Crypt Sermon – The Ruins of Fading Light (Dark Descent Records)
Crypt Sermon return with their highly anticipated new album, The Ruins of Fading Light. A follow up to 2015's critically acclaimed debut Out of the Garden, The Ruins of Fading Light is a collection of existential meditations set to the backdrop of looming, apocryphal vestiges from a lost dark age. The lyrics explore the limits of faith and family, life and loss, strength and pride. Between thundering riffs and plaintive acoustic moments, the music explores new territories on the landscape of epic doom and heavy metal. Still, one message echos as Crypt Sermon march onward, "We're doomed."
The Ruins of Fading Light will be released on the 13th September 2019 via Dark Descent Records.
Taking the second word of their name quite literally, The Ruins of Fading Light is a sermon. A sermon bathed in doom and heavy metal, it's as thrilling as it is dark.
With a plethora of head-banging guitar work, old-school clean vocals and a flair for the darker side of metal, The Ninth Templar (Black Candle Flame) is deviously old-school. Key of Solomon then brings the doom like rain clouds appearing suddenly to ruin a bright and sunny day.
Our Reverend's Grave then combines both for a morose but clean sounding track before Epochal Vestiges delights with a short folky/mysterious sounding intermission. It's the perfect precursor to the gothic tones of the evil sounding Christ is Dead, one of the album highlights.
Following that is the epic-ness of The Snake Handler. Deep booming doom giving way to some deliciously old-school metal rhythm. A frantic and piercing solo is the cherry on top.
A really enjoyable album, the latter half the album sees the sermon reach fever pitch after two short ambient numbers (Oath of Exile and Enslave the Heathens). The double header of Beneath the Torchfire Glare and the title track deliver two more rousing tracks to end things in a very satisfying way.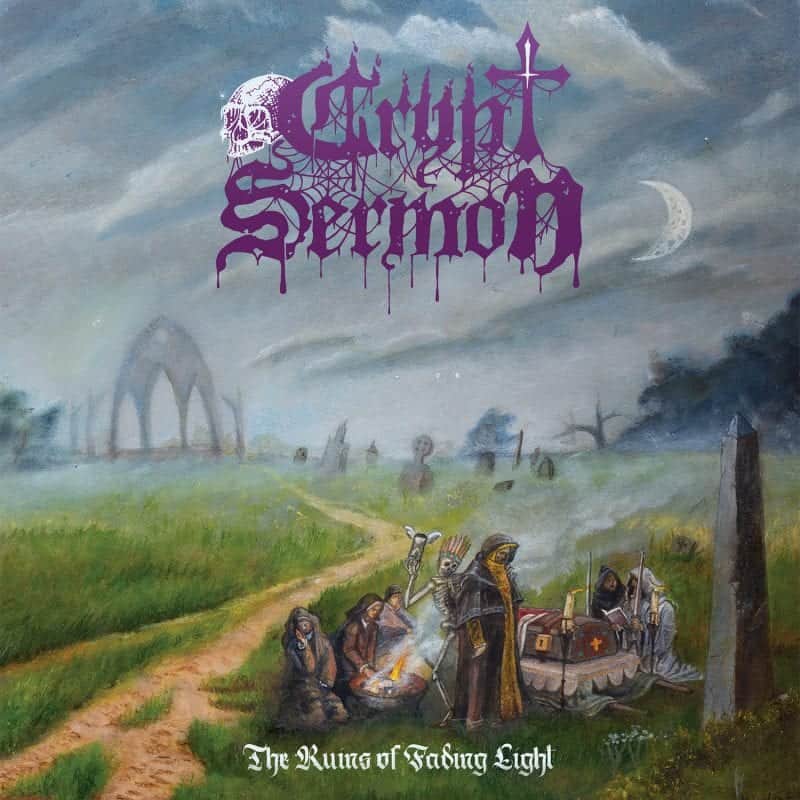 Crypt Sermon – The Ruins of Fading Light Full Track Listing:
1. The Ninth Templar (Black Candle Flame)
2. Key Of Solomon
3. Our Reverend's Grave
4. Epochal Vestiges
5. Christ is Dead
6. The Snake Handler
7. Oath Of Exile
8. Enslave the Heathens
9. Beneath the Torchfire Glare
10. The Ruins of Fading Light
Links
Bandcamp | Facebook | Instagram | Dark Descent Records
Crypt Sermon - The Ruins of Fading Light (Dark Descent Records)
The Final Score -

8.5/10