Album Review: Children of the Sün – Flowers (The Sign Records)
Inspired by Janis Joplin, Jimi Hendrix, and the free lovin' spirit of 1969's legendary Woodstock Festival, Children of the Sün embody both the carefree and reflective sides of classic rock music. This band may look like hippies, sound like hippies, and even bring a wooden sun on stage with them — but the sunshine flows through their performances all by itself.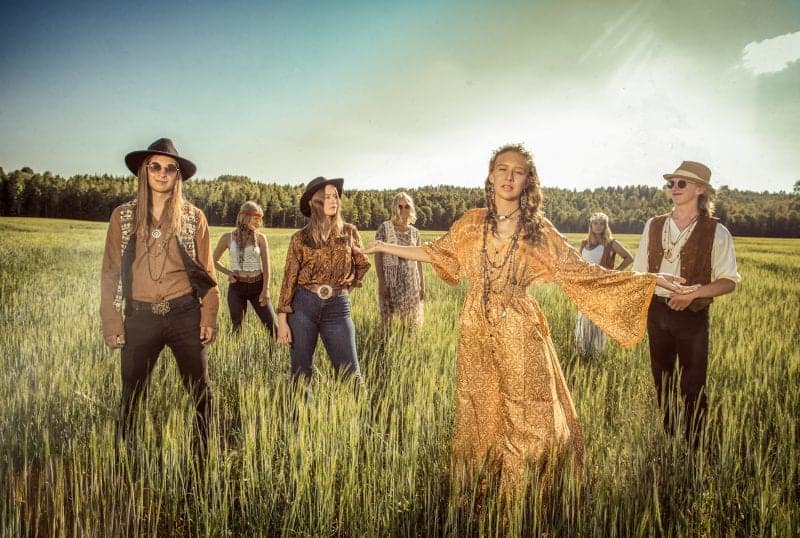 The eight-piece outfit, hailing from Arvika, Sweden, blends seamless vocal harmonies with throwback grooves on their upcoming debut full length album Flowers. Soulful and psychedelic, these "flower children" use their music to conjure up feelings of freedom, love, and a connection with the natural world. Following their 2018 success in the Swedish music competition Livekarusellen, the band released a self-titled EP and later came under the wing of The Sign Records. Children of the Sün look forward to releasing Flowers via The Sign Records on July 26th, 2019 in digital, CD, and vinyl formats.
There's a bit of a resurgence for rock music in the vein of Children of the Sün especially if you're a regular listener to a lot of the bands that end up on The Sign Records. It's a style that doesn't exactly hold much relevancy today but often holds a lot of nostalgic factor. Especially if you lived during the height of the Woodstock years.
That being said, we could all do with a little more sunshine in our lives and on Flowers, Children of the Sün certainly provide it. Bright rays of sunshine, warming the heart and soul while simultaneously energising and relaxing the mind.
From the mellow intro to the grooviness of Her Game (that solo!) to the feel-good Hard Workin' Man through to the momentous finale of Beyond the Sun. This is an album that conjures up images of flower head-bands, peace symbols and free love.
If that makes you grimace then you're probably best avoiding this. That would be a shame though as the chill out vibe of the album is well worth investing in. The incredible vocal performance (Emmy will send chills down spines) makes it a must listen alone.
Children of the Sün – Flowers Full Track Listing:
1. Flowers Intro
2. Her Game
3. Emmy
4. Hard Workin' Man
5. Sunchild
6. Flowers
7. Like A Sound
8. Beyond the Sun
Links
Bandcamp | Facebook | Spotify | | The Sign Records Website | The Sign Records Facebook
Children of the Sün - Flowers (The Sign Records)
The Final Score -

8/10