Album Review: Carmeria – Advenae (Self Released)
Australian symphonic-goth metal act Carmeria are ready to release their debut album 'Advenae' on March 18th, 2022.
Jordan Von Grae (Vocalist) says:
This album has been 6 years in the making. From multiple line-up changes to various developments in direction, it feels quite surreal to finally release this body of work. We're incredibly proud of what we've created and are thrilled to be building on the momentum we've harnessed over the last 12 months. The band is in a brilliant phase of production and creativity at the moment. I am extremely excited for the future of Carmeria and can't wait to witness the ongoing response to this album.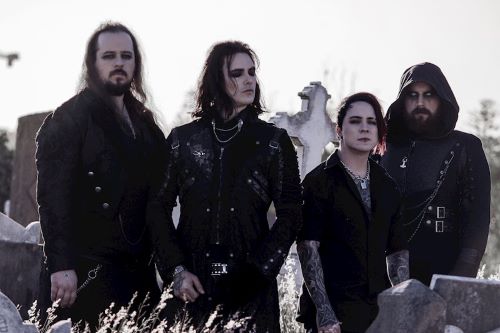 A cinematic slice of grandiosity, Carmeria's Advenae is temptingly leaning towards epic soundtrack territory. From the very start, with the pumping power of the intro title track and energetic Morningstar, the sense of larger-than-life symphonic metal is so very prevalent. It's foot-tapping, fist-raising and head-banging music layered with so much lavishness that you can't help but picture fantastical worlds and even more fantastical events.
Comparisons to the leaders in this style of music (Nightwish) will be made but Carmeria have a deft touch of the 'gothic' that makes them stand out just that little bit more. After all, symphonic metal bands delivering something cinematic is hardly new. Though that's not to suggest that Carmeria are lagging.
Carpe Noctem has rich melodies but chuggy metal guitars. En Rapture is gothic grandeur with a chorus that soars. Relinquished is pure melodrama as only symphonic metal can deliver. The middle of the album then brings back the chest-thumping energy and meaty metal groove thanks To Lead the Blind.
It's back to the symphonic melodrama with Celestia, before Solaris and Starfall send things into the stratosphere with magnificent goth-tinged melody and captivating heavy metal heaviness. A combination that never fails to put a smile on the face. Even more so when it's coming from a band with this much oomph to their sound.
That oomph has consistently been the cinematic touch the band employs and it's what stops Advenae slipping into a repetitive formula. Something that can often be the case with symphonic metal, especially an album the size of this one.
Happily, Advenae keeps things interesting, even as the finale few tracks get longer and longer. Veil of Sanctitude and Halo are both the perfect blend of grand power, gothic mellowness, melodic emotiveness, and massive choruses. Before Carmeria wrap this album up with one hell of an epic.
Called Eternity, it's a couple of seconds short of 13-minutes and of course, sees the band delve deeply into their bag of tricks to bring an ending befitting of this album. An ending that can simply be described as massive.
It's a big task to ask listeners to stay with you at this stage after dropping 11 grand offerings followed by this one but it's arguably Carmeria's crowning glory. A track that brims with symphonic life, gothic airiness and metal weight.
Carmeria – Advenae Full Track Listing:
1. Advenae
2. Morningstar
3. Carpe Noctem
4. En Rapture
5. Relinquished
6. To Lead the Blind
7. Celestia
8. Solaris
9. Starfall
10. Veil of Sanctitude
11. Halo
12. Eternity
Links
Spotify | Merch | Facebook | Twitter | Instagram | TikTok | YouTube
Carmeria - Advenae (Self Released)
The Final Score -

8.5/10