Album Review: Cambion – Conflagrate The Celestial Refugium (Lavadome Productions)
Conflagrate the Celestial Refugium is the debut album from international death metal project, Cambion. Due to be released via Lavadome Productions on the 26th March 2021.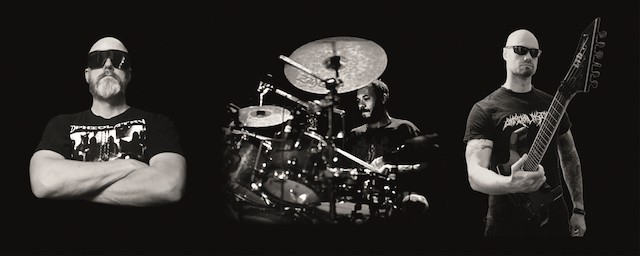 The flood of guitars and drums that erupts from the opening title track is Cambion drawing the line in the sand. You either stand with their furious and frantic death metal sound or you stand against them. The vocals arriving with sharp and guttural intent just adding even more demand for you to make your choice. Stand with them and head-bang your way into a stupor or get out of the damn way.
There is no slowing this band down and Vae Victis has even more frenzy about it. The drums akin to being walloped around the head with a slab of beef and the guitars following that up with jab after jab to the stomach. Calling it a wild offering doesn't quite do it justice.
Though, things are just getting started as the self-titled track works as a statement of just who this band is and what they do. Heavy, fast and fucked up death metal. Drink it in and quench the thirst for non-stop aggression.
It's not getting any less feral as Cities of Brass and Eiton Euclarion cuts a blazing path straight to the brain. Whereas Impact Steel is the nail being hammered in once Cambion get there and Fatalitism, the resulting bloody mess that is left behind. A constantly shifting collection of death metal chaos.
Which brings us to the end and the mentally and physical taxation that is Obscuratio. A track that is almost double the length of its nearest competitor and sees Cambion take a different approach with a longer atmospheric build and focus on being an instrumental only. The moody and dark melody at the start gives way to the screech of feedback and crushing thump of their recognisable death metal brutality. Although, this feels less like a race to the finish as they take their time shifting and turning in the tornado of noise. A very strong closer.
As extreme as it gets, Cambion will make one hell of splash when this finally lands.
Cambion – Conflagrate the Celestial Refugium Full Track Listing:
1. Conflagrate the Celestial Refugium
2. Vae Victis
3. Cambion
4. Cities of Brass
5. Eiton Euclarion
6. Impact Steel
7. Fatalitism
8. Obscuratio
Links
Bandcamp | Facebook | Lavadome Productions
Cambion - Conflagrate The Celestial Refugium (Lavadome Productions)
The Final Score -

8.5/10