Album Review: Bush – The Art of Survival (BMG)
Iconic rock band Bush return with their long-awaited ninth full-length album, The Art of Survival, scheduled for release October 7, 2022 via BMG. The Art of Survival marks the group's first new release since their critically acclaimed 2020 LP, The Kingdom (BMG).
It's always a big deal when Bush release an album, after all, the band have been creating seminal music since 1994. Yet, age isn't slowing them down, and on their ninth album they continue to show just why they have huge and widespread appeal.
Kicking off the album with the moody and verbose Heavy Is the Ocean. The eerie melody, the thick bass and haunting vocals of Gavin Rossdale work in tandem to leave the mind feeling adrift in a stormy sea.
An uptick in tempo and a punchier melodic swing, Slow Me is still just as moody but has a much catchier and rhythmic tone that is very familiar to long-time Bush fans. Something that also rings through with the alt-groove of More Than Machines, Bush delivering off-kilter touches while remaining deliciously infectious. Especially when they hit the chorus and come out the other side with post-like guitar melodies.
Keeping things really moody but still rooted in that radio-friendly catchiness, May Your Love Be Pure and Shark Bite see Bush deliver robust blasts of heavy rock music. Albeit layered with morose melody and with choruses that just soar.
The opening riff of Human Sand gets the juices flowing but once again, Bush don't quite follow the conventional expectations. Kicking it up a notch before immediately disappearing into the ether of melody before working their way through strong rock rhythm towards another powerful chorus.
Bush then hit an album high with Kiss Me I'm Dead. Where the guitars have heavy jabs, the vocals are strained and the chorus is, once again, impressively infectious. Followed then by the heaviest track on the whole album, Identity.
Who is the angel; who is the whore?
Whereas Creatures of the Fire is one of the most melodic. The emotional guitar tones, the small touches of atmosphere and the heartfelt vocals, combine wonderfully here. Before it becomes a race to the finish with the groovy and bassy blast of Judas Is a Riot, the punchy intensity of Gunfight and the sullen melody of 1000 Years. A strong trio of tracks to put the exclamation point on a damn fine album.
Not just a very good Bush album but a very good album overall.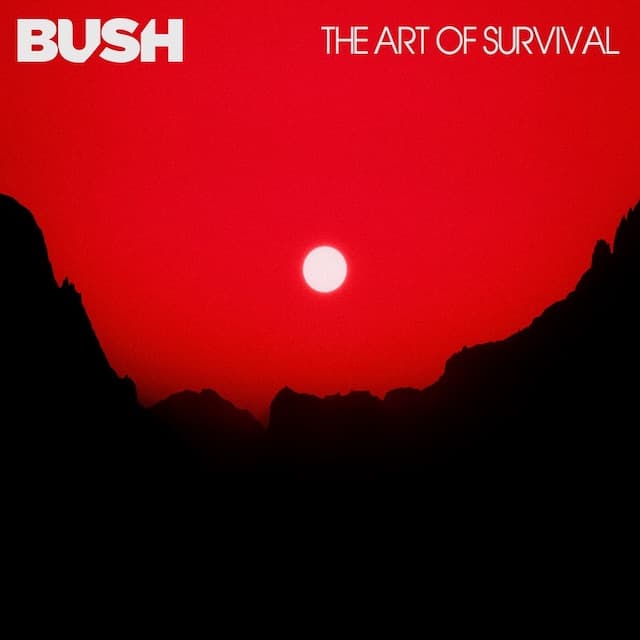 Bush – The Art of Survival Full Track Listing:
1. Heavy Is the Ocean
2. Slow Me
3. More Than Machines
4. May Your Love Be Pure
5. Shark Bite
6. Human Sand
7. Kiss Me I'm Dead
8. Identity
9. Creatures of the Fire
10. Judas Is a Riot
11. Gunfight
12. 1000 Years
Links
Website | Facebook | Instagram | Twitter | YouTube
Bush - The Art of Survival (BMG)
The Final Score -

8/10