Album Review: BruteAllies – Ash & Nails (WormHoleDeath Records)
BruteAllies are a technical thrash/death/metal band from Manchester in the UK.
Since their formation they released a promo DIY video of their song "Invasion" and have played some blistering shows at local festivals. Fuelled by the positive response, hard work ethic and the experience gained by sharing the stage with bands such as Fleshgod Apocalypse and Bloodshot Down, they have morphed to the spearhead of the new wave of Manchester's extreme metal scene.
Now, on November 27th 2020 their debut six track album titled "Ash & Nails" will see the light of day thanks to WormHoleDeath Records.
The North of England is producing some of the UK's best metal and it's the likes of BruteAllies that are leading the new wave of imminent heavyweights. With albums like Ash & Nails, the future is very bright for this band.
Kicking off with the meaty thrashiness and technical flair of Invasion, the rush of blood to the head will leave most dizzy. The chunky and machine-gun fire of the drumbeat, the jagged fury of the riffs, the blazing guitar solo and barbed guttural vocals do the job.
Keeping things blistering and weighty, the thrash metal glory of Battlefield begs for a bout of neck-breaking head-banging. Whereas Dark Army rushes forth with death-infused resolve and Mad Elephant goes about trampling and crushing all who stand in BruteAllies' path. A damn fine trio of heavy metal tracks and further proof that this band are no slouches.
Getting deeper, more aggressive sounding and layering even more impressive technical instrumentation with Lost Souls. You got to love the drum bursts, the screech of guitars and guttural roars that come in the latter part of the track. Before it's all over with Nemesis and one final short eruption. One that pulls out a surprise by having these sudden and immediate short drops into melody. Totally unexpected but totally awesome.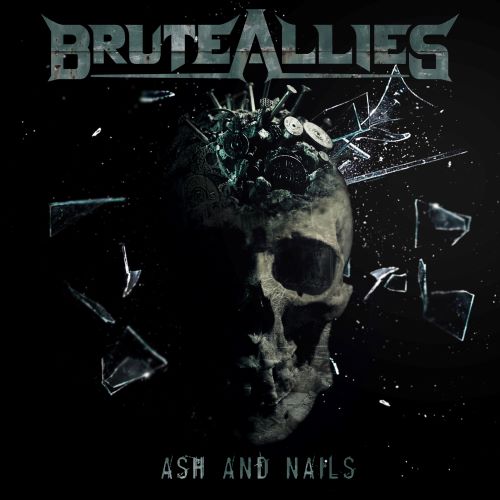 BruteAllies – Ash & Nails Full Track Listing:
1. Invasion
2. Battlefield
3. Dark Army
4. Mad Elephant
5. Lost Souls
6. Nemesis
Links
Bandcamp | Facebook | WormHoleDeath Records
BruteAllies – Ash & Nails (WormHoleDeath Records)
The Final Score -

8.5/10