Album Review: Beyond Grace – Our Kingdom Undone (Prosthetic Records)
Nottingham, UK based Death Metal act Beyond Grace will be releasing their second album, Our Kingdom Undone, on September 3rd, 2021– the quintet's first full length record under the Prosthetic Records banner.
A ferocious undertaking, the raw emotion is present but not overpowering. Instead that aspect is channelled into brutal vocals and devastating instrumentation. Beyond Grace are burning brightly under the death metal banner but with a ton of dirty technicality.
This is an aggressive album. In your face fury played a consistently blistering speed. A head-smashing and body-breaking blast. Starting hot with Dark Forest Doctrine and not letting up all the way through to the title track. Meaty metal – oh such meaty metal.
The riffs are serrated and saw through flesh, the drums are bone-breaking and headache inducing, the bass is the boot to the top of the spine and the vocals are the hot branding iron pushed deeply into exposed wounds. Calling this combination of clamour akin to horror is being kind. Beyond Grace are a horrible bunch of noise-mongers but it's what will make you fall in love with them.
Our Kingdom Undone is an apt name for an album that oozes fiery end-world vibes but it's also an apt name for the last track on the album. Where Beyond Grace step their game up in impressive fashion. Surpassing the previous length of Persona Non Grata by around 6 extra minutes. This is the group grasping tightly and dragging you, kicking and screaming to their filthy, dark and mind-crushing depths.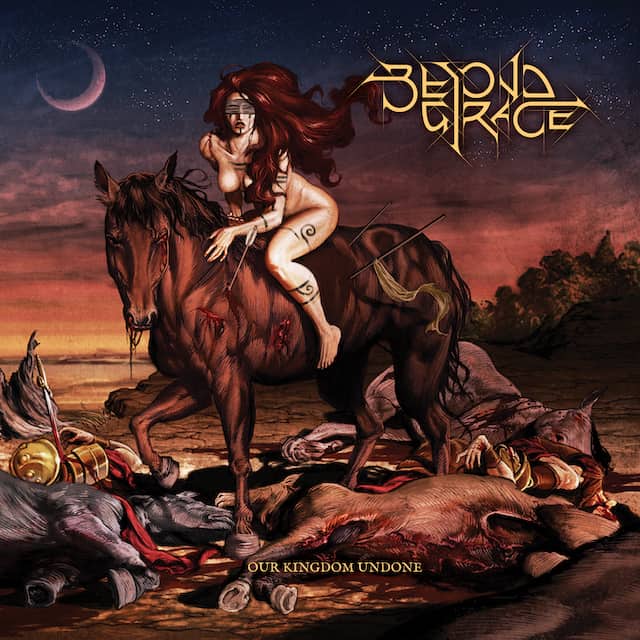 Beyond Grace – Our Kingdom Undone Full Track Listing:
1. Dark Forest Doctrine
2. Barmecide Feast
3. Hive Mind
4. Factions Speak Louder Than Herds
5. The Price of Peace
6. Persona Non Grata
7. Fearmonger
8. Our Kingdom Undone
Links
Beyond Grace - Our Kingdom Undone (Prosthetic Records)
The Final Score -

8/10