Album Review: Autopsy – Morbidity Triumphant (Peaceville Records)
Legendary brutal death metal band, Autopsy mark their reinvigorated return, presenting the first new full-length studio opus since 2014's 'Tourniquets, Hacksaws and Graves' with 'Morbidity Triumphant'. Their 8th studio album, Morbidity Triumphant will be released on September 30th, 2022 via Peaceville Records.
Something wicked, this way comes. It's Autopsy and if there's one thing you can guarantee about the legends, it's that they're going to deliver something raw, rough and nasty.
Which Morbidity Triumphant certainly is as Autopsy come out hard and heavy with opener Stab the Brain. The guttural rawness offset by a deep and booming percussion section but the highlight coming from the riffs and a frenzied guitar solo. It's an impressive start and a sign of things to come.
From dark and twisted horror to furious death metal, Final Frost is an example of how Autopsy can chill to the bone and set the soul alight at the same time. Whereas The Voracious One delivers gold-plated riffs, rooted in their inimitable harsh sound, there's almost a NOLA-esque groove to them. Which makes the slow, doomy start of Born in Blood all the more fascinating. Though, when it gets going, it's pure old-school, nasty and noisy death speed.
Keeping it disgusting, dirty and incredibly dark, Flesh Strewn Temple is another strong example of Autopsy's riff brilliance. Yet, it would be remiss to not mention, at this stage, just how good the vocals are too. Scathing, scowling and sickening. The guttural grossness is delightful.
It also flows seamlessly into the bloody and brutal Knife Slice, Axe Chop. Where the varied tempos make for a truly harsh experience. One of the most intriguing tracks on the album as it has some layers. Take the bass hooks for example, outstanding stuff.
All about reckless speed, Skin by Skin takes us back in time for something that feels like the Autopsy of old. Then Maggots in the Mirror delivers a short and sharp blast of decaying and vomit-inducing death metal. Before Slaughter of Souls exposes the nerves and plays them like a macabre musical instrument.
Ending with Maggots in the Mirror. Where Autopsy go from crawling and creepy horror to unmitigated and unrelenting death metal speed and heaviness with ease. Their intensity only matched by their innate ability to amaze. Even after all this time, they continue to blow all expectations out of the water.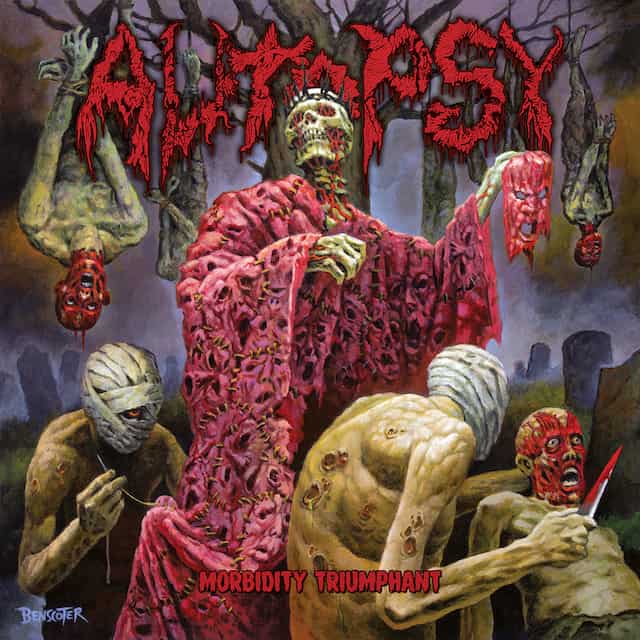 Autopsy – Morbidity Triumphant Track Listing:
1. Stab The Brain
2. Final Frost
3. The Voracious One
4. Born In Blood
5. Flesh Strewn Temple
6. Tapestry Of Scars
7. Knife Slice, Axe Chop
8. Skin by Skin
9. Maggots in the Mirror
10. Slaughterer Of Souls
11. Your Eyes Will Turn to Dust
Links
Spotify | Facebook | Instagram | Big Cartel | Peaceville Records
Autopsy – Morbidity Triumphant (Peaceville Records)
The Final Score -

9/10