Album Review: Apokatastasis – The Consecratory Secretion (Hessian Firm)
Blackened brutal death metal band, Apokatastasis will release their debut album 'The Consecratory Secretion' on January 20th, 2023, via Hessian Firm.
The intro to The Consecratory Secretion is scant preparation for what follows. Apokatastasis take two sub-genres of metal, old school death and atmospheric melodic black, and smash them together in impressive style.
The guttural ferociousness of brutal death metal and heavily atmospheric blackened noise shouldn't work so well together, but nobody told Apokatastasis, it seems. The band blending the styles in interesting and exciting fashion. Delivering cascading chaotic groove-infused noise, layered these moments of melodic clarity that lift the album out of the pit of despair caused by such a constant cacophony of intensity.
It's a frenzied approach to metal that Apokatastasis has to offer and even with their meshing of styles, The Consecratory Secretion is undiluted viciousness. Even with grandeur and dramatic touches, this album will leave most with their head spinning and their neck aching.
Credit where credit is due, it's an attention-grabbing release. The initial draw being the combination of guttural death and melodic black, the reason to stick around being just how well it all works together. Ten tracks of memorable brutality to help shake off the January blues!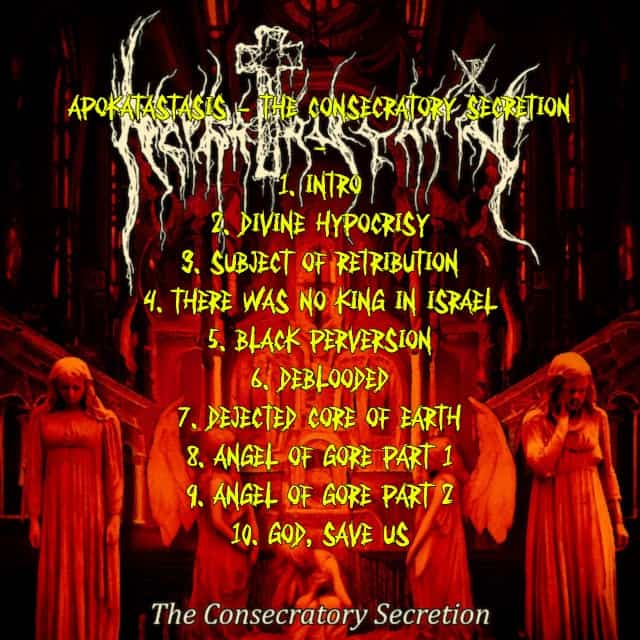 Links
Bandcamp | Facebook | Instagram | Hessian Firm
Apokatastasis - The Consecratory Secretion (Hessian Firm)
The Final Score -

7/10