Album Review: Amon Acid – Paradigm Shift (Helter Skelter/Regain Records)
Hailing from Leeds, UK, Amon Acid formed in 2018 to make psychedelic doom metal. It started as a bit of fun between two people, jamming at home, but after self-releasing their first EP, it became a serious mission. Which brings us to February 26th 2021, a partnership with Helter Skelter/Regain Records and the release of their debut album, Paradigm Shift.
Calling Amon Acid a psychedelic doom metal band is the easiest way to sum up the insanity that pours from this debut. However, in reality there is so much more to this band, so much more. It's the fact that they're so difficult to identify that makes them such an intriguing band. Well, that and the obvious fact that they're producing some pretty kickass metal music.
After a horror-laden intro, a spacey vibe introduces Monarch. The sci-fi tone slowly bleeds into something with a ton more meat to it and Amon Acid are properly off and rocking with some heavy doom head-banging. Virulent riffs, thick bass, thumping drums and echoing vocals really grab the attention. It's trippy as fuck.
Alien King's more mellow vibe is a shift and a half but once again makes the mind feel loose and gooey. Amon Acid manipulating it with ease before taking hold and squeezing as they kick into a more mammoth sized set of riffs and percussion and back again. Whereas Overlord is a much wilder and less ordered assault of doominess with psychedelic effects dropped all over the place. No complaints, it's just so bloody weird.
Having already blown the hell out of most minds, Amon Acid are far from done. Dropping two final efforts that are on opposite ends of the scale in regards to sound but both dripping in their unique psychedelic ways. Fear of Space, a short (by their standards) sci-fi infused instrumental and the title track, an earth-shattering and glacial effort that crushes everything in its doomy path.
Eclectic and unique, what may have started off as friends jamming has transformed into something wholly impressive.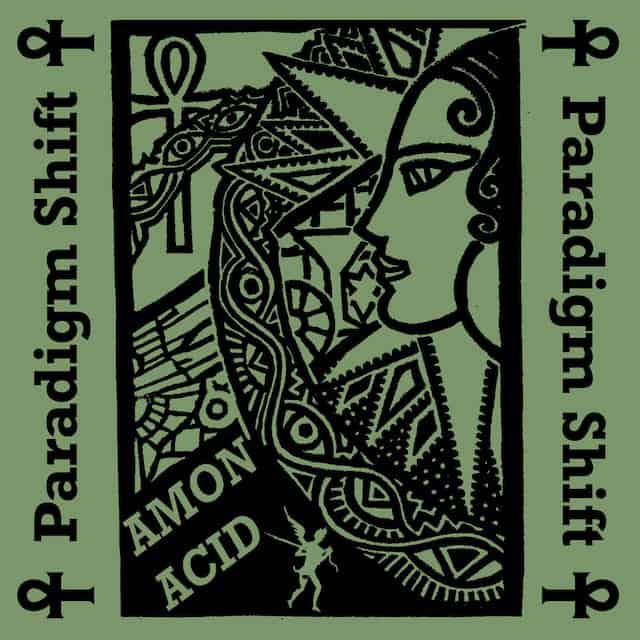 Amon Acid – Paradigm Shift Full Track Listing:
1. Intro
2. Monarch
3. Alien King
4. Overlord
5. Fear Of Space
6. Paradigm Shift
Links
Bandcamp | Facebook | Instagram | YouTube
Amon Acid - Paradigm Shift (Helter Skelter/Regain Records)
The Final Score -

9/10