Album Review: Abrupt Demise – The Pleasure to Kill and Grind (Raw Skull Recordz)
Gore death metal from the north of the Netherlands, Abrupt Demise enjoy nothing more then slaughter, butcher, beers and banging their way through life and to them it's just 'The Pleasure To Kill And Grind'.
Raw Skull Recordz will spill this filth on the 29th April 2020.
If you like your metal blood-spattered, stringy and vomit-inducing then Abrupt Demise's The Pleasure To Kill And Grind will please your thirst. An album of nauseating savagery that stays mostly uncomplicated. Instead choosing to deliver slashing cut after cut with only the odd moment of guitar flair (such as a solo) used to break up the suffering.
…and suffering it is as The Pleasure to Kill and Grind is 10 tracks long, each one a hefty slab of of noise. The titanic weight of the drums, the frantic bursts of guitar riffing and the fiery burn of vocals leaving a puddle of gooey gore behind.
It can, at times, overload the senses but there's no denying it has got an addictive quality to it. Regardless of what tempo Abrupt Demise go at, they deliver substantial hits of death metal.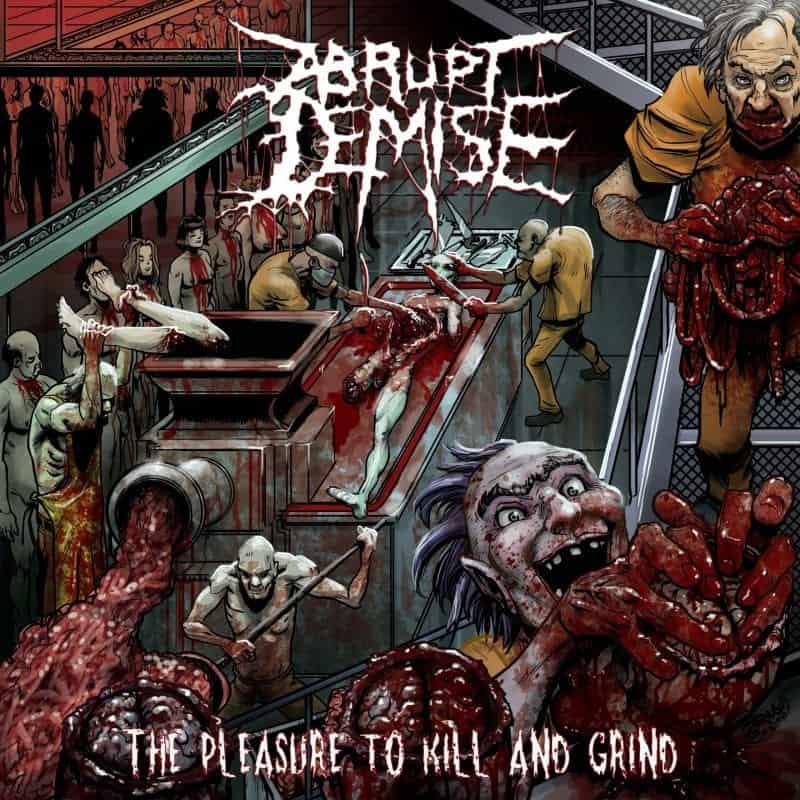 Abrupt Demise – The Pleasure To Kill And Grind Full Track Listing:
1. End of Life
2. Abrupt Demise
3. My Middle Name
4. Cannibal
5. Self Inflicted
6. Human Mince
7. Mutual Mutilation
8. Machines of Blood
9. Information Overload
10. The Pleasure to Kill and Grind
Links
Facebook | YouTube| Raw Skull Recordz
Abrupt Demise - The Pleasure to Kill and Grind (Raw Skull Recordz)
The Final Score -

7/10