Our Top 20 Albums of 2022!
What an incredible year 2022 was for music. So many great albums from so many great bands. From the biggest bands in the world to the single person projects, there have been some incredible albums this year. We have narrowed down a list of 100s to just 20. Below, you can read both Brendan and Carl's top 20 albums of 2022. Enjoy. We sure did.

Carl – 20 – Tuskar – Matriarch (Church Road Records)
This 7-track sludge behemoth is a delight to listen too. An album of ferocity and fire but also an album of depth and meaning. Get on board with Tuskar now because this band are about to become huge and it's going to be so well deserved.
Brendan – 20 – Mist of Misery – Severance (Non Serviam Records)
To think I hadn't even listened to Mist of Misery properly until a week back, when a reaction to their track, The Long Road made me sit up and pay attention. Fast forward a week and I have barely stopped playing their latest album, Severance which dropped on the 4th November. An album I adore, so much so that it managed to make its way into my top 20 and I imagine, if I had hold of this earlier, it would have continued marching towards the top ten comfortably.  The Swedish symphonic black metallers have released an absolute belter of an album that goes far beyond black metal and more into the realms of musical perfection in a stunner of an album that will likely dominate my early 2023 listening.
Carl – 19 – And Now the Owls Are Smiling – Epitaph (Clobber Records)
How bittersweet is this? A new And Now the Owls Are Smiling record that also happens to be the last. Let tears be shed but not through sadness. Let tears be shed through celebration. The celebration that is And Now the Owls Are Smiling and this album, Epitaph.
As momentously miserable, as deviously dark, as beautifully blackened, and as astoundingly atmospheric as always. Epitaph is the perfect goodbye for And Now the Owls Are Smiling.
And Now the Owls Are Smiling will be missed but what a way to bow out.
Brendan – 19 – The Halo Effect – Days of the Lost (Nuclear Blast Records)
It's almost like this band were created specifically for me. Let's have a new band, a melodic death metal band, make it a super group and put Mikael Stanne at the front so they sound a bit more like Dark Tranquillity and you have The Halo Effect. You also have high expectations I think too but expectations that were comfortably lived up to with their album, Days of the Lost, which released on the 12th August via Nuclear blast. As for as strong melodeath goes, this album is a superb release, nothing too mind blowing going on here in terms of genre boundaries or creativity. It is just a super strong release full of wicked riffs, glorious melodies, and powerful vocals. It also has Shadowminds on it which is an absolute banger too – a song, and album, that has been getting some serious playtime from me this year.
Carl – 18 – Eden Rayz – Corpus Vice (Self Released)
This album really is something special. In a world of 'heard it all before', to listen to something so inimitable is amazing. Yes, it is unconventional, difficult and sure to polarise but as an experience, it stays with you. Give it a listen, you might end up loving it.
Brendan – 18 – Wind Rose – Warfront (Napalm Records)
Dwarven power metal force Wind Rose returned with a new album called Warfront, a collection of mighty battle anthems, on the 10th of June via Napalm Records. Warfront is a great album. It is so fun, yet packs a punch, so full of catchy riffs and melodies. The drums are phenomenal, the composition and structure of the songs is impressive, and the production is exactly what this style of music requires. It's a strong album and should help to cement Wind Rose' position as a leader in this genre of metal. As an overall album, it feels a bit more complete then even the excellent Wintersaga, their previous release. Warfront is an album chock full of strong, catchy and memorable music that will have you ready for war, with fists punching the air as you bellow out the catchy choruses.
Carl – 17 – Hundred Year Old Man – Sleep In Light (Consouling Sounds)
There are some heavy and heady themes that make up a large proportion of what Hundred Year Old Man deliver on this album. Themes of isolation and despair, encroaching darkness and uncompromising weight. It has got a bleakness running through it like a bulbous vein but, as is the band's trademark, it's filled with an inimitable beauty and offers up bright and hopeful spots.
It's this combination, and the story behind this album's creation, that makes it such an emotional listening experience. You can head-bang, you can grin and gurn, you can raise a fist and stomp your feet but through all of that, you'll feel something. You don't have know the band or their lost friend to feel the sentiment that pours from this record.
Brendan – 17 – Parkway Drive – Darker Still (Epitaph)
Parkway Drive continue to push towards the very top with their new album, Darker Still, released on the 9th of September via Epitaph Records. Darker Still can hold it's head up high alongside the game changing Reverence. It feels a bit like a Reverence 2 but that is not a bad thing. There is a bit of additional darkness, a bit more frustration and anger, it seems, in some of the songs but not enough to say this album is especially dark or aggressive throughout. Just a bit darker, still. You don't need to massively change up a winning formula. It would be madness to do so. For me, they set the bar with Reverence. On Darker Still, they sit back nicely on top of that same bar with an album full of quality songs and loads of new bangers to fit into those festival headliner slots and arena tours.
Carl – 16 – Saor – Origins (Season Of Mist)
There are few bands that invoke such strong emotions as Saor. That, a decade on and about to release a fifth album, the band continues to deliver such incredible music is testament to the talents of Andy Marshall. Origins, an album that feels more Caledonian than ever yet is incredibly expansive too, might very well be the finest thing Saor has ever released.
Track after track of wonderous and enlightening metal music, Saor continue to push onward and upward while staying true to the core 'Caledonian' sound. Origins is a masterpiece of emotion and metal.
Brendan – 16 – Conjurer – Páthos (Nuclear Blast)
Conjurer continue their journey as one of the country's most exciting young metal band with their incredible new album Páthos, released on the 1st July via Nuclear Blast. Páthos is an exceptional slab of metal and an immense follow up to their excellent predecessor, Mire. I'm not sure Páthos is better than Mire but I think it hits the same insanely high bar and also manages to show a fair bit of evolution, a bit of growth and a glimpse of how far these guys can go. Páthos is a remarkable album, and Conjurer can be immensely proud of what they have produced here and we fans can only be excited for what the future holds and what this supremely talented band do next and in the future.
Carl – 15 – Rick Massie – Guided to an Imperfect Light (Self Released)
Rick Massie is an uber-talented solo artist who genuinely can't be pigeon-holed. His music can be simply summed up as 'progressive metal' but that is far too simple a classification. What he does, what he is capable of, just doesn't fit neatly into genre-shaped holes and it's what makes any release by the musician so exciting.
With Guided to an Imperfect Light, Rick Massie has proved that he is not a 'one-trick pony' and that his stellar first release was no happy accident. He's upped his game, delivering an album that doesn't put a single foot wrong. It's not hyperbole to suggest Rick Massie is one of the finest solo talents out there right now.
Brendan – 15 – Machine Head – ØF KINGDØM AND CRØWN (Nuclear Blast)
Machine Head returned with their 10th studio effort, titled ØF KINGDØM AND CRØWN on the 26th of August via Nuclear Blast. ØF KINGDØM AND CRØWN is another evolution for a band that have become known as much for their changes as their quality. What ØF KINGDØM AND CRØWN does very well is take all the positive Machine Head familiarities and combine them into a single album. The earlier thrash sounds, the chunky as hell groove, ripping vocals and thunderous drums join forces with their more modern production, dual guitar solos, clean singing passages, grander choruses. The concept, while loose in regards to Attack On Titan (for me as I don't know it), is forefront in the emotion and passion on show. The despair, anger and awakening that comes across the album works a treat and maybe helped to keep the songs working together in a steady direction. I wonder if having a concept helped focus the band's mind when it came to song writing? Everything here has a definite purpose and is well written, well imagined and well placed across the album. ØF KINGDØM AND CRØWN is a damn good album and shows a band with plenty of creativity, enthusiasm and fire still left in their belly.
Carl – 14 – Dystopia A.D. – Doomsday Psalm (Self Released)
You've not lived until you've experienced the multi-faceted and multi-textured sound that is Dystopia A.D.'s progressive death metal. A band capable of tenderising flesh and crushing bones, while also being capable of enriching the soul with their progressive layers and melodic tone shifts. It's heavy and brutal poignancy… if such a description can make sense.
It's been over two years since the release of their last record and Dystopia A.D. continue to make great strides forward. Building on their dark and heavy instrumentation with even more progressive soundscapes. All while drip-feeding in dark, but melodic atmosphere.
Brendan – 14 – Mo'ynoq – A Place for Ash (Self Released)
A new discovery for me this year was the excellent American black metal outfit, Mo'ynoq who released their sophomore album called A Place for Ash on the 9th of September. An album of black metal that shows respect to the traditional style, with intensity and visceral fury on offer, but still manages to conjure up a dark and suffocating atmosphere as well as using little touches of extra creativity to make it stand out a little bit from just being "traditional". A Place For Ash comes armed with many weapons. Brandishing feral riffs, thunderous drums, lavish melody and powerful vocals and cadaverous imagery. Mo'ynoq have really delivered with their carefully crafted compositions that indulge a variety of instrumental and vocal textures. This creates their own black metal sound that clearly nods respect towards traditional but without fear of delving into atmospheric, post and gaze and it's awesome.
Carl – 13 – Binary Order – Messages from the Deep (Self Released)
A sci-fi horror soundscape of industrial death with unexpected epic detail. Messages from the Deep is a tense and anxiety-driven slab of inspired heavy music. Were once again, a solo artist stuns with their capabilities. Binary Order has proven to be an impressive act before but this new album is something else.
Perhaps it's the inspirations of the time that makes Messages from the Deep sound and feel so much bigger. So much darker and so much more important. It's not easy for any artist to fully immerse a listener into their mindset but Binary Order manages this task with relative ease. Track after track of grandiose industrial, synth and melody paired with the girth and weight of metal.
Brendan – 13 – Riot City – Electric Elite (No Remorse Records)
Canada's New Wave of British Heavy Metal inspired Riot City returned with their second studio album titled Electric Elite, on the 14th of October via No Remorse Records. Riot City invoke flashbacks to the wonder and imagination of the classic '80s metal albums with Electric Elite. The band's musicianship has evolved since their debut and the production quality is top notch too. High energy, emotive music chock full of hard riffs, catchy rhythms, soaring vocals and blazing leads. Its nostalgic, yes, but not a recreation of the past. It feels modern, just inspired by the likes of Priest and Maiden. I love the guitars; I enjoy the vocals, and that is interesting because I don't always love the highest pitched vocals, but I do here, and there are strong riffs and excellent drum skills on show. Electric Elite is a top-quality album that comes with quality tracks and no filler that is sure to bring a smile to any listeners face.
Carl – 12 – Casket Feeder – Servants of Violence (Self Released)
Casket Feeder are a bright spark in the British extreme metal scene and this album is a triumph. Delivering a diverse and exciting blast of extreme music. One that pays tributes to their early days but shows that they stand alone with this specific sound.
Taking the ferocity of Swedish death metal, warping it with hardcore chaos and then throwing in some brand-new elements, Servants of Violence is head-banging and circle-pitting gold from the very start up until the very end.
Brendan – 12 – Blind Guardian – The God Machine (Nuclear Blast)
The living legends that are Blind Guardian returned with their 12th studio album in The God Machine on the 2nd of September and, as you would expect, it is a top-quality album. Blind Guardian are a special band, and this album sees them come at us with more intensity than expected, yet the same expert song craftsmanship that made them such icons in the first place. All the very best elements of their works get displayed with some of their early years speed and fire also coming through alongside the grandeur and epicness that they seem to deliver with ease. With immense vocals and instrumentation alongside their mesmerising song structures, The God Machine is an excellent album, one of Blind Guardian's best and one of my favourites of the year.
Carl – 11 – Somali Yacht Club – The Space (Season of Mist)
A hard hitting but infinitely dreamy sound, Somali Yacht Club take the listener on a progressive and hazy journey with The Space. Where atmospheric and cinematic soundscapes meld with post-rock, psychedelia and stoner-infused energy.
Brendan – 11 – Abhoria – Abhoria (Prosthetic Records)
Abhoria are a dystopian black metal trio, composed of members of Ashen Horde, Catheter and Vimana. They released their self-titled debut on the 4th of February 2022 via Prosthetic Records. Abhoria have really delivered a banger here with a debut packed full of intensity and aggression. It's black metal, but in their style, blending other elements and genres within the same wheelhouse (death, deathcore, blackened death etc…). Abhoria have captured feeling well and the whole album impresses on you emotionally as well with deep feelings of coldness, bleakness, despair, and desolation washing over you. Obviously talented guys, Abhoria have a lot to offer and on this from, should be a name that everyone takes note of for the future. This is an immense debut.
Carl – 10 – Norma Jean – Deathrattle Sing for Me (Solid State Records)
This long into their career (active since 1997), few could blame Norma Jean for coasting by on their past successes. Few would expect them to pull out something as strong as Deathrattle Sing for Me. Yet, that is exactly what the band has done. This new album is a glorious entry in their extensive catalogue and sees the band at their most abrasive sounding.
Brendan – 10 – The Wolves of Avalon – Y Gododdin (Godreah Records)
Formed in 2009 by Metatron (The Meads Of Asphodel) and song writer James Marinos, The Wolvesa of Avalon's fourth album, Y Gododdin, brings us a vision of the Gododdin, Northern warriors whose battles against the Anglo tribes are documented in ancient Welsh poems by the bard Aneirin. Y Gododdin was released via Godreah Records on the 25th of November and made an instant and lasting impression on me. The Wolves of Avalon's passion for Britain's history infuses every note of the songs that form Y Gododdin, transporting the listener to ancient times of untarnished natural beauty, times of strength and honour but also times of blood and hardship. I adored every second of Y Gododdin and found it to be entirely captivating, exciting and quite an emotional ride. The use of so many instruments and so many differing vocal styles make the whole thing sound massive, exciting and full of depth. The Wolves of Avalon have delivered a glorious blend of the best of metal and folk. An album of immense creativity that will reach into your very being and leave a mark on your soul.
Carl – 9 – Blacklab – In A Bizarre Dream (New Heavy Sounds)
How do you describe Blacklab to the uninitiated? To call them a fuzzed-out, heavy doom band is underplay the eclectic and electric sound the duo showcase. Where heavy, dark and intense music sets the teeth on edge and has the body trembling. The blend of vocal styles, the chunky and chuggy riffs, the bone-breaking percussion… Blacklab have really stepped up their game here.
Nowhere is that better exemplified than when they move from titanic doom sounds to faster, rougher and wilder sounding metal moments. Talk about giving In A Bizarre Dream an edge, this is sharp enough to cut through bone.
The more time spent in the minds of Blacklab, the more this album delivers, the more it infects the senses and the more it stands out. A work of genius that turns the doom genre on its head.
Brendan – 9 – Krilloan – Emperor Rising (Scarlet Records)
Swedish power metallers, Krilloan, released their full-length debut album, Emperor Rising, on the 9th of December via Scarlet Records and absolutely smashed it out of the park. Emperor Rising is a fast and fiery power metal album that will leave you feeling absolutely invigorated and filled with adrenaline, like you would hope for from a power metal album. Emperor Rising is quite relentless in pace and power and allows very little time to catch your breath as it moves from huge, melodic anthem to huge melodic anthem relentlessly. The drums are phenomenal throughout, the guitars shine as do the vocals. It's a well-produced, well laid out album that firmly puts Krilloan on the map as one of the hottest prospects in metal with one of the best power metal releases of this year.
Carl – 8 – Judicator – The Majesty of Decay (Prosthetic Records)
A mysterious concept album with themes surrounding the subjects of love, family, and the transformation of suffering into something meaningful. There's a lot to unpack here and it will certainly keep fans guessing. However, when it comes to unique power metal, there's nothing complex about the thrill ride that Judicator take the listener on here.
Once again, they prove to be unmatched when it comes to delivering an illuminating experience that is both energised and heartfelt. The Majesty of Decay is a triumphant release that proves Judicator are not a band capable of stagnating.
Brendan – 8 – Mistborne – The Cradle of Time (Self Released)
London based, symphonic metal newcomers, Mistborne absolutely blew me away with their gorgeous concept album, The Cradle of Time, which released on the 18th of November. Mistborne have delivered and absolute masterclass in storytelling and emotion driven music here with a debut to be immensely proud of. The story is clear and concise with lyrical content that perfectly delivers the message expected. The pacing of the album is strong with not a moment of boredom allowed to creep in. Musically, it leans heavily on the symphonic side. The orchestrations are masterful, the guitars that become much more of a driving force later in the album are perfectly suited to each track, the drums are particularly special throughout, and the vocal style could not be more perfectly aligned with the style and substance of The Cradle of time. This is a stunning album.
Carl – 7 – Werewolves – From the Cave to the Grave (Prosthetic Records)
Werewolves are the embodiment of aggression and once again, they have an album that is frothing at the mouth. An album made up of nine examples of what happens when a band just stops trying to be nice. Although, it's not as if Werewolves have ever been nice.
What they are is a revelation in the extreme metal camp. A band that combines agonising speed, blackened death savagery and song-writing creativity to deliver one hell of a head-banger. Par for the course for Werewolves but it should be noted, this isn't the band sitting still. Not at all in fact, as From the Cave to The Grave is their most refined effort yet.
Brendan – 7 – Meslamtaea – Weemoedsklanken (Babylon Doom Cult Records)
Dutch unorthodox black metal project, Meslamtaea, released their new album titled Weemoedsklanken on the 25th of February via Babylon Doom Cult Records. Weemoedsklanken is a remarkable album that oozes creativity, excitement, and intensity. A supremely talented musician and an excellent cast of guest spots have made this album one that absolutely has to be heard. Packing this much feeling into a song is hard but maintaining that across a whole album is commendable. From the first notes, until the very last, I felt exhilarated and introspective simultaneously. It is black metal, occasionally in the gaze camp, respectful to traditional, Avant Garde in style with a plethora of progressive and technical elements thrown in for good measure. Meslamtaea is an immense album that gets a lot of play and will for the foreseeable future.
Carl – 6 – Ithaca – They Fear Us (Hassle Records)
A step up from the debut in almost every way, the refinement of their sound is one thing, but the development is another. An album that is furious and ferocious but also an album that is heartfelt and melodic. They Fear Us is more than just a triumphant release for Ithaca, it's a triumphant release for metal in general because such talent, as that exists in Ithaca, enhances everything around them.
Nine tracks, nine slices of heaven, nice examples of modern metal and hardcore, They Fear Us lands with a ton of impact. Not just because, when so desired, Ithaca are intensely on another level, but because there's an incredible amount of heart and soul in what they're doing.
Brendan – 6 – Unru – Die Wiederkehr des Verdrängten (Babylon Doom Cult Records)
Atmospheric black metallers Unru released their new album, Die Wiederkehr des Verdrängten on the 4th of March via Babylon Doom Cult Records and it is awesome. The German band deliver a grandiose, expansive statement of intent with an album of deep blackened gloom and fury yet while still balancing dissonance and harmony to create an enveloping soundscape that you should feel, as much as hear. Die Wiederkehr des Verdrängten is a phenomenal album. Musically the album delivers in immense ways being both a treat for your ears but also your soul. I left the album feeling intensely emotional, hugely respectful and full of admiration for a band who have delivered one of the best albums you are likely to hear this year.
Carl – 5 – Rise to The Sky – Every Day, A Funeral (Meuse Music Records)
Once again, Sergio González Catalán proves himself to be one of the most talented solo musicians out there with an album that is aching with emotional value. An album that is irresistibly beautiful but also unashamedly dark and heavy. The combination of atmospheric grandeur and mind-crushing death-infused doom creates a towering melancholic monstrosity that hypnotises from beginning to end.
Brendan – 5 – Mosaic – Heimatspuk (Eisenwald)
German (Thuringian) one man power house, Mosaic returned with the brand new album, Heimatspuk, which released on the 22nd of April via Eisenwald. Heimatspuk is a work of art, a perfectly crafted piece of genius from a man of immense talent. I knew nothing of Mosaic before this, but it just goes to show much talent there is out there still to be discovered for eager listeners if you look deep enough or get lucky enough. Heimatspuk is dark and heavy yet equally gorgeous and passionate. An album that was immensely impactful and comfortably one of the greatest albums I had the pleasure of hearing this year. The blend of folk and traditional instruments with a raw, black metal sound works perfectly and is balanced expertly on an album that deserves to be heard and praised.
Carl – 4 – Mist of Misery – Severance (Non Serviam Records)
Consistently one of the most exciting bands in black metal, Mist of Misery exude melancholy and drama in unparalleled ways. Expect dark despair, blackened emotion and heavy horror but most importantly, expect to be wowed.
Most bands would crumble under the weight of such expectations but not Mist of Misery who deliver their best work to date. In fact, Severance is one of the best albums of the year in all metal, let alone black metal. It's a gargantuan tome of dark melodies, savage black heaviness and intricate detail. Where a wealth of instrumental and vocal talents works in twisted harmony making its lengthy runtime disappear like a cold mist as the sun rises. There's simply no getting distracted or bored with this album as each track has bucketloads of imaginative moments.
Gripping savagery, sumptuous atmosphere and heart-wrenching melodic grandiosity. It's exhausting to experience because there's no chance to switch off. Mist of Misery control every twist and turn, dragging the listener through their tundra of desolation. As mentally draining as it is, it's a journey that everyone needs to experience, even if it's just once.
Brendan – 4 – Zeal and Ardor – Zeal and Ardor (MVKA)
Every time Zeal and Ardor release and album, it seems to find itself way up the list within my top then of the year, such is my love of the band and they consistent quality of their music. Their 3rd album, the self-titled Zeal and Ardor, released on the 11th of February and is yet another massive banger. It's shows the band continue to evolve and master their sound, while maintaining their expert balancing act between black metal and spiritual, soul sounds. The new album delivers a lot and adds some massive tracks to their catalogue with the likes of Church Burns, Götterdämmerung, Run, Golden Liar and Erase being my personal favourites on an album of immense quality, yet again from the wonderful Zeal and Ardor.
Carl 3 – The Barnum Meserve – Designs (34D Records)
Flat out ignoring expectations of what post-rock is, The Barnum Meserve have a very unique album on their hands here. One that is cinematically pleasing, pushes boundaries and stands out because of all of that, and more.
With a base planted in post-rock, The Barnum Meserve really change things up by blending a whole host of modern musical technologies into their sound. The end result is often fascinating, often challenging and always motivating.
What an album. Enough good things can't be said about it.
Brendan – 3 – GoreSkinCoffin – Release My Suffering (Funeral Goat Records)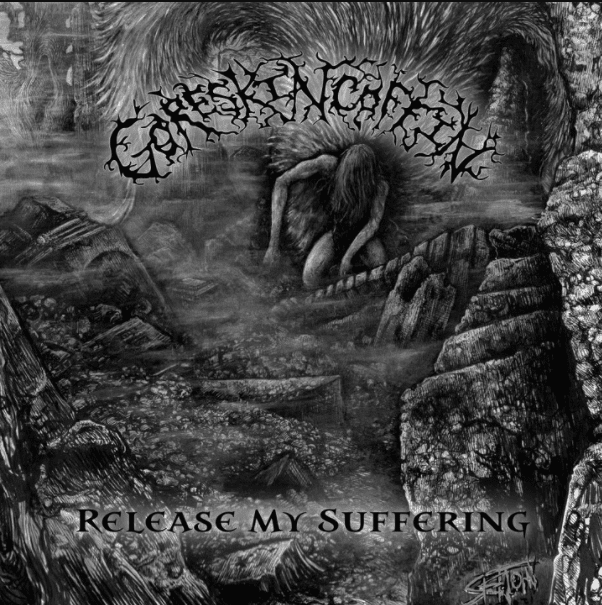 GoreSkinCoffin are a California based blackened death metal band and they released this album, Release My Suffering, back on the 14th of January. They set a very early but very high bar for albums in 2022. This is astonishingly good metal with a multitude of genres on display. Creative, intelligent and fucking heavy music that gets the adrenaline flowing and genuinely left me just shaking my head and thinking, wow. Release My Suffering came in as a very early contender for one of the best albums of this Year and is well deserved of such a high position.
Carl – 2 – Lorna Shore – Pain Remains (Century Media Records)
The biggest, the grandest and the most intense release Lorna Shore have put out, Pain Remains is a staggering achievement. A truly spectacular album. An hour's worth of music still doesn't feel like enough. Such is the captivating qualities of it. This is Lorna Shore's moment, and they are grabbing it with both hands. From beginning to end, it is simply brilliant. They should be immensely proud of what they have achieved here.
Brendan – 2 – Lorna Shore – Pain Remains (Century Media Records)
The New Jersey deathcore band are a big name in metal but never one I truly found myself loving until Pain Remains, the album that came out on the 14th of October to high praise from all corners. Enough praise from a certain other writer at GBHBL to make me want to check it out. It is a masterpiece of modern metal but for me that mainly happens as the album approaches its end. Until then, I thought it was a great album, then the Pain Remains trilogy of songs drops and elevates this album to almost the very top of my pile. An album that would have undoubtedly been my number 1 in any other year, I'm sure and has given me a newfound admiration of Lorna Shore and what they are capable of producing. A spectacular album.
Carl – 1 – Conjurer – Páthos (Nuclear Blast)
Conjurer have done the impossible… made a better album than Mire. Páthos comfortably sits at the top in a year of stellar releases. Not only because Conjurer are so good at what they do but because this album features an extensive and extravagant amount of creativity.
Conjurer can be immensely proud of what they have produced here. An album that only gets better and better the more you listen to it and the more you pick it apart. In years to come, when Conjurer are headlining arenas and festivals around the world, Páthos will be remembered as the point where the Conjurer train picked up so much speed that there was no choice but to hold on for dear life and enjoy the intense ride.
Brendan – 1 – Portal to the God Damn Blood Dimension – Rotten Fruit;Regular Orchard (No Funeral Records, I Corrupt Records, Ripcord Records)
Rotten Fruit;Regular Orchard is not something that can easily described using mere words. So much of this release came to me through feeling, through different emotions. I have often seen music, especially in our scene, described as a journey – an adventure – but rarely have I ever felt it to be this true. Both tracks are perfect. Absolutely perfect. Every single second of each movement hits exactly the right spot pulling your emotions in every direction imaginable. It requires and deserves focus and investment, but the return is worth every second of dedication. Rotten Fruit;Regular Orchard is a genuine masterpiece and Portal to the God Damn Blood Dimension is a unique and truly exciting prospect making it my favourite album of this year.