Live Review: Incineration Fest 2019
Taking place across three venues in the heart of Camden Town, London. Incineration Fest has wrapped up for another year and what a Fest it was! We saw a number of heavy and hard-hitting metal bands ranging from new-comers to legends of the extreme scene.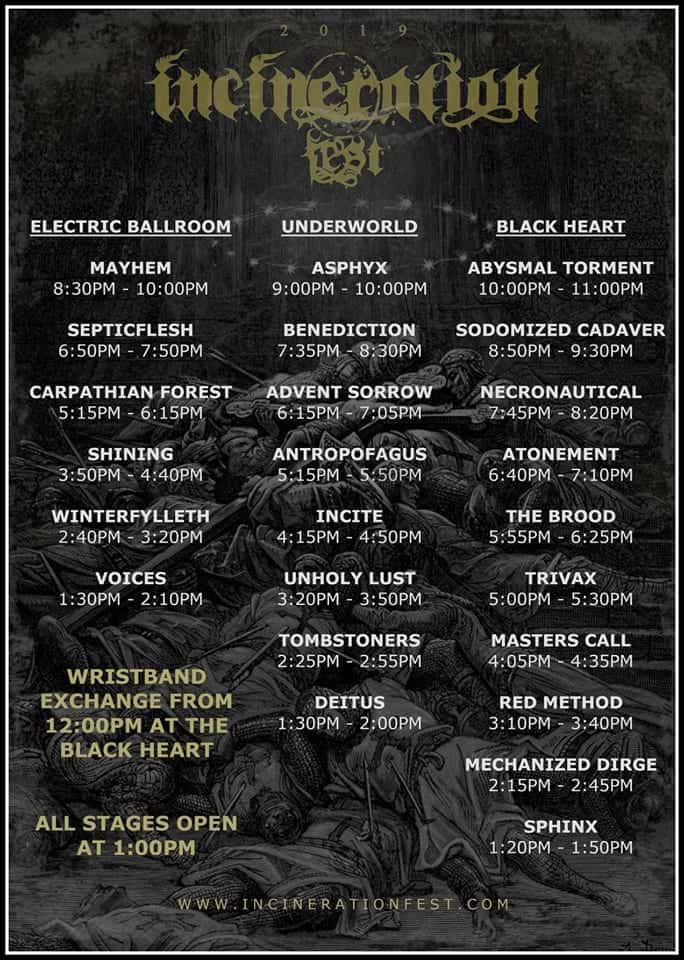 Deitus (The Underworld)
Brendan: I knew very little about Deitus before checking them out. They opened up the stage at The Underworld and I found their in your face brand of aggressive black/death metal really appealing. That was until the frontman had a moment and decided to gob into the crowd. Not something you need to see or be the victim of. Spit on your enemies, not your fans. Music was great though so will put it down to a silly mistake though one that tarnished the gig for me. (5/10)
Carl: Our Incineration Fest day kicked off inside the gloom of The Underworld with Deitus, a curiosity watch that paid off. As Brendan said above, fuck knows why the frontman decided to gob into the crowd. We saw it clearly and it really left a bad taste in our mouths. However, aside from that dumb moment Deitus' brand of heavy and aggressive is very watchable and it they get the heads banging with ease. (6/10)
Winterfylleth (The Electric Ballroom)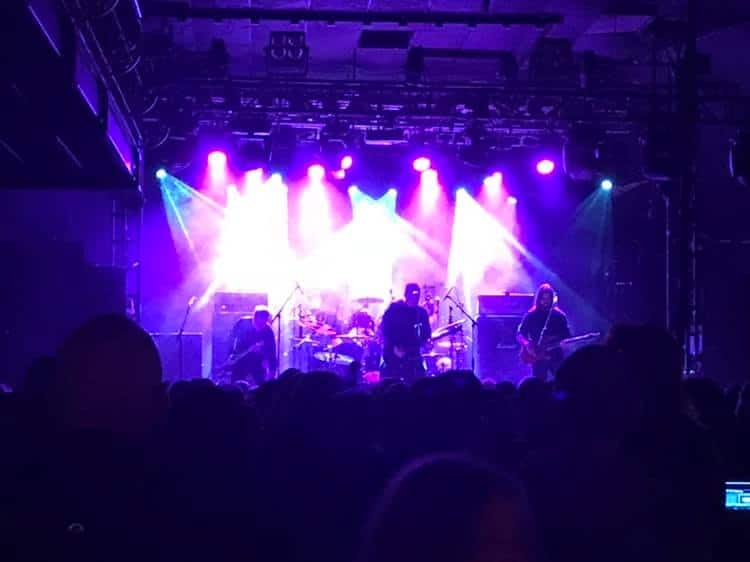 Brendan: Solid showing from the Mancunian black metallers. They were on at a bit of a weird time, being a reasonably big band, which also meant a very short set at 30 to 40 minutes, but they filled it well and sounded great in a well filled out Electric Ballroom. Generally, an expansive band with plenty of soulful melody and long atmospheric songs, they seemed to tailor their set list to suit the "heavier" line-up of Incineration Fest but to their credit, every song was played immaculately and even the sometimes spotty sounds of the Ballroom were on point. (8/10)
Carl: Far too short for a band that lives on lengthy expansive and atmospheric sounds. Winterfylleth set themselves up to match the theme of the day keeping things on the more brutal side of their music. It's not a complaint. They sound great. (7/10)
Red Method (The Black Heart)
Brendan: I definitely saw enough in Red Method's set to see why they are a growing name and force within metal. The 6 piece band barely fit on the small stage upstairs at The Black Heart but still manage to find the room and energy to bounce around with force and enthusiasm. Musically, it was a bit hit and miss though. When they hot hard and heavy they literally rattle the walls of the venue and get every neck snapping but any moments of melody or clean singing are completely lost behind the heavier sound. I mean lost too. I was standing ten feet from the frontman, could see him singing his heart out into the mic and could not hear a syllable. It was a real shame, but they did enough to show why they are making waves. (6.5/10)
Carl: Having heard plenty of good things about Red Method, this was one of those sets we were insistent upon not missing and they didn't disappoint. It had its problems, the clean vocals almost completely lost in the wall of heavier noise, but it's a really memorable show from the a band with plenty of potential. (6/10)
Incite (The Underworld)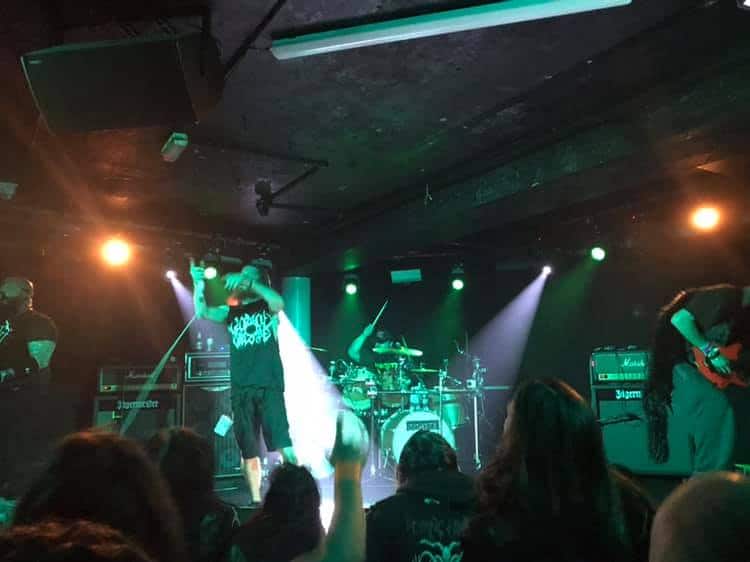 Brendan: What a nice surprise Incite were! At first we debated whether to go and see them or go elsewhere but we ended up watching them with a pretty small crowd. Incite brought everything though and their infectious attitudes and pummelling music soon had a crowd gathered. Frankly, they were brilliant. They had the pits moving and heads banging furiously as everyone got caught up in the metal madness. I was, and still am, absolutely buzzing about these guys. Absolutely immense. (10/10)
Carl: What the hell happened here!? We were not even going to see the American metalcore mob at first but decided to check them out in the end and boy, were we glad we did. A surprisingly small crowd, it doesn't stop Incite giving it their all and they blew me away. (10/10)
Trivax (The Black Heart)
Brendan: Trivax were really solid and strong. The music was hard and heavy and sounded absolutely on point. They maybe suffered a little by being the band I saw after Incite but I really enjoyed their no-nonsense approach. Again with the frontman and stupid things but why he felt the need to address us all as "dumb fucks" is beyond me. Still, great showing from a band that really do bring forth darkness. (7.5/10)
Carl: It was hard to get into Trivax at first coming from Incite but bit by bit the darkness covered heaviness won me round. Brutal as hell with a wickedly solid sound, it's intense and so enjoyable. (8/10)
Carpathian Forest (The Electric Ballroom)
Brendan: Carpathian Forest were a band I was really excited to see. Legends in their field and you can see why though I was surprised how expansive their sound was. I guess I thought they were literally going to be the most straight up black metal band, playing the sort of black metal the purists have wet dreams over. I was pleasantly surprised though. Their black and roll sound is insanely infectious and made for a fantastic show. (9/10)
Carl: One of the bands we pegged early on to not miss. Legends of black metal, we expected greatness and got even more. The cold and evil sound pours from the stage but it's more then that and their set flies by leaving such a satisfied feeling. (9/10)
Septicflesh (The Electric Ballroom)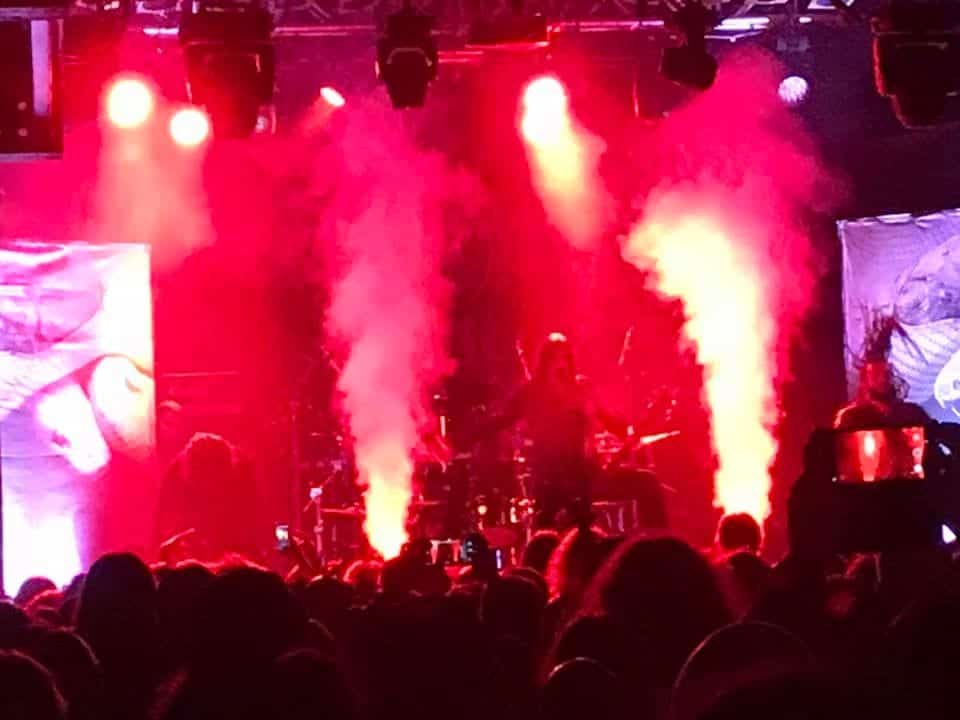 Brendan: Yet another band who absolutely blew me away with how expansive their sound was when I was expecting something a bit more straightforward. They were fantastic and the frontman, Spiros, is an absolute master with the crowd. He, and the band, appeared to be having a blast and their infectious attitude dragged a packed venue along with them, never mind how absolutely banging their progressive death metal tracks were. Amazing! (10/10)
Carl: Tying it for the best band of the day with Incite, how bloody good was Septicflesh!? I expected quality death metal from a legendary band but it was so much more then that. What an absolute pro of a band, holding the crowd in the palm of their hands and delivering a beastly and infectious performance that it seemed everyone was talking about afterwards. (10/10)
Benediction (The Underworld)
Brendan: Good solid old school death metal with little in the way of twists or diversions. They came they pummelled, they left, and a thoroughly good time was had by all. There was a nice emotional moment when founding member and vocalist Dave Hunt announced he was stepping down and this would be his last show. A big round of applause followed as well as a few tears. Great old school death metal and the perfect warm out for the next event. (7/10)
Carl: As Brendan said above, we ended up seeing an important moment as Dave Hunt announced this departure from the band. It was a touching moment that got a load of respect from the packed crowd. Beyond that, it's solid old-school death metal that got the head banging easily but isn't a set that I'm going to remember long term. (7.5/10)
Mayhem (The Electric Ballroom)
Brendan: I kind of new what to expect with Mayhem and was excited to see an icon of the genre that I have never seen before. He didn't disappoint either, hitting hard with old school black metal to a packed crowd. Little costume changes to highlight different eras of the band were a nice touch. Good, solid metal if not a little bit predictable after 45 mins or so. (7.5/10)
Carl: No surprises here, it's Mayhem. A legendary black metal outfit that need no introduction. I didn't see anything I didn't expect but it also didn't disappoint. A visual and sonic treat, I'm glad to be able to say I've seen Mayhem now. (7/10)
Sodomized Cadaver (The Black Heart)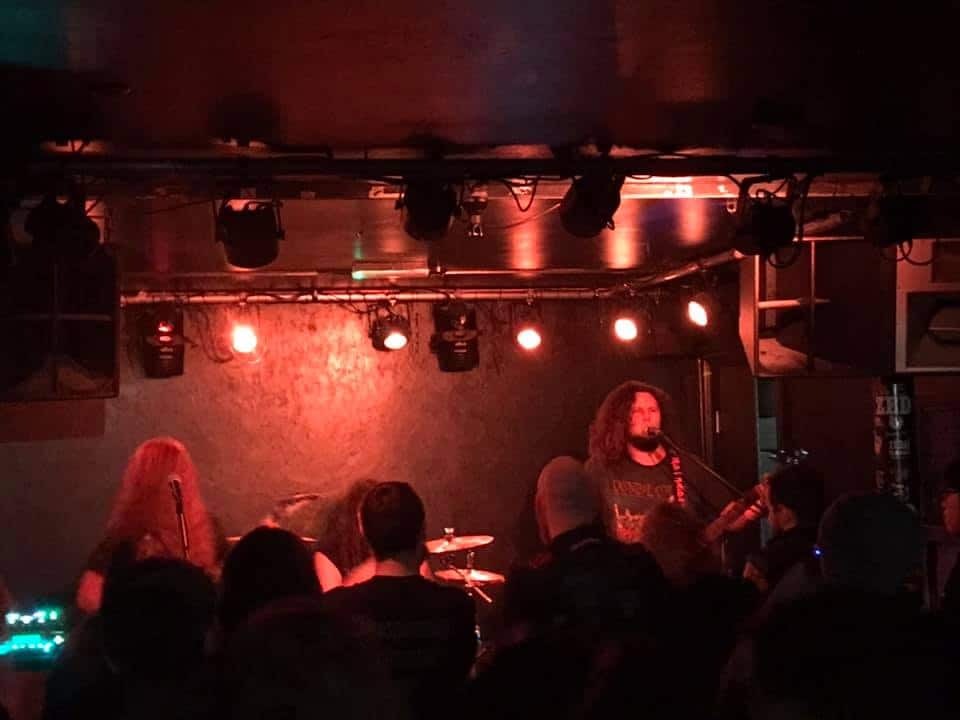 Brendan: Speaking about bands who don't really have any frills, Sodomized Cadaver were brash and aggressive, hitting watchers heard with blasting death metal. With volumes on the verge of exploding ear drums, the Welsh new(ish)comers really gave it their all and impressed again. They have a slightly amateurish way of interacting with the crowd but it comes across as endearing, not annoying. Musically sound though as the 3 piece smash riffs pout with he force and power of a band with twice the number. (7/10)
Carl: The final band we saw of the Fest, Sodomized Cadaver end things on a high with their no nonsense, no frills death metal approach. Their awkward crowd banter is surprisingly endearing and their in your face metal approach addictive to listen too. A quality way to end a hell of day! (8/10)
Roll on 2020!