Horror Movie Review: Rawhead Rex (1986)
Rawhead Rex is a short story from the master of horror, Clive Barker that appeared in Volume 3 of his Books of Blood series. A decent story, in 1986 it somehow got turned into a near 90 minute movie with extremely laughable results. (Check out our review of Volume 3 here).
The movie stars David Dukes, Kelly Piper, Niall Toibin, Cora Venus Lunny and Donal McCann. Set in the rural Irish countryside where three farmers are attempting to remove a huge stone column from a field. It's stuck firm so two of them leave for home while the third continues to try & move the mysterious object.
Suddenly a thunderstorm appears out of nowhere and smoke rises from the ground followed by a bolt of lightning striking the column. What rises from below is like nothing anyone has ever seen before. The monster, Rawhead Rex is free & nobody is safe.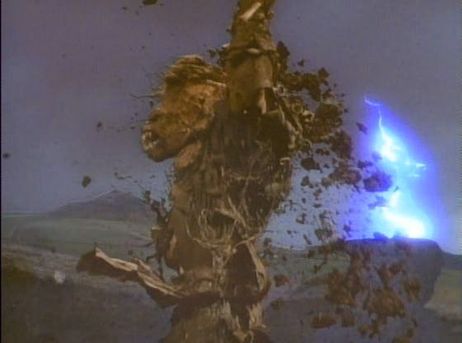 The biggest problem with this adaption is obvious from the moment it appears on screen. Rawhead Rex's design is absolutely awful. Not scary in the slightest, it's laughably bad & in no way similar to what Clive Barker created in his story. It's so disappointing.
Beyond that it's a very by the numbers horror flick that only really entertains thanks to the over the top performances of Ronan Wilmott as a man who believes that Rawhead Rex is a god. He is hilariously sinister at first & psychotic at the end. He's the only character you're likely to remember once the credits roll.
The movie has an extremely mixed bunch of actors. Some are awful, some are ok but almost all are forgettable. This wouldn't be such a problem if the monster, the actual star of the movie was decent but as stated above that is far from the case.
It's a pity that the gore wasn't ramped up to make up for the poor monster effects. As an adaption it fails on almost all points. Barker is all about the horrifying & Rawhead Rex is not that. As a movie though it's fairly entertaining & tells its story well enough.
[amazon_link asins='B074R56JDL,B01BYLWYHK,1560601825,B000V3S5EO' template='UseThisOne' store='g0e5b-21′ marketplace='UK' link_id='526738d1-eced-11e7-8352-6f3ea1ae3e3b']
Rawhead Rex
The Final Score -

5/10