Festival Review: Bloodstock Open Air 2022
Well… that was a bit bloody warm now, wasn't it?
Bloodstock 2022 is in the rear-view mirror. The dust has settled, the organisers are (probably) taking a well-deserved break, the bands have crawled back into their dark corners and we, the fans, sit eagerly awaiting August 2023 and the next time we can step foot on the grounds of Catton Hall.
It was an incredible weekend filled with smiles, laughter, cheer and some serious freaking head-banging. The Ronnie James Dio stage, the Sophie Lancaster stage, the New Blood stage and the Jägermeister stage, wherever bands were playing, people seemed to be having a great time. Including us… even if that heat was trying to make it a seriously uncomfortable time.
A tough thing for Bloodstock and the attendees to deal with but, for the most part, dealt with as best as possible. The unpredictable nature of the British weather sure makes it a difficult thing to plan for. From our perspective, Bloodstock 2022 was well-run and well-organised, and from the many smiles we saw about the festival over the weekend, the majority seem to agree.
So, what did we get up to over the weekend? We ate, we drank, we rocked out, we chilled out, we chatted, we laughed, we met so many wonderful people, we interviewed for hours each day and most importantly of all, we freaking head-banged.
The weekend was packed with bands and we did our utmost to see as many as possible. Never as much as we would like or as many as we plan too before we get there but we still saw more than enough to come away satisfied. Great sets from bands across all stages and we're going to give you a bit of a rundown of who we saw and what we thought from the perspective of writers Brendan and Carl.
Thursday
Interview commitments meant the first band we saw on the opening night of the festival was Nanowar of Steel. We did catch the last part of Thuum but it was brief. Awesome to see them packing out the tent though and even more awesome to have them back.
So, Nanowar of Steel. A highly anticipated band for us. We're in agreement here, they were fantastic. Full of fun, enthusiasm and quality. Norwegian Reggaeton and Vallhallaluja were real memory made moments. The band were really fun and energising for everyone around, even if their own take on Angus McFife's passage was way off tonally. Wonderful stuff though, really great fun.
Up next was Nekrogoblikon and our first disagreement of the weekend. Brendan went there hoping to be blown away but found them to be just okay. They sounded good, their efforts and enthusiasm, great but overall, it was just okay. Whereas Carl thought they absolutely delivered, sounding tight as hell and having some really catchy moments that had the whole tent bouncing.
Which brings us to the headliners of the night, the much-anticipated Dark Tranquillity. One of Brendan's favourite bands, it would have taken a lot for him to have anything negative to say about this band live, and thankfully they didn't give him a reason. True headliners with a crystal-clear sound, a great set list and a front man that just knows how to be a frontman. They were absolutely phenomenal. Dark Tranquillity are one of the best live bands in the world, and they were definitely one of the best of this weekend.
Friday
Red Method – Not a bad way to start the first full day of the festival off at all! These guys get better and better each time we see them and no matter what size the stage, they own it and belong. Here, opening the main stage, the band looked comfortable and drew a big crowd. We expect to see them higher and higher up the bill. A couple mic issues as the frontman moved into the crowd was a minor concern in a flawless performance from the continuously rising stars.
Ireosis Bring plenty of energy and even more heavy metal goodness, you wouldn't believe they were this fresh to the scene. On this showing, expect bigger and better things from these guys.
One of Carl's most anticipated bands, I Fight Bears pack out the New Blood tent and return that love in spates, delivering both old and new anthems that put big smiles on both Carl and Brendan's faces. Their bouncy, melodic core sound was full of energy and effort and they looked like they were having the time of their lives on stage. Something that always helps a crowd as it is infectious.
A massive amount of interview commitments kept us away from the stages for a few hours but during some of the gaps, we dashed out to see a few bands. Brendan went and caught a bit of GWAR. Describing it as utter chaos as the alien race laid waste to the stage and the audience. Musically tight, genuinely funny, slightly mental, very awesome.
Whereas Carl packed up, grabbed a beer and on the way to get some food, checked out a couple of tracks from Exodus. Who were doing what they do best on the main stage, thrashing freaking hard.
We all reunited in the New Blood tent for FyreSky. A superb band that absolutely smashed it at Bloodstock. We thoroughly enjoyed their whole set, the energy and the catchy as hell songs. Seeing how happy they look on stage was infectious and there are few bands we can think of that deserved this moment more. They surely made a lot of new fans. Brilliant.
Over on the main stage are Testament. We were desperate to make sure we were in the Sophie tent for the next band but damn, Testament were still killing it. They sound immense as we pass by and any other time, they would have been a must see.
Which brings us to Avatar, the most must-see band for us over the entire weekend and the one time we were genuinely worried we wouldn't be able to get into the tent. Hence why we made sure we were there nice and early.
Was it worth it?
"Ladies and gentlemen, I believe we just stole the show" claims Johannes.
He is right. It appears that a stripped back Avatar show is as, or even more, entertaining than many other bands' full show. To say we enjoyed this showing is a massive understatement. Avatar are special, supremely talented and entertaining. They sound great, crowd interaction was on point and their set list was well thought out. A mesmerising showing.
If any band could follow that, Behemoth could and the black metallers don't disappoint even if it does pale in comparison. Mic issues meant we had no vocals for the first song though the guitars sounded great. Once everything kicked in, Behemoth were fantastic. They sounded great, put on a show with plenty of smoke and fire. It just comes back to the issue that they followed Avatar for us.
We're not quite done with Friday though… it's Sleep Token over on Sophie Lancaster stage.
A curiosity watch, after all, the buzz is impossible to not notice. On record, they are good but there's no denying that we don't quite 'get' it. The hope was that seeing them live, would change that. Unfortunately, that's not the case although it might not be their fault completely. We're exhausted and the ambient sound of Sleep Token is just putting us to… well… sleep. We gave up after a few songs and went to bed.
Saturday
We're in the New Blood tent for 1030. Why? Collected are playing and we're very excited to see them do their thing on this stage. What a great start to the Saturday it is too. Opening up the New Blood Stage, Collected have to deal with hungover and sun burnt patrons but took less than a song to fully energise everyone in attendance. They sounded really good, really throwing a lot of effort and energy into the set with a nice mix of music crossing through heavy as hell and emotional melodic sounds. Impressive.
It's over to the Sophie Lancaster stage as we had three must-see bands in a row, stopping briefly to check out a bit of Baest killing it on the main stage.
First up in the Sophie tent? It's the miserable sound of Mastiff!
Fuck, this is the heavy shit. Amps blowing, ears blowing – these guys really lay waste to all. Carl loves this band, Brendan not quite as much. Although the latter has been on the periphery of the fanbase for some time and been hoping that seeing them live would push him towards being more of a fan and it did. For Brendan, they were one of the highlights of a massive weekend, owning their slot and the stage. Whereas Carl will openly admit to giving himself neckache to Mastiff, rushing back to the group after the show to excitedly declare Mastiff as one of the best bands of the weekend.
We stuck around in the Sophie tent for the next band, the mighty and chaotic Pupil Slicer. Their anarchistic ways split our group, one side adoring it and finding even further confirmation that this band will be on the main stage next time they play Bloodstock. The other, enjoying the anarchy and chaos but musically, finding it patchy. Enjoying it when everything syncs up and we get some riffing and groove but not liking the deterioration into noise with no rhythm. Hotly debated amongst us, it's still Pupil Slicer doing what they do best, grabbing the spotlight and demanding attention.
Side note – if you were the Burzum tee-wearing child that walked out, we all laughed at you.
A very hefty day of upcoming interviews is weighing on our minds and to have to follow Mastiff and Pupil Slicer is a tough ask, so Cage Fight just doesn't do it for us. They're okay, that's the best we have for them. They sounded good but seemed to really lack something – a bit of energy, a bit of wow factor. Although our minds being elsewhere may have had a lot to do with that.
Hours of interviews, easily our busiest schedule at Bloodstock to date, meant we spent way too long away from the stages. When we finally do get a chance to race off to see and hear some quality metal, it's the New Blood stage we end up at ready for Imperium.
Heavy, riffs for days, chock full of groove and causing a bit of a merch rush at the end, London's Metal to the Masses winners were on another level. Surpassing bands on bigger stages in higher slots, these guys blew us away. Not just us either, the chatter about Imperium still hours after their set was everywhere we looked. They made a ton of new fans, Including us. They were amazing.
The discovery of Tribe of Ghosts on route to Bloodstock, thanks to the Metal 2 the Masses events, is one of the reasons we love this festival. From who? To them! We've become big fans of the electronica/industrial/post metal group over the past few months and they didn't disappoint. Their fusion is something unique across the weekend and that draws many heads into the tent. No easy task as Dimmu Borgir is about to hit the main stage shortly into their set.
Speaking of…
A late start meant a short set and that was not the way we hoped things would go. To be fair, once they got going, they sounded great and a rousing rendition of Mourning Palace was a real highlight of the whole weekend for us. It's still funny watching black metal in the glorious sunshine too. Dimmu were good but we were hoping for spectacular. In that, I guess we left a little disappointed.
It's time for the Saturday headline act and it's Mercyful Fate! A bucket list band, we've never seen the legends before so even though we aren't fans (we just aren't, sorry!), we had to check out some of their show. The plan being to catch a couple tracks and see if it grabbed us. It didn't, even if visually, everything looked amazing. That stage set-up and the feeling of sinister times was immense. We're sure their fans had a blast. Just not for us.
Over to the Sophie stage, where Malevolence are getting ready to smash heads and break necks. A Sophie stage headliner that belonged on the main stage, if there ever was one. The tent is absolutely heaving. Great if you've been relaxing all day, not so much if you've been on the move since 8am! Late night, too much sun and a hot and packed tent meant we only stayed around for a few tracks. They were very good though. Their trajectory has been quite phenomenal and, on this showing, they won't stop any time soon. The band look destined for the very top.
Sunday
We woke to discover Life of Agony had pulled out and there had been some shuffling around of times and stages. Most notably, Skarlett Riot being moved to the main stage and kicking off the day. So that's where we headed.
We did wonder if they may not be quite suited or ready for the massive RJD stage but we were wrong. They sounded really good, melodic and catchy but with enough riffing to get heads banging. The plan was to check out a couple songs then head off to other stages but Brendan enjoyed them so much, he decided to stay for the whole set.
Whereas Carl headed over to the Sophie Lancaster stage to catch Pelugion.
Last time we saw these guys at Bloodstock, they were smashing it on the New Blood stage. It's been a few years; they've come a long way and stepped up a stage to prove it. Delivering a phenomenal set that flies by in a blur of head-banging heaviness. The new song sounds immense live, expect to see this band even higher up the bill next time.
Brendan went along to check out Sweet May after Skarlett Riot and was glad he did. Sweet May, with their bluesy, grooving hard rock sounds were really good and quite chilled. The three-piece oozed confidence with some nice vocal performances and a thick, bassy sound reverberating around the tent.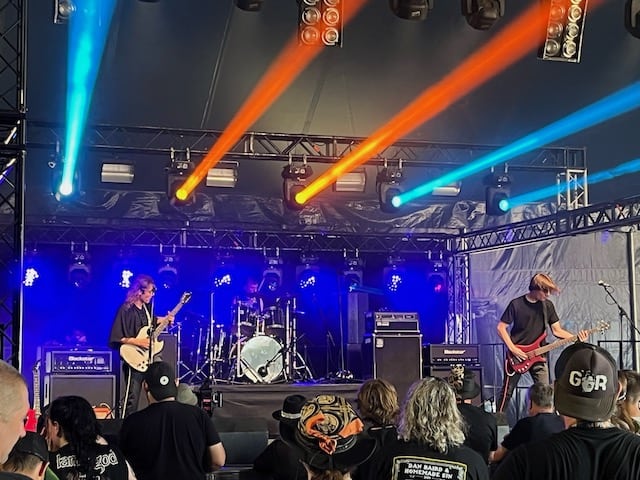 Followed by Vended on the main stage and, like a lot of people, we came to see what the fuss was about. Hearing many surrounding conversations regarding "Slipknot's sons", we have been negative about Vended in the run up to festival, not really getting how they had landed a main stage slot already. However, to be fair, they were good and look a well versed and well-oiled machine. Aggressive, energetic and with some decent music too, we were impressed but repetition started to sink in after 4 or 5 songs. Also, their claim of "here comes the biggest breakdown ever" followed by the most bog-standard breakdown ever was, at least, funny. We just don't know if they meant it as a joke or not.
A shorter set of interview commitments meant we were back in the press area for a bit but we did wrap up nice and early so we could go and check out as many bands as our tired legs could handle.
Back to the New Blood stage for Drip Fed Empire, one of the weekend's most intriguing bands for us. Having done a pre-Bloodstock reaction video, we were fascinated to see how their electronica/metal fusion would work in a live environment. Did it deliver?
The weekend's most debatable band between us. On one side, adoration. The other? Abject horror. So debatable is this one that we're going to change tact with this review and speak from an individual angle. Up first – Brendan:
The most "not for me" band of the weekend. I had a thoroughly miserable time watching them other than finding their energy and enthusiasm quite captivating. The crowd running, all of that, I really liked and they had some crunchy riffing but I just don't like the remix stuff very much. They are clearly very talented though – very good at what they do so hats off to them.
Now – Carl:
Blown away. Absolutely, blown away by Drip Fed Empire. The combination is startling at first but once it settles in my mind, I am in love. I was feeling really exhausted by this point and Drip Fed Empire reenergised me. They're compelling to watch; they sound great and everyone in that tent (aside from Brendan) looked to having a great time.
Only catching a couple of Venom Inc tracks in a slow pass, what was heard was enjoyable. Not enough though to claim they put on a great or poor showing but they sounded tight and had a good, energised crowd.
Dashing over the Sophie Lancaster stage, finding the energy, thanks to Drip Fed Empire, it's time for some modern chaotic metal with the super-impressive Heriot. Their rise to prominence, more than deserved and proving over their set, to belong. It's noisy, it's dark, it's enlightening and it's moving, it's freaking Heriot and expect to see this band on the main stage in years to come.
A band that already belongs on the main stage is Cattle Decapitation. An overdue watch for us, the last few years of pandemic related stuff, has left us waiting to see these guys for ages and they did not disappoint. A strong set list of some of our favourite songs, the filthy, grinding sound of the band with vocals that drop jaws with their power and range. Sure, they're not everyone's cup of tea but they are ours. One of the best sets of the weekend and will be a lasting memory.
We were really surprised how many people packed the tent out for Ill Nino – it was rammed and there we were thinking they were just a novelty! Showed us! The fans in there certainly were into it with some energetic pits and plenty of dancing and fun to be had. Not our jam though, we watched and thought it was okay with the highlight being seeing Robb Flynn watching from side stage. Each to their own.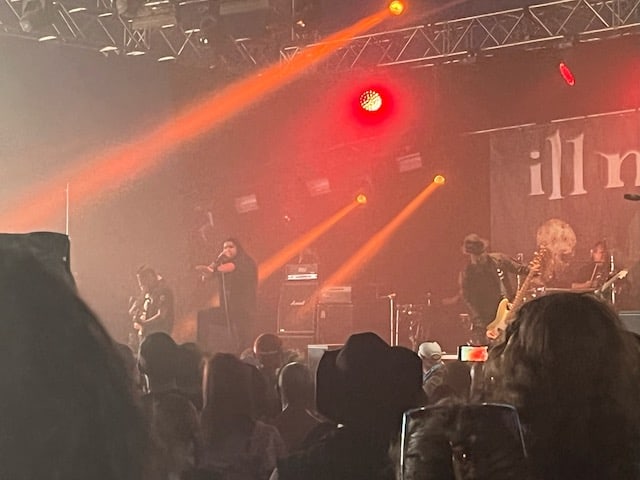 A late replacement, Strigoi were a welcome addition bringing their raw and dirty black metal sound to a half-filled Sophie Lancaster tent. It was nasty and vicious to listen to and they sounded absolutely killer. Their attempt at setting a record for the slowest ever circle pit was absolutely hilarious too. Who knew you could smile and laugh during a black metal set!?
Which brings us to the end. Packed up, exhausted but satisfied, we prepared to leave but not before watching just a little bit of what was going on the main stage. It's Killing Joke!
Watching from afar, willing to catch some of the legendary band's music, Killing Joke impress. It was good, the crowd were into it really hard. We didn't watch more than a couple songs though so can't fairly say they did well or not.
…and that's a wrap on the bands we saw over the weekend! Never as many as we want too but more than enough to satisfy. We saw a ton of bands kill it over the weekend. From legends proving why they are legends to new bands, stepping up to show why they are the future of the scene. From post to metalcore to black to death to thrash to deathcore to rock to hardcore to slam and everything in between. Bloodstock 2022 was an immense festival, where even the battering the sun dished out couldn't halt the good times.
See you in 2023!
Bloodstock Open Air 2022
The Final Score -

10/10