Album Review: Voice of Baceprot – Retas (12WIRED)
Forming in Garut, West Java, in 2014 while still at school, Indonesian rock trio Voice of Baceprot (pronounced 'bah-che-prot', often abbreviated as VOB) will release their debut album 'Retas' on July 13th, 2023.
There has been a lot of noise around Voice of Baceprot in recent times, having turned heads with early viral covers of Rage Against the Machine, Red Hot Chili Peppers, Slipknot, and Metallica. Then getting endorsements and praise from the likes of Tom Morello and Flea. The thing that most people have been drawn to, aside from the music, is the immense obstacles the band have had to overcome. Facing opposition from conservative Muslims in their home country, and stereotyping elsewhere due to their hijab-wearing on stage.
Obstacles that would stop most bands before they've even got started. Voice of Baceprot are made of stronger stuff though, In the words of vocalist and guitarist Marsya:
Wearing a hijab should not be a barrier to the group's pursuit of its dream of being heavy metal stars… I think gender equality should be supported because I feel I am still exploring my creativity, while at the same time, not diminishing my obligations as a Muslim woman.

Themes of empowerment and celebration run throughout Retas. It is a major component of who this band is. Across eight track, and one live track, the band speak with one voice. Demanding you pay attention to their inspirational and influential hard rock sound. Something most will find easy to do thanks to big anthems like What's the Holy (Nobel) Today? and PMS. The latter is a call to arms for all women who face forced limitations in their lives to march on regardless. If you have dreams, who has the right to decide if you can follow them but you?
Age Orientated shows that Voice of Baceprot know how to experiment with heavier sounds. Before The Enemy of Earth is You proves without a doubt that this band doesn't shy away from their strong opinions. Something reflected in the lyrics, which are sung in captivating style. Alongside that is a robust heavy rock sound with a delightful amount of catchiness to it. Followed then something listeners can head-bang to in Kawani, an instrumental track that has fascinating progressive touches.
Voice of Baceprot showing that they are well and truly moving on from the covers aspect that garnered them so much attention early on. They are becoming their own thing and it is very exciting.
Speaking about victims of sexual violence and abuse, (NOT) PUBLIC PROPERTY is an extremely impactful and sobering listen. On an album with such powerful themes, it stands out as one hell of a statement from Voice of Baceprot.
Finally, it's the hard rock power of God, Allow Me (Please) to Play Music and the wonderfully anthemic School Revolution to get the masses moving in time with Voice of Baceprot. Any doubts about this band's abilities beyond attention grabbing headlines and cover songs are well and truly put to bed.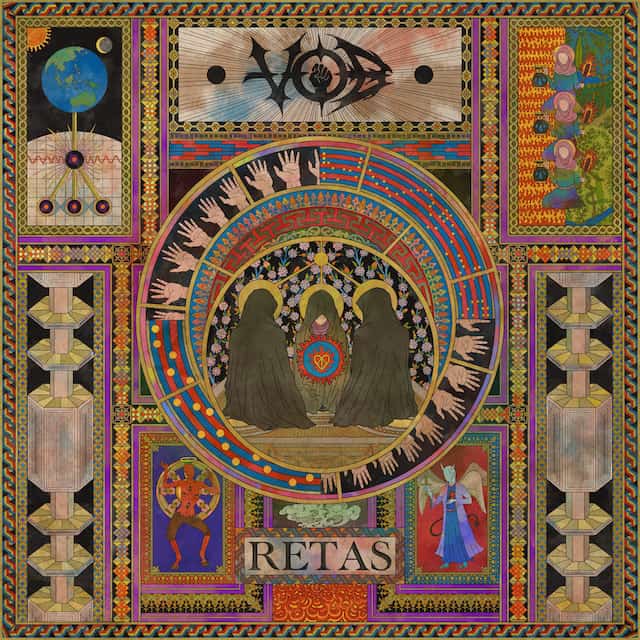 Voice of Baceprot – Retas Track Listing:
1. What's the Holy (Nobel) Today?
2. PMS
3. Age Oriented
4. The Enemy of Earth is You
5. Kawani
6. (NOT) PUBLIC PROPERTY
7. God, Allow Me (Please) to Play Music
8. School Revolution
9. God, Allow Me (Please) to Play Music (Live at HITC Jakarta 2022)
Links
Website | Facebook | Instagram | Twitter | TikTok
Voice of Baceprot - Retas (12WIRED)
The Final Score -

8/10