Video Premiere: Novacrow – Day Break
Forming in late 2013, dark and delicious alternative metal band from Liverpool, England, Novacrow is formed of Kitty Staunton on lead vocals/ guitar, Federico "Freddy" Spera on bass/backing vocals and Jonyx on guitars/backing vocals.
Following the successful EPs 'Black Syrup', 'Criminal Mastermind' and 'Novacrow: Volume 1', their debut album 'Look at Me Now' aims to showcase the best of Novacrow. Their eclectic sound combines a wild blend of genres, infused with horror influences and a touch of humour. It will be released on September 30th, 2022.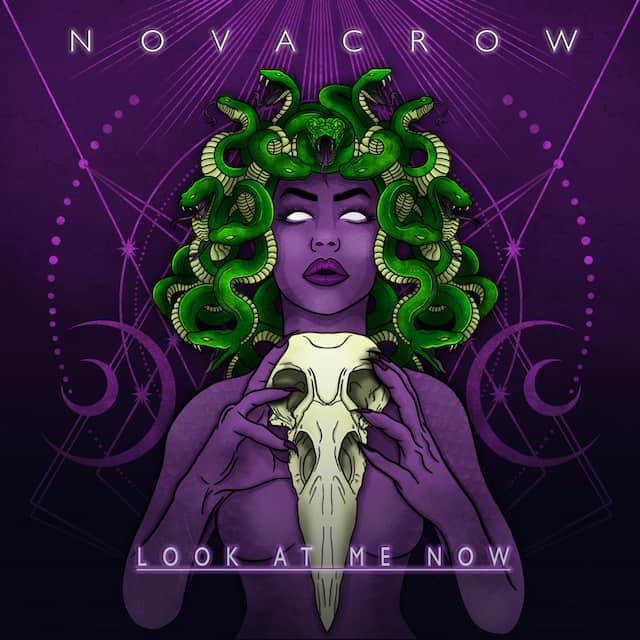 We've heard the full thing and it's a corker. Where one word that comes to mind more than any other is the word 'fun'. Look at me Now is a fun listen. Filled with rollicking instrumentation that encourages you to move and groove, and delightfully dark and twisted vocals. Novacrow know how to get under the skin and do it with fervour on this album.
We've already had the single 'Hollow Armour'. A track that features mouth-wateringly moody verses and a dominant chorus that really shows off the talent in Kitty Staunton's vocals. Check it out here. Now it's time for Day Break! A dramatic and melodic listen. Where heartfelt vocals punch right through to the soul.
Check it out below.
In their own words:
'Day Break' is a bit of a departure from our usual sound. Although we've toyed with more gentle tracks in the past, and have even released acoustic versions of some songs, this is our first fully acoustic track we've released. It's a track that definitely showcases more of our earnest and sincere side, but still has that Novacrow charm our listeners know and love.

The song was originally written by Freddy, the band's bassist and producer, sometime in December 2015. Once writing began for the band's upcoming debut album 'Look At Me Now', we re-visited some old demos to see if there was anything we had written in the past that could work well for this album. Once we heard the original demo for 'Day Break', we realised it had the potential to be a perfect addition to the album.

The song provides the listeners with a gentile respite in the middle of an otherwise high-energy and chaotic album. Not only is the song a bit more heartfelt, it also takes full advantage of the dynamics between Kitty and Freddy's vocal styles and their contrast, alternating between the two vocalists seamlessly and with purpose.

The video was filmed by Sketch Benjamin, who also filmed and edited the video for our previous single 'Hollow Armour'. It had been raining and cloudy all day, however – almost as if it was meant to be – the sun shone through the clouds for the exact time it took us to film the take we used for the video. We feel the video perfectly encapsulates the thematic retrospection and self-reflection implied in the lyrics.

Overall we're really happy with this track! Although it's very different from anything we've previously released, and even from any other track on the album, it's a perfect addition to our repertoire and we hope you all love this song as much as we do!
Links
Website | Album Pre-orders | Spotify | Facebook | Instagram | YouTube