TV Mini-Series Review: Dracula
"I'm undead, I'm not unreasonable."
Dracula is a television series developed by Mark Gatiss and Steven Moffat, based on the novel of the same name by Bram Stoker. The series was broadcast and released on BBC One and Netflix and consists of three episodes. Claes Bang stars as the title character.
The story unfolds within two timeframes, the Now and the Then. In the Now, where we begin, a strangely deformed man is being interviewed in a nunnery by Sister Agatha (Dolly Wells). She is investigating the man's tale of escape from someone he calls Count Dracula. The man's name is Jonathan Harker (John Heffernan).
Harker was brought by a fisherman to the nunnery, having been found washed up on the banks of a nearby river muttering about forces of evil.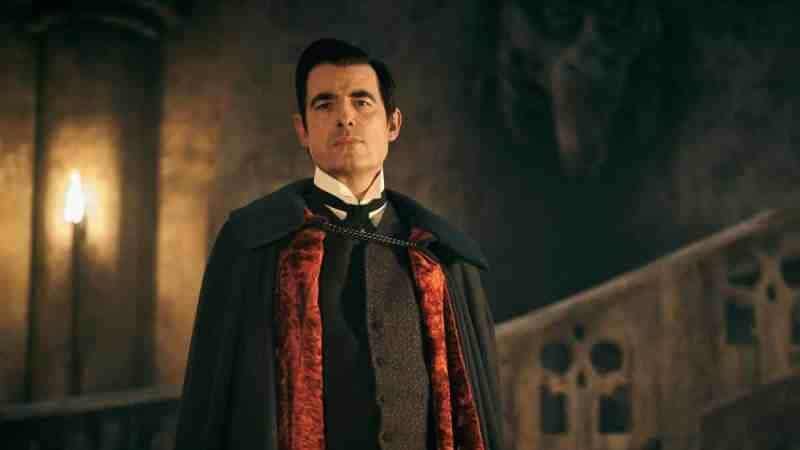 His tale is as follows. Harker is a lawyer who was sent to talk a mysterious client through some legal issues at his castle. The client is an unsettling, old, old man with a Transylvanian– accent who says exactly the things you want an old, old man with a Transylvanian accent and an unmappable castle to say. Things such as "I don't drink … wine", and "The people around here have no flavour". "Perhaps you mean 'character'?" suggests Harker gently. "Perhaps," replies the old, old man.
The client takes a shine to him, and so Harker must stay. His health fails, he gets weaker by the day – but the years fall away from Dracula until he stands revealed as Danish actor Claes Bang.
If you think the first episode sounds run of the mill then I implore you to watch the rest as you're in for a surprise.
At first glance Dracula appears to be another by the book adaption. With two whole episodes of classic Bram Stoker Dracula you'd be forgiven for believing that's what this is without viewing it. But I'm here to inform you that's not the case. If you make it beyond the twist ending of Episode 2, you'll be in for a different take, one that hasn't been explored before but one that I thoroughly enjoyed.
Dracula purposely tricks you into thinking you know what's going on. We've all seen this play out before, we've read the books and we know the score. Or do we?
Although, I did relish in the change of pace in the final episode. I can't help but gush about once again seeing the old world setting with Dracula's castle and the whole nine yards. It's something that never goes out of style. Dracula's appearance was warmly welcomed by me, a beautifully terrifying shark with powers unimaginable over man and beast. Vampires often toe the line between sexy and scary, with sexy usually coming out on top, but fear won out here and it was fantastic. Not that his human state isn't hot, I mean, it's Claes Bang. But his power were fully on display in this delightful mini-series and it showed how Dracula will forever be the OG vampire.
The visuals are incredible and the effects are quality. Dracula is full of horrific moments and beautiful imagery, with fantastic sets and well shot action.
Although sticking to the familiar beats of Dracula, this mini-series does stray heavily. For example it gives us a wildly changed character, Sister Agatha (Van Helsing!!). Naturally, she's a huge part of the show and thankfully so. Her chemistry with Dracula is perfect. Their back and forth is legendary and something you could watch for hours. Additonally, in the final episode we venture into modern day and plenty of new lore is introduced and revealed. To avoid spoilers, all I will say on that is this: The explanations they introduced I found fascinating and you cannot say this take is unoriginal. I'm not sure I fully buy into it all but it was a change of pace and in a tale as old as this, change is pretty mindblowing.
Over all, I loved Dracula. It had its flaws, especially in the final episode. But it was unpredictable, which for an adaption of book from 1897 is pretty incredible. We've seen many out and out adaptions before so I think giving credit to a new take is fair and I know I'll be dissecting and discussing the ideas it put forward for years to come.
Dracula (Mini-Series)
The Final Score -

8/10
Comments Rating
( reviews)