Top 10 Bands To Keep An Eye On In 2018
This year, amongst the incredible amount of excellent albums, we've seen many a great release that has us excited for the future of our genre. Be it a demo, an EP or just a song here & there.
With that in mind we wanted to tell you about 10 of these bands or artists that you need to keep a very close eye on, as the future is looking ever so bright for them.
10. Sores
Having only formed this year, the two piece black metal outfit from Greece quickly released a demo in March. Two intense & furious sounding black metal tracks. The raw sound of Demo I just heightens the intensity of the metal on show here. The brutality of the vocals is what really stands out. If you like your black metal old-school & taking no prisoners then Sores are right up your street.
While things seem a bit quiet on the Sores front right now, expectation for a follow-up is high.
Check out our review of the demo here.
9. Reputdeath
Hailing from Malaysia, Reputdeath's brand of dirty & ugly death metal is inspired by the greats within zombie/horror fiction. Their second demo (called Demo II) was released in 2016 & consists of six tracks. This is heavy, gore-splattered metal & not for the faint-hearted.
Like a scab, you know you shouldn't scratch & pick at it but you can't help yourself. It feels too good. Keep a close eye on these guys!
Check out our review of the demo here & our interview with the band here.
8. Vermilia
Vermilia is a female musician from Finland who recently released her first single called Vedestä Vieraantunut. It was followed up quickly with a second, this time called Poissa. Poissa translates into English as "Gone".
Poissa is a fantastic song. Layer upon layer of clever melody mixed with layer upon layer of intense metal makes it a truly exciting listen. The contrast between beautiful and beastly with little middle ground is really enjoyable. The dual vocal style of hauntingly beautiful and terrifyingly harsh is aural candy. Instrumentally, the music ticks a load of boxes as well with some stand out drum rhythms and really cool guitar lines and melodies and all held together by a strong bass line. Poissa is a very exciting second release from Vermilia and we can't wait for more.
Check out our review of single here.
7. Deus Vermin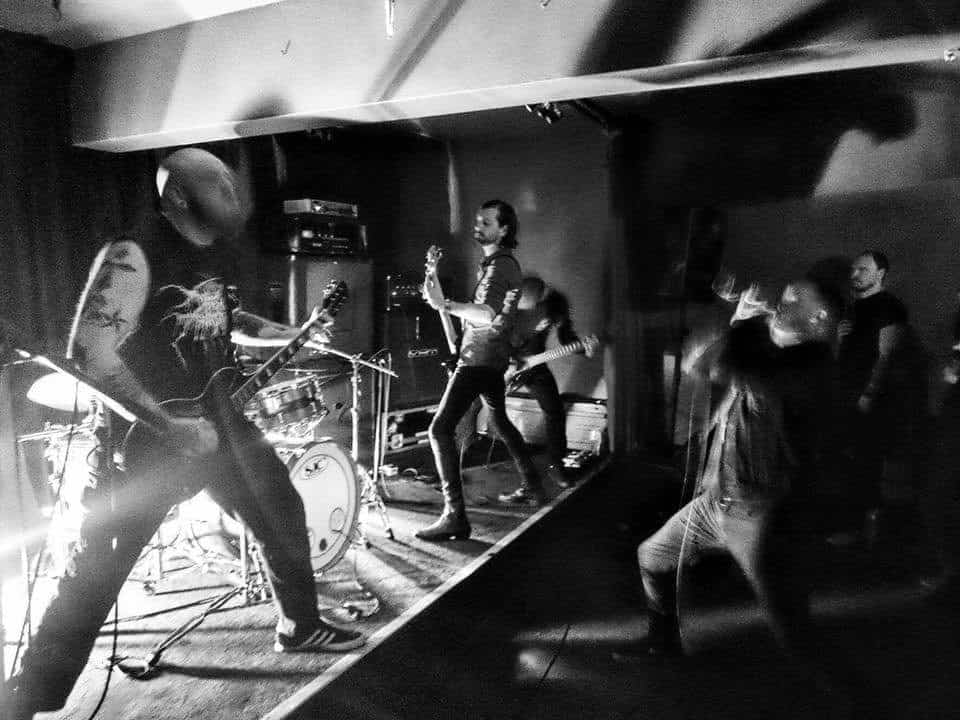 Leeds based, black metal influenced death metal band Deus Vermin released their first two track demo this year. An intense & furious sounding statement, MMXVII is visceral in its heaviness, the rhythm pounding away at your senses until you're nothing but a dribbling wreck
Going off this short release things are looking very exciting for Deus Vermin.
Check out our review of the demo here.
6. A Cunning Man
Releasing his debut EP at the start of 2017, A Cunning Man is the a one-man metal project by Ged Cartwright.
Practical Applications of Theurgy is a three track EP that melds several different rock & metal styles together all wrapped up in a Scottish bow. Three tracks of excellent rock, metal, classical & ambient sounds that takes you on a journey to Scotland with all its beauty. A mesmerising effort with Juratus & the Sulfur Plasm in particular putting the biggest smile on faces
With a new EP due in early 2018, expectations & excitement is high for what comes next!
Check out our review of the EP here.
5. Ghost Horizon
Forming in 2015 from Phoenix, Arizona, Ghost Horizon are an atmospheric black metal band. They released their debut EP (Astral Possession) in 2016 followed by The Erotics of Disgust in 2017. The latter of the two is a four-track stunner of an EP with one song easily making our top 10 songs of the year (Radiant Eyes).
Reaching perfection with the blend of ferocity & beautiful transcendence, Ghost Horizon have an incredible amount of potential & we can expect to see their debut album some time in 2018.
Check out our review of the EP here.
4. Saarkoth
Releasing a two-track demo on July 31st 2017, Lichfield based band Saarkoth's brand of atmospheric black metal is one of the best things heard this year. With two tracks they create despair, hopelessness & beauty. More then most black metal bands can mange with a full album.
It is genuinely devastating that it's only two tracks long. We need more from Saarkoth, black metal needs more from Saarkoth.
Check out our review of the demo here & read our interview with band here.
3. Violet Cold
Perhaps the most shocking thing about Violet Cold's new album, Anomie, is that it is all the work of one man. Emin Guliyev is from Baku, Azerbaijan & Violet Cold is every bit as DIY as you can get. Every element from the artwork, to the instruments, to the mixing & mastering is all done by Emin who had no formal musical training. Quite something, eh?
Anomie is one of the best albums of 2017, it's simply a masterpiece of atmospheric black metal that focuses heavily on uplifting but sorrowful melodic moments. You'd be a fool to miss out on this.
The excitement felt for what comes next is unpalatable.
Check out our review of the album here.
2. Goya
Releasing their debut EP late this year, Kathmandu is 35 minutes of proggy instrumental doom from Goya. An absolute treat of a listen. It's impossible to sum up just how detailed & layered the EP is. It's a listening experience that will see you finding new & exciting elements every time you hear it. Mesmerising!
A band that has such potential going forward!
Check out our review of the EP here.
1. 
Mist of Misery
What a year its been for Mist of Misery releasing not just one stunning EP but two. Shackles of Life & Fields of Isolation have changed the landscape of just what atmospheric black metal can be.
They may have been around since 2010 but this was the year where they really made a statement. One of the most exciting bands going forward & we can't wait to see what they have in store for us in 2018.
Check out our review of Shackles of Life here & Fields of Isolation here.