The GBHBL Definitive Ranking of the Evil Bong Movie Series
A Full Moon Pictures creation alongside the likes of The Gingerdead Man and Puppet Master, the Evil Bong series has never pretended to be a serious franchise. Nor has it ever pretended to be something that everyone will enjoy. However, even fans of the silliness will have few good things to say about many of the later films in the franchise.

Lighting up for the first time back in 2006, there have been 7 Evil Bong movies and one cross-over movie with The Gingerdead Man. Normally we wouldn't count a cross-over movie within these rankings, however The Gingerdead Man vs. Evil Bong is more of an Evil Bong movie then it is a Gingerdead Man movie.
The star of movies is a bong called Eebee, who flip flops between being the villain in some movies and teaming up with the heroes to take down a bigger bad in others. With non-stop stoner jokes, a lot of nudity and some pretty offensive sterotypes, it's not a good franchise.
This ranking is based on our original scores when we first reviewed the movies. As always, if two movies scored the same then they will be in order of which we'd prefer to watch again.
9. Evil Bong 888: Infinity High (2022)
Directed by Charles Band and written by Kent Roudebush, Evil Bong 888: Infinity High is not a 'high' point of the franchise. Though, to be fair, it's not had many of those overall. What it is, is another Evil Bong movie. Expect tons of sex puns, weed jokes, plenty of Full Moon cameos, bare boobs, and not a lot else.
At best, Full Moon fanatics will get a kick out of the self-referential humour but few others will. Even then, a lot of these jokes crash and burn. This bong has been smoked. It's well and truly time to throw it in the trash.
Read our full review here.
8. Gingerdead Man vs. Evil Bong (2013)
Easily the worst film in either franchise which isn't saying much at all. Gingerdead Man vs Evil Bong is lacklustre in every department. From the lazy and rehashed story to the lazy and tired acting to lack of effort in effects. This is one Full Moon Pictures' movie to miss.
It's mind-numb in just how boring it is. Rather than go all out with silliness, it goes all out with stupidity. It's the difference between being entertaining and being utterly devoid of life.
Read our full review here.
7. Evil Bong: High-5 (2016)
Evil Bong: High-5 is a low point for Full Moon Pictures. A lazy entry in a series that has already massively over-stayed its welcome. Here, we get a rehashed, lazily told story with as many other Full Moon franchise characters thrown in for often no reason. If that wasn't bad enough, the movie serves as one long advertisement for Full Moon collectible dolls.
Read our full review here.
6. Evil Bong 666 (2017)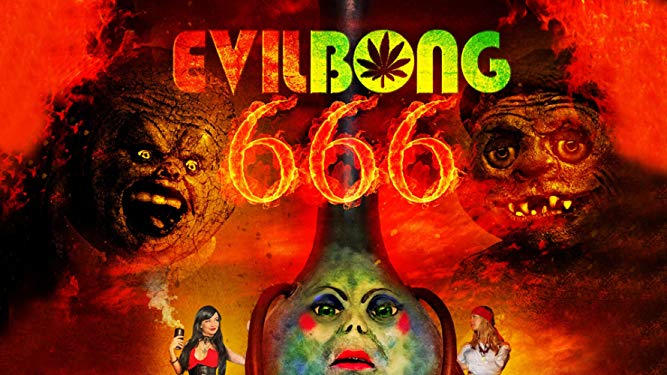 The Evil Bong series hasn't been worth watching for some time (if ever) and the franchise was burnt out way before we got to this stage. However, after such a horrid entry with Evil Bong: High-5 there was hope for this latest film simply because it couldn't be worse, could it?
Well, it's not but it's mighty close.
As always, the rubbish writing and general cheapness of it could be overlooked if Evil Bong: 666 made up for it elsewhere but it doesn't. It's incredibly unfunny and has even less horror than High-5.
Read our full review here.
5. Evil Bong 3: The Wrath of Bong (2011)
Disappointingly though, Evil Bong 3: The Wrath of Bong swings, misses and knocks the bong off of the table completely. With almost the exact same story as we've seen twice before and a cast that don't quite seem to care as much, this is a real let-down.
Read our full review here.
4, Evil Bong 777 (2018)
Once again, there is barely a plot and what is there is a mess. Just a bunch of scenes stitched together with the usual Full Moon cameos, lack of horror and copious amounts of nudity. It's a bad film, another bad entry in a bad series of films but thanks to the short length and fun that the cast seem to be having (at least they are) it's not the worst entry so far.
Read our full review here.
3. Evil Bong 420 (2015)
Evil Bong 420 introduces new characters and changes up the plot by having Eebee the Evil Bong and the Gingerdead Man hunting Rabbit down to return him to the Bong World. It's basic as hell but a welcome departure from the usual 'stoners get high, Evil Bong kills them' plot points. Don't get me wrong, this isn't much better but it is different and at this stage of the series was seriously needed.
Read our full review here.
2. Evil Bong (2006)
With a movie like this you have to go in with very low expectations. It's going to be silly, it's going to be dumb, it's going to be head-scratchingly stupid but it's likely to be fun! Evil Bong is a fun movie! The characters are bland & one-dimensional but they're not the focus, the bong is. The acting is perfectly fine considering the movie, nothing to get too excited about.
Read our full review here.
1. Evil Bong 2: King Bong (2009)
Evil Bong 2: King Bong is just as silly as the first film but in a surprising turn of events, is a bit funnier and hell of a lot more endearing. Evil Bong 2: King Bong is such a silly movie and it doesn't take itself seriously for even a second. Cheesy effects, over the top performances, an even sillier story…it's a sequel that certainly goes bigger in a lot of departments.
Read our full review here.
Definitive Ranking of the Evil Bong Movie Series
Evil Bong 888: Infinity High (2022) -

1/10

Gingerdead Man vs. Evil Bong (2013) -

2/10

Evil Bong: High-5 (2016) -

2/10

Evil Bong 666 (2017) -

2/10

Evil Bong 3: The Wrath of Bong (2011) -

3/10

Evil Bong 777 (2018) -

4/10

Evil Bong 420 (2015) -

5/10

Evil Bong (2006) -

5/10

Evil Bong 2: King Bong (2009) -

6/10