Ten Romantic Horror Movies to Watch on Valentine's Day
It's that time of year when corporations tell you that you need to show your significant other just how much you love them. One day a year the shops are filled with all manner of Valentine's related tack ranging from heart shaped boxes of chocolates to heart shaped anal beads. Whatever you can think of you can probably get and why not? After all…love is in the air.
This got us thinking about horror…
As many a couple are cuddling up on the sofa for a sweet night in they might think about watching a movie. Maybe something sweet? Maybe something about star-crossed lovers and their constant desire to be together no matter what? Or maybe even a musical?
That's not our forte here at Games, Brrraaains & A Head-Banging Life. We deal in horror but that doesn't mean there isn't love to be found there. So here are 10 movies we think you lovers should be checking out this Valentine's Day. Who doesn't want to cut their heart out and give it to someone?
10 – My Bloody Valentine 3D (2009)
The remake of the 1981 original, My Bloody Valentine 3D is an over the top gory horror that fails to match the originals quality. Still with plenty of nudity, graphic violence and hearts delivered in boxes of chocolate it's a perfect film to enjoy with your significant other.
You can read our full review here.
9 – Don't Look Know (1973)
Julie Christie and Donald Sutherland are a married couple who travel to Venice following the recent accidental death of their daughter. There they meet two sisters and one of them claims to be clairvoyant. She tells the pair that their dead daughter is trying to contact them and that they are in danger.
Christie's character is over-joyed and desperate to make contact with her daughter but Sutherland's character refuses to believe it until he begins to experience odd events himself.
So you might be wondering what's romantic about this movie? Well, it is set in Venice, the city of love and it has one of the most famous sex scenes in horror. A lengthy and incredibly intimate scene that is so famous that many people believed the actors were actually having sex.
You can read our full review here.
8 – [Rec 3]: Genesis (2012)
The third film in the Rec series drops the found-footage formula of the first two and moves the location to a nearby wedding. The wedding of Clara (Leticia Dolera) and Koldo (Diego Martín). The couple are so in love and the event is one of joy until it turns into a zombie banquet. Guests are slaughtered and Clara and Koldo are separated in the chaos.
The majority of the film is then based around the lovers trying to reunite without actually knowing if the other is alive. By time they reunite it's already over as Clara has been bitten and is moments away from turning resulting in a horrifying yet touching finale that shows love knows no bound.
You can read our full review here.
7 – Bride of Re-Animator (1989)
Why go out to pubs and bars to find your dream girl when you can just build your own? Well that is exactly what Herbert West (Jeffery Combs) chooses to do in this sequel to the much loved Re-Animator.
The Bride only wants to be loved.
You can read our full review here.
6 – The Loved Ones (2009)
Brent (Xavier Samuel) makes the mistake of turning down Lola (Robin McLeavy) who asks him to the school dance. He soon finds himself attending a private party thrown by the girl where he is the guest of honour.
You can read our full review here.
5 – Maniac (2012)
Frank Zito (Elijah Wood) has a problem. The problem is that he is desperate for a relationship and love but can't stop killing the women he meets.
Then one he meets Anna (Nora Arnezeder) and it looks like Frank might be able to turn his life around and get the happiness he so seeks.
A remake of the 1980 film of the same name, Maniac is a revelation of a horror with the majority of the movie shown from Frank's point of view. Elijah Wood does the impossible and makes Frank a somewhat sympathetic character even if he is twisted beyond repair.
Doesn't everyone just want to find that perfect someone?
You can read our full review here.
4 – Valentine (2001)
A slasher in the exact same vein as My Bloody Valentine, Valentine tells the story of five girls who are stalked by a masked killer on Valentine's Day.
Who is the mysterious killer? Well, it could be the boy they all humiliated at a school dance years prior. Other then My Bloody Valentine, this is one of the most 'valentine' related horrors you could watch. It even has romantic subplots and a happy ending…sort of.
You can read our full review here.
3 – Bram Stoker's Dracula (1992)
So in love is Dracula that he throws off the shackles of his religion and sells his soul to the devil.
Throughout the entire movie, Dracula's motivations are completely based in love. He hungers for his dead love and when he sees Mina, a dead-ringer for her he is instantly infatuated. She is to be married to someone else though but that's never stopped love… or a vampire before.
You can read our full review here.
2 – The Return of the Living Dead III (1993)
How far would you go to be with the love of your life? For Curt (J. Trevor Edmond) he will go as far as using Trioxin to reanimate the recently deceased body of his girlfriend Julie (Melinda Clarke).
The only sticking point is that she hungers for brains now and only causing herself physical harm seems to relieve it. Curt won't give up on her though as their love is too strong.
A romantic horror with some brains.
You can read our full review here.
1 – My Bloody Valentine (1981)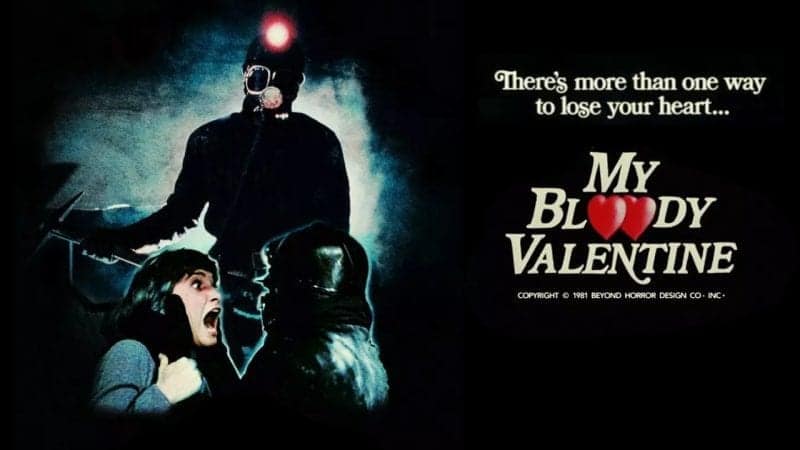 It had to be, didn't it? The most Valentine related horror you could watch on Valentine's Day is the original My Bloody Valentine.
It tells the story of a town that refuses to celebrate Valentine's Day because of a massacre that happened years prior. The person responsible swore to kill anyone in town who did celebrate it so the town has ignored the day ever since.
That is until a group of young adults decide to throw a Valentine's Day party. Which incurs the wrath of the killer. So romantic.
You can read our full review here.