Ten Bands You Should Be Checking Out At Ramblin' Man Fair 2019
The 2019 edition of Ramblin' Man Fair is almost upon us and once again it is providing Kent with a hefty amount of rock, blues, country and more to enjoy. Taking place from the 19th to the 21st July at Mote Park in Maidstone, this years line-up might be the most varied yet and we here at Games, Brrraaains & A Head-Banging Life are here to give you our recommendations of what to see.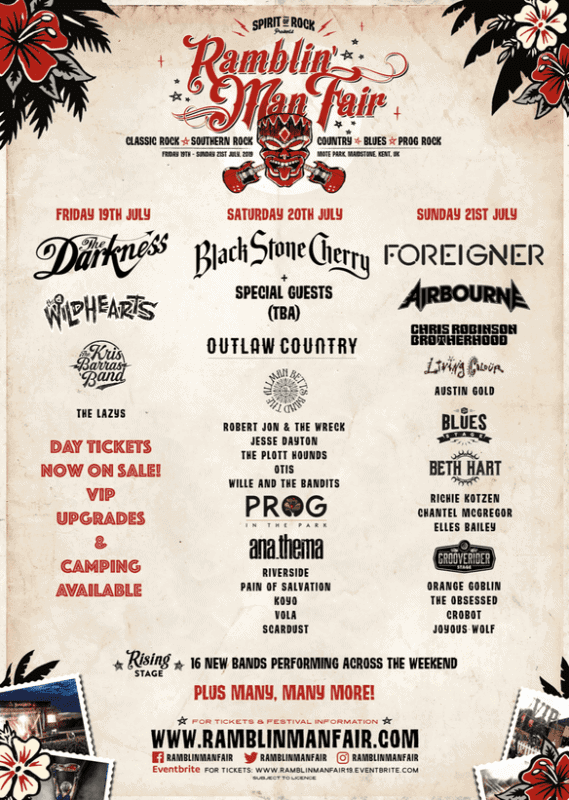 Ten to be exact. Ten bands that we've pulled from the line-up that we think you should make sure you check out! Tickets are still available here.
10 – Cheap Trick (Main Stage – Saturday)
A band that should need no introduction. The American rockers have been active since 1973, sold over 20 million albums worldwide and were inducted in the Rock and Roll Hall of Fame in 2016. Simply a bucket list band for many, if you've not experienced the likes of I Want You to Want Me, Surrender and Dream Police…now is your chance.
9 – Airbourne (Main Stage – Sunday)
The Aussie hard-rockers exude energy and have a commanding presence on stage. Their upbeat and feel-good tunes will go down a treat on the main stage and you're guaranteed to be very entertained by the band's antics.
8 – Wayward Sons (Main Stage – Saturday)
A name many will have heard on the grapevine, it might surprise those same people that the UK rockers have only been active since 2017. The buzz is real, go see just why they're being touted as the next big thing in rock music.
7 – Anathema (Prog Stage – Saturday)
With 11 albums under their belt, Anathema are a big deal in the progressive scene but aren't often a name you hear mentioned in the same breath as the prog greats. This a very good booking by Ramblin' Man Fair and to miss seeing them will be a big mistake!
6 – Grand Slam (The Rising Stage – Saturday)
Originally formed in 1984 as brainchild of Thin Lizzy's Phil Lynott and guitarist and songwriter Laurence Archer. Grand Slam are back with a new lineup and a fresh rock and roll sound. They will be one hell of a sight come Saturday evening on The Rising Stage.
5 – Blind River (The Rising Stage – Sunday)
One of the rising stars of rock in the UK, Blind River have been active since 2016 and draw influences from classic rock, blues, heavy rock and all that makes Rock n Roll music good. A great live band, don't miss them!
4 – Orange Goblin (Grooverider Stage – Sunday)
One of the hardest working bands in rock and metal, Orange Goblin command and get respect wherever they play. They are an absolute treat live and stand out on the Ramblin' Man Fair lineup as one of the heavier bands to play.
3 – The Lazys (Main Stage – Friday)
Another rock and roll band from Australia, The Lazy's have the potential to surprise many who may never have heard their high energy, good-time rock sounds. They're absolutely killer live and we should know!
2 – Matt Mitchell & The Coldhearts (The Rising Stage – Sunday)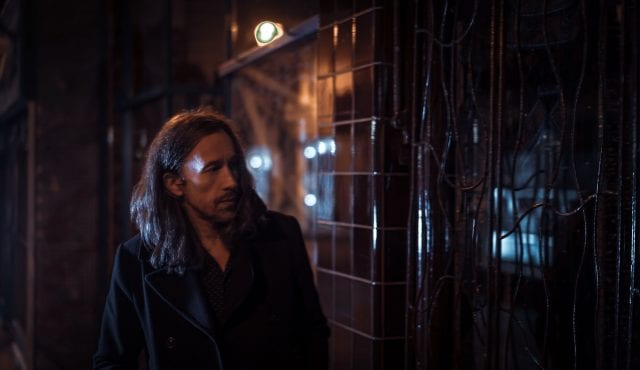 Led by British singer/song writer Matt Mitchell, The Rising Stage is in for a real treat on Sunday. Matt Mitchell & The Coldhearts music reflects real human experience. Passion and tangible compositions that hold potency, diversity and purpose.
1 – The Darkness (Main Stage – Friday)
With a plethora of big hits but also not relying on just those, The Darkness is the headliner to see at Ramblin' Man 2019. It should be so much fun and you can already hear the singalongs now.