Single Slam – Son of Pythagoras by Hark (Machinations)
Welsh sludge/stoner rock band Hark have released a new single. That single, Son of Pythagoras, comes from their soon to be released album called Machinations. Machinations will be their second full length studio album following the well received Crystalline which came out in 2014. As the band have grown in popularity, they have also grown in size with the addition of a new bassist Tom Shortt. Original bassist, Joe Harvatt, moves across to be a second guitarist bringing Hark from a 3 to a four piece. They join Simon Bonwick on drums and Jimbob Isaac on vocals. Machinations will be released on the 24th of February this year through the label Seasons of Mist.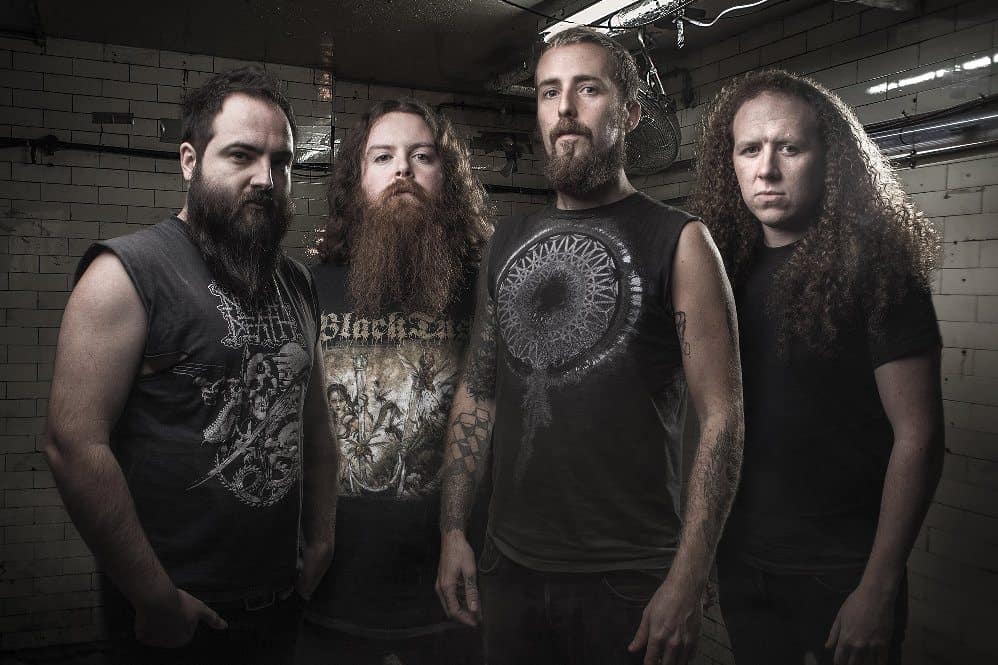 Son of Pythagoras is an almost six minute long slab of riffing. Everything sounds down tuned and meaty, almost Sabbath or Clutch like at times. Vocals are a mix between rock styled shouting and sung choruses. Jimbob has a very distinct style of singing and is very listenable. The choruses are catchy as hell as is the riff in that section. Every now and then you get a building, higher toned guitar line to add a bit more depth which is great. There is a neat little guitar solo and then the slower, riff picks up a bit for a frenetic and energetic section with some great drumming through to the end.
Hark vocalist and founding member, Jimbob, had the following to say about Son of Pythagoras –
"Seeing riffs and rhythms in dreams, and drawing geometric impossibilities could stem from old Mr. Pythagoras' teachings. His dab hand at angles also covered musical formulas for spiritual healing, and while dealing with some super duper psychic predators and energy-butchers during the writing of 'Machinations', Mr. P and his wisdom provided quite the tonic."
You can definitely hear how Hark are reaping the benefit of the 4th member and additional guitarist. Son of Pythagoras is a huge chunk of deep and broody riffage with strong vocals and drums. I am not a massive sludge or stoner rock fan but did enjoy this song. It is easy to see why their peers such as Clutch and Baroness have cited them as the next big thing.
While not being the genre of music I listen to regularly, I do like this song and love the chorus. You can clearly see they are a band destined for big things. Son of Pythagoras showcases a load of talent and why Machinations should be a huge album for fans of the band and genre.
Check it out for yourself here and have a look at Hark's website for more music and information. If you like what you hear, why not preorder it from here? Head on over to Facebook, Twitter or Instagram to find out more on the band and keep up to date with news and information.
Son of Pythagoras by Hark (Machinations)
The Final Score -

7/10
Comments Rating
( reviews)