Single Slam – Shadow of Your Love by Guns n' Roses (Appetite for Destruction Super Deluxe)
It is 2018 and I am writing a single review for a new (kind of) track by the legendary rockers, Guns n' Roses. I never thought that would be happening. In advance of the release of the Appetite for Destruction Super Deluxe Edition, Guns n' Roses have released the new old song Shadow of Your Love.
On June the 29th Guns n' Roses will celebrate the 31 year anniversary of their seminal debut album, Appetite for Destruction, 31 years ago. Makes you feel old right? Containing songs that absolutely everyone knows like Paradise City, Mr Brownstone, Welcome to the Jungle and of course Sweet Child o' Mine, Appetite for Destruction is one of the best selling albums of all time.
When Guns n' Roses reformed properly in 2015 to the delight of many fans. Slash and Axl Rose reunited was not something I ever thought would happen. Huge sold out tours took place and it was expected that, once the tour cycle ended, they would disappear again. Still they persist though. More tours have followed and recently billboards have started appearing in LA showing the original, Appetite for Destruction line up. This has prompted rumours of a reunion of the original line-up and a worldwide Appetite for Destruction tour. It seems likely.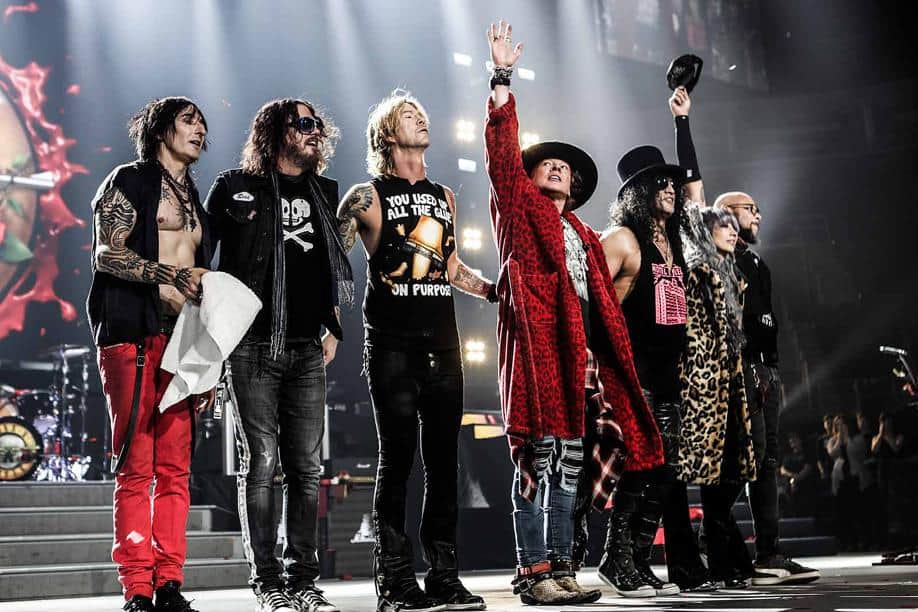 While it is great that a generation or two of people who love GNR and never got to see them, now get the chance, it is important to remember that this is a nostalgia trip. GNR are not writing new music, as far as we are aware and are instead milking the cash cow. Ticket prices worldwide to see them have reached record levels. £100 – £200 to see them in some places which is unfair and ridiculous. I love Guns n' Roses but we at GBHBL are firm believers that you should take that money and go and see 10 newer band's, buy a t-shirt and get some beers with the change. Support the people in our scene that need it. Still, I digress.
Shadow of Your Love is actually a release of a demo that was recorded in the early 1980's while original guitarist Tracii Guns was still in the band. It isn't a track I have ever heard before so it was kind of cool to hear for the first time. It is a nice fast tempo track, very GNR and very 80's. I must admit it is kind of weird hearing Axl sounding young and fresh again but it is a catchy number. Loads of mid tempo riffs and little solos and lines fill the gaps between the fast paced vocals. There is a strong solo and a catchy quick paced drum beat throughout. It is pretty cool and serves as a nice trip down memory lane.
Shadow of Your Love will feature on the Appetite for Destruction Super Deluxe box set, as mentioned above, and a more affordable 2 cd edition which is a remaster of the original album and a bonus cd featuring a load of unreleased demos and such. That box set version is huge though. Featuring over 3 and a half hours of music including the remastered album, 3 cds of unreleased music, a book, music videos, replica tickets and more. It will cost you though. Around $180. Damn. Still there is also a version for $1000 including all of the above and a ton of cast iron jewellery and many vinyls. Lots of money but for a collector, they are pretty filled out packages.
For now though, it is Shadow of Your Love that will have to get you by. It is available on all the usual streaming services now, like Apple Music and Spotify. You can also grab it and more from the band at the links below. If you want to preorder any of the packages, head to here. Keep up to date with new Guns n' Roses news at their website, on Facebook and Twitter.
[amazon_link asins='B07CQ9NYR9,B07CQ9VDSQ,B001KU07J8,B00FV3ZFJC,B001KWLP6U,B018NXP3QQ,B06X3TFS8T' template='UseThisOne' store='g0e5b-21′ marketplace='UK' link_id='d8abd4e1-4f83-11e8-ad05-e584750b2d8f']
Shadow of Your Love by Guns n' Roses (Appetite for Destruction Super Deluxe)
The Final Score -

7/10