Single Slam – Outstrider by Abbath (Outstrider)
Black metal icons, Abbath, are back with the 3rd single from their incoming new album. This time we get the title track, Outstrider.
Abbath's second album, Outstrider will be released on the 5th of July via Season of Mist and will be one fans of black metal will be salivating for. The Norwegian black metallers are a 4 piece with one change in line up since their debut release, the self titled Abbath. Iconic bassist, King Ov Hell has left citing musical differences. Apparently some of the lyrics on Outstrider are inspired by Swiss psychiatrist Carl Gustav Jung. Jung has connections to Christian mysticism, something King found to be incompatible with how he see the band. He released the statement below.
"I wish members of the actual band, label, and crew all the best for the upcoming shows and album. The music itself is nothing short of brilliant. However, I must maintain artistic integrity and respectfully step aside."
King is replace on bass by Mia Wallace. The rest of the band remains the same with Abbath on vocals and guitars, Ole Andre Farstad on lead guitar and Ukri Suviletho on drums.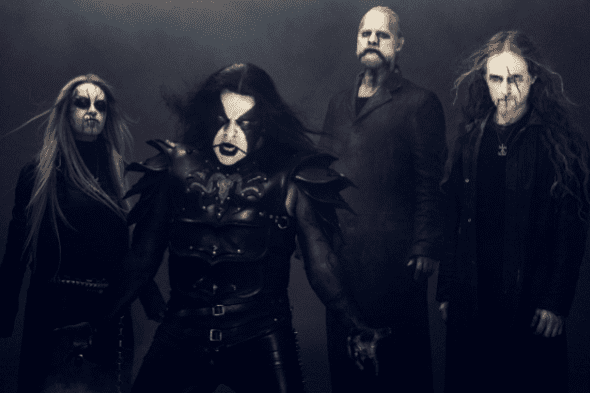 You can read our thoughts on the previous two single releases by following the links for Harvest Pyre and Calm in Ire.
Outstrider is just short of 6 minutes long and starts off with a nice, clean acoustic melody before it fades back for a distorted electric guitar. It all kicks in with a steady rhythm pounded out on the drums and a thick dollop of bass. There is a chugging main riff that ends with a little flourish and vocals are typical Abbath with lashings of growl and darkness. Everything is delivered at a steady tempo with way more groove than was expected. The chorus is fine, pretty much similar to the rest of the song. Enough so that it isn't amazingly obvious when you hit the chorus. There are sections near the end that speed up a bit with darker growls and blasting drums but we always sync back in with the groove quickly enough, before ending with the soothing melodic acoustic guitar from the intro.
Outstrider is different to the other single releases. In fact all three songs so far have been very different to each other showing a good level of ambition and creativity from Abbath so far with the new album. Outstrider has a lot of rhythm and groove to it with a catchy main beat running like a vein through the song. Everything sounds on point with the vocals sounding particularly impressive. I love the acoustic intro and outro but if you like metal of any description you are gonna enjoy the main hook and find your head banging. Three songs down and three crackers. Outstrider, the album, is looking like a genuine contender for one of the best albums of the year thus far.
Grab a copy of Outstrider now on all the usual streaming platforms. Preorders of Outstrider, the album, are available from Abbath's Bandcamp page here or from Season of Mist, here. Keep up to date with news and information from Abbath at their website, Facebook, Twitter and Instagram pages by following the links.
Outstrider by Abbath (Outstrider)
The Final Score -

9/10