Single Slam – Life's a Bitch by Accept (Nuclear Blast Records)
Over 40 years in the game and German hard rock/classic metal band Accept have plenty of gas in the tank as they release their latest single, Life's a Bitch.
As the band prepare to head out on tour for their Symphonic Terror Tour, they have announced the release of this brand new 7 inch vinyl containing one new song, Life's a Bitch and a B-side of Restless and Wild recorded live at Wacken 2017. Life's a Bitch was released on the 20th of April via Nuclear Blast Records.
Accept formed way back in 1976. Being around in the early days of heavy metal, they have had a huge impact on the genre and are cited as early influences for some of the biggest names in metal. Metallica, Testament, Helloween, Pantera and Sodom are just a handful of the names of bands that were fans of the band. Only one member of the original line-up still remains and that is guitarist Wolf Hoffmann. He is joined by Mark Tornillo on vocals, Uwe Lulis on guitars, Christopher Williams on drums and Martin Motnik on bass.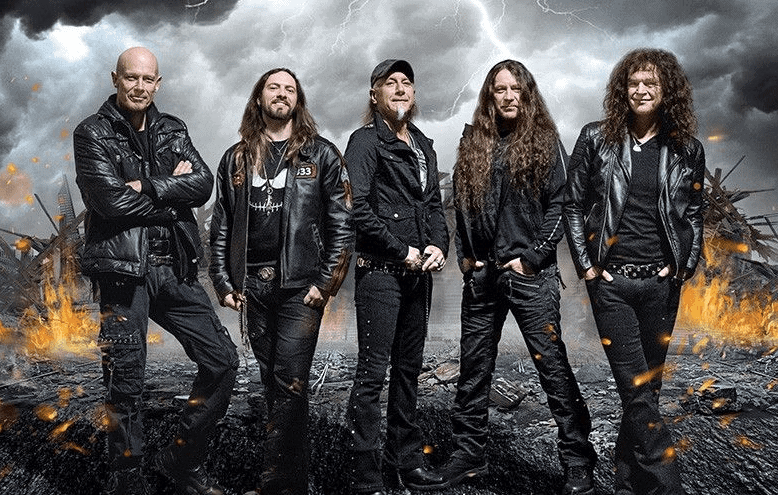 Speaking about the single, well at least the single's title, guitarist Wolf Hoffmann said: "We love the title of the single….Who doe snot agree to that: ;Life's a Bitch? It's universal, even if the stories are different. Everybody knows what that means!"
Life's a Bitch is a 4 minute long, full rock cheese affair. Sounding more like something from 20 or 30 years ago, it has all the qualities of the big cheesy rock anthems of the past. The sort of songs that grace those compilations like 100 Driving Anthems or 50 Hard Rock Anthems. It has a really simple main riff with a little country twang. Mid tempo drums, raspy but clean vocals and a big, simple chorus designed to be sung along too. Lyrics are basic detailing a couple of people having a rough time of it before smiling to themselves and remembering, it's okay cos Life's a Bitch.
As with these sort of anthems the best part comes in the solo. A clean and poppy screeched that anyone with a love of guitars will enjoy. Overall though it is exactly what those big Living on a Prayer or Thunderstruck style of songs are. Simple, full of crap lyrics and quickly forgotten aside from maybe coming on in a random shuffle at a party in a few years time. Some of the lyrics deserve a bit more credit, the verses aren't too bad – "runs the shower to wash off the men" is a good line but it is the simple choruses were they turn to cheesy nonsense.
"Life's a Bitch, so they say. No champagne and no creme brûlée". Okay then.
Life's a Bitch is a boring, cheesy rock song with a good solo. It's simple nature means it is catchy and it's riff is likely to stick in your head a little but unless you are a huge Accept fan, you will find yourself quickly moving on to something with a bit more substance.
Life's a Bitch is out now on all streaming platforms. You can grab the physical copy from Nuclear Blast here. Find out more about Accept at their website, on Facebook, Twitter and Instagram by following the links.
Life's a Bitch by Accept (Nuclear Blast Records)
The Final Score -

5/10