Single Slam – Left Hand Pass by Cannabis Corpse (Left Hand Pass)
Richmond, Virginia based weed smokers and death metallers, Cannabis Corpse, have released a new single called Left Hand Pass. The single is also the title track of their new album which will be released on September 8th via Season Of Mist.
Left Hand Pass is a play on the classic Entombed album title, Left Hand Path, just as their band name is a play on veteran death metal band Cannibal Corpse. With these little parodies and their pot themed music and song titles you could be forgiven for thinking Cannabis Corpse were a gimmick. Something not to be taken too seriously. You would be wrong though.
They were formed by brothers Philip "Landphil" Hall, from Municipal Waste, and Josh "HallHammer" Hall back in 2006. They are joined by Brandon Ellis, from The Black Dahlia Murder, on guitars and Ray Suhy, from Six Feet Under, on rhythm guitars. Landphil is on bass and vocals while HallHammer is on the drums.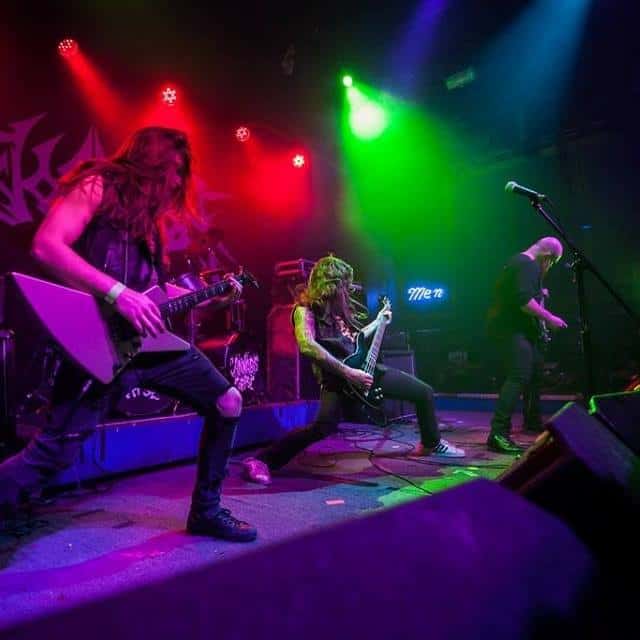 With that much metal talent in the band, they are always going to hit the right notes musically and they do.  Left Hand Pass is 3 minutes and 18 seconds long and is a straight to the point, fast and technical blast of death metal. There is no real build up, it just explodes straight into life with deep sounding drums, a heavy bass line and a quick riff. Vocals come in soon after. They are harsh growls and roars but mix nicely between higher and lower tones.
Everything happens at ferocious pace – the drums are quick, the lyrics are spat out furiously. There are brief respites where Left Hand Pass suddenly switches to a groove laden rhythm for a few bars before jumping back in to the more chaotic side.  As the track nears the end, an addictive drum rhythm come sin which builds into a quick and technical guitar solo paired with crashing drums. This leads into one final blast of crashing drums, venomous vocals and speed riffing.
Left Hand Pass doesn't muck about. There are no extended intros or outros or long, winding solos. Instead you get a straight forward, riff and rhythm packed punch to the side of your head. A seriously good death metal track from a band that maybe haven't always been taken too seriously but should be.
Check it out for yourself on YouTube here. You can preorder Left Hand Pass from Season of Mist here. You can also pick up the new album, and more, from the links below. Be sure to look the band up on Facebook and Twitter and give them a like or follow too.
[amazon_link asins='B072ZP1QXQ,B00584UD00,B01ABADHBM,B00ETHPIWK,B007XDJ97M,B00JX5E0ZO,B00ETHPH1C,B01H45HCA4,B00ESPGLZQ' template='UseThisOne' store='g0e5b-21′ marketplace='UK' link_id='f49dcc97-8674-11e7-9730-ef0182c64266′]
Left Hand Pass by Cannabis Corpse (Left Hand Pass)
The Final Score -

8/10