Single Slam – I Don't Want To Know You by Nails (Nuclear Blast)
American grindcore/hardcore punk band, Nails, are back with a bang with an aggressive, brand new single called I Don't Want to Know You.
I Don't Want to Know You is a two track single with a B side featuring long time Nails fan and all round metal icon, Max Cavalera. I Don't Want to Know You was released on the 12th of April via Nuclear Blast. It is the first bit of new music from Nails since 2016's studio album, You Will Never Be One Of Us and their split EP with Full of Hell, released the same year.
Known for their high octane energy and unforgiving brutality, Nails have garnered universal praise from media, fans and metal bands too. With 3 studio albums under their belt now and approaching their 10th year as a band, you might think the band could start relaxing a bit. Maybe mix up their sound and style. Based on I Don't Want to Know You that is far from the case.
Nails are Todd Jones on vocals and guitars with Leon Del Muerte also on guitars, having joined in 2016. On bass it's John Gianelli and of course, on drums we have Taylor Young.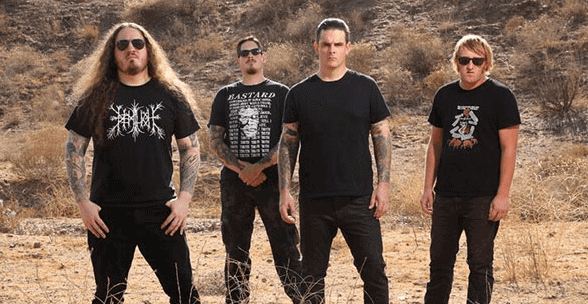 The lead track is short at around 80 seconds but to be fair, it is unlikely any human could play at this level of ferocity for much longer than that. A short drum intro takes pause for a millisecond before exploding into chaos and anarchy. Vocals are spat out viciously at hyper speed over a speed riff and insane drum blasts. A wall of vocal noise comes with the added backing shouts, all coming at such a speed it feels like an attack. The second part of the track sees them switch to a bit more groove with a chunky riff and steady pounding drum rhythm. A much welcome breather if you survive the pit for the first 30 seconds.
The second track, featuring Max Cavalera is called Endless Resistance. It is a much more groove, head banging type of track. It's weird how Max can feature on a song and it instantly sounds like a Max song, Cavalera Conspiracy or the like. Endless Resistance is over 3 minutes and really hits with thick bass grooves and a steady but heavy drum beat. Vocals are aggressive and rasping and there is a fiery little solo. It breaks down into a slower stomping rhythm near the end before coming back with the simple but catchy chorus telling you to show Endless Resistance. To not be the victim.
Two very different songs but both with plenty of merit. I Don't Want to Know You is brutal and shows Nails are in no mood for slowing down just yet. It is hard and heavy. A true pit destroyer but they do manage to pack a lot in to their 80 seconds with a wicked groove to end to. Endless Resistance goes for the groove from the off, more suited to the guest spot by Max. Both songs are really good, pretty typical Nails stuff but they are very good at what they do. Fans will love it, fans of brutal music will love it, non fans will probably love the B side. Either way that means there is something for everyone here.
Grab yourself a copy on all the usual streaming platforms now. You can also grab a physical copy from Nuclear Blast here or from Nails here. Find out more on Nails at their Facebook and Instagram pages by following the links.
I Don't Want To Know You by Nails (Nuclear Blast)
The Final Score -

8/10